Deer Valley opens tennis season with 8-1 win at North Canyon
February 21, 2019 by Sean Kilday, Arizona State University
---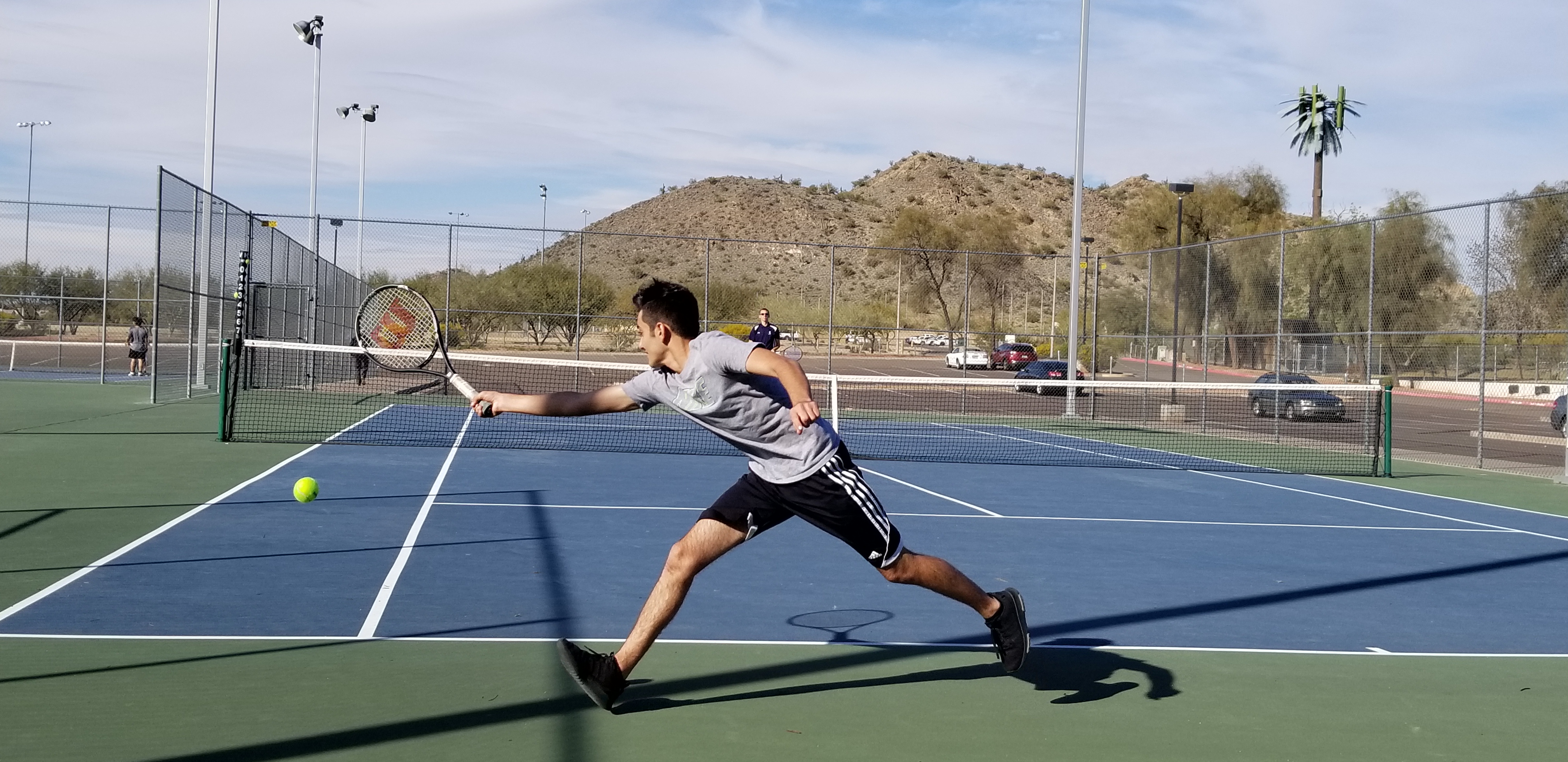 Deer Valley got its 2019 season off to a good start Wednesday as the Skyhawks defeated the North Canyon Rattlers, 8-1, with five wins in six singles matches and all three doubles contests.
In a key singles matchup, Deer Valley junior and defending individual state champion Oliver Boleratzky defeated North Canyon sophomore John Rabin, 6-0, 6-0.
Boleratzky made strong, accurate serves that consistently backed Rabin up and forced long shots back to net that he was waiting to return.
Coming into the match and the new season, Boleratzky said he feels confident and excited to develop his game further.
"I've been focused on moving, getting more aggressive towards the net and letting my serve dictate the points on the court," Boleratzky said.
Aside from individual improvement, Boleratzky also looks forward to being back on the courts with his teammates and helping everyone progress.
"I always want to support them in their matches and practices," he said.
Deer Valley head coach Lance Gephart is back for his fourth year and said he's excited to have five of six players on the current team returning from last season.
The sixth player is senior and foreign exchange student Nicolas Millet. Coach Gephart said Millet grew up playing tennis in France.
In his first game for the Skyhawks, Millet defeated North Canyon junior Marco Opacic 6-3, 6-2.
Deer Valley junior Robert Anderson also won in straight sets as he defeated North Canyon senior Oleh Ivanyshn 6-0, 6-1.
Now in his third year on the team, Anderson said he's learning how to figure out his opponent before finding the best strategy each match.
"He was having trouble with the faster balls, so I decided to go with a hard backhand or forehand to put the ball into the corner or straight at him," Anderson said. "I was surprised that he was more of a strategist than a hard hitter, but I came in prepared and did well enough to get a win."
While hard shots are important, Gephart said he also emphasizes consistency with his players.
"I don't care if you can hit the ball 100 mph if it only goes in one out of seven times," Gephart said. "Get it in and let your opponent make the mistake is the philosophy we have."
The Skyhawks also got wins in all three doubles matches with pairings of Boleratzky and Peterson, Millet and Anderson, and seniors Tyler Walters and Andre Badiu.
---