6A hoops semis: Xavier Prep, Chaparral boys advance to title games
February 21, 2019 by Les Willsey, AZPreps365
---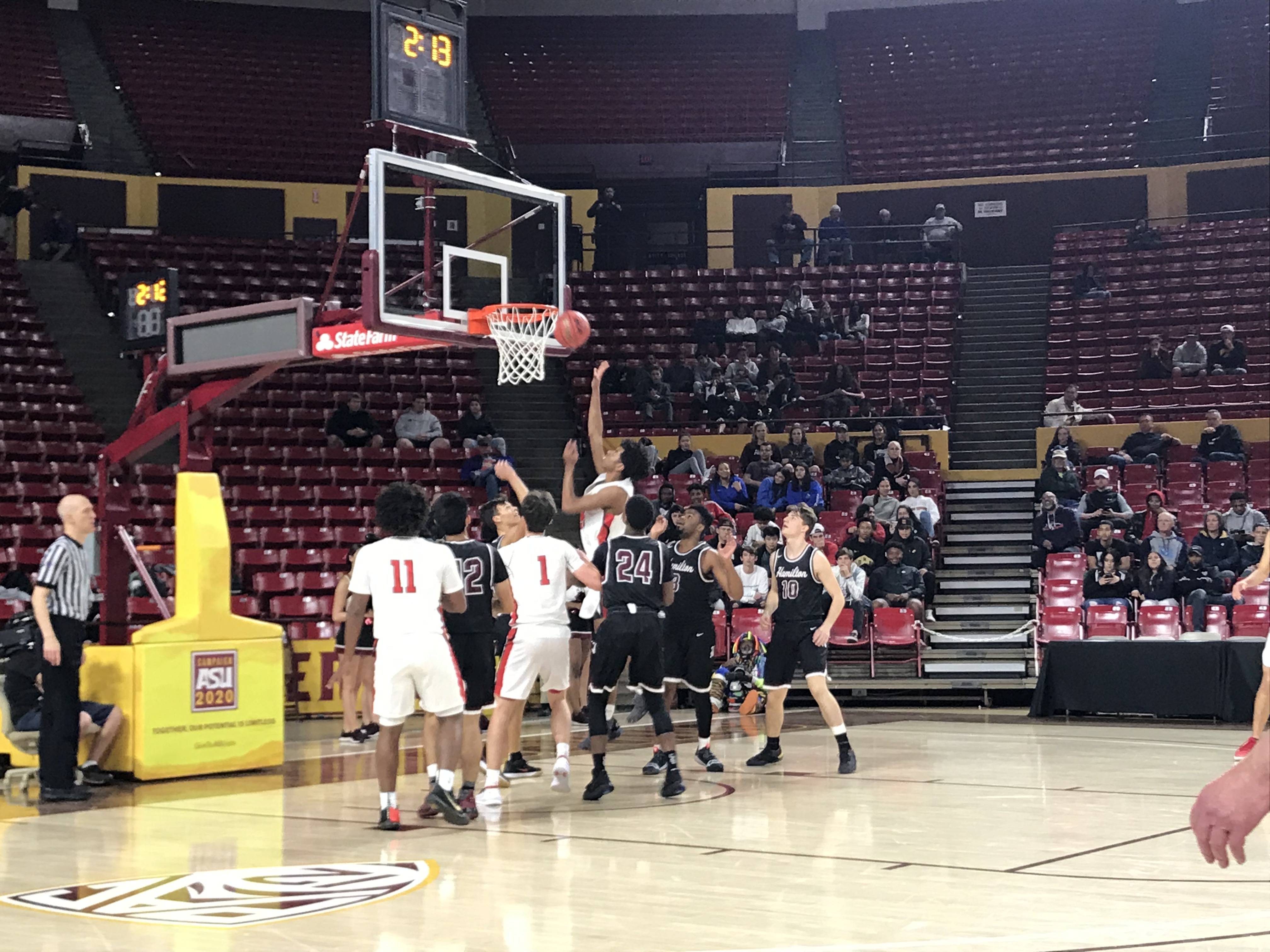 #2 Xavier Prep lacks size but fired up the burners midway through the third quarter and turned a six-point deficit into a walk-away 65-51 victory Thursday afternoon over two-time defending 6A champion and No. 6 Valley Vista in a semifinal contest at Wells Fargo Arena.
Xavier (26-4) avenged last year's title defeat and gets the school's fourth chance at winning an elusive first basketball title. Xavier finished second in 1977 and 1986 spring championship games. Girls basketball had winter and spring seasons for large conferences until the early 1990s when it became winter only. Valley Vista's season ends at 25-5, but the Monsoon will be heard from again with an underclassman-heavy team.
Xavier plays No. 1 Hamilton for for the 6A title on Tuesday Feb. 26 at 6 p.m. at Wells Fargo Arena. Hamilton knocked off #4 Pinnacle, 50-43, in the other semi. Xavier and Hamilton have met twice this season and split.
Xavier senior point guard Leilani McIntosh and senior guard Addie Putnam combined for 46 points . McIntosh scored 20 of her game-high 29 points in the second half and keyed the run that took the Gators from six down to one up heading to the final period. Putnam checked in with 17 points and between her and McIntosh they made 17 of 21 free throws. Most of the free throws were shot down the stretch when Valley Vista had to foul to try to come back from an eight-point deficit with six minutes to play.
"I kind of had that feeling today would be our day," Xavier Prep coach Jennifer Gillom said. "Our players remembered last year and wanted to win this badly. Leilani and Addie layed it all on the line. Paris (Rasheed-Moore) didn't have her best game, but I think she'll have something left for next week. I love our seniors, and I'm going to miss them. "
Gillom felt the speed of her team needed to be taken advantage of against the bigger, more physical Monsoon. Xavier's defense, combined with some sloppiness at times by Valley Vista handling the ball, resulted in 32 Monsoon turnovers. That negated a 40-22 rebounding edge for Valley Vista.
Along with turnovers Valley Vista was in constant foul trouble with leading scorers Jennah Isai, a freshman and Marisa Davis, a sophomore, limited. Davis picked up three fouls in the first 4 1/2 minutes and ended up playing 11 minutes overall. Isai managed to remain in the game until fouliing out with 5:13 to play. Fellow freshman Saniya Neverson joined Isai in double figures for with 13.
BOYS SEMIFINAL
#2 CHAPARRAL 53, #6 HAMILTON 47: The Firebirds (22-7) overcame a sluggish first quarter when they trailed at one time 7-0 to put togther decisive second and third quarters in topping the Huskies (17-9).
Chaparral's Jordan Josephs scored a game-high 19 points -- 14 in the first half - plus 10 rebounds to pace the Firebirds. Point guard Blaise Threatt managed six points, but his floor game was outstanding with seven assists, eight rebounds and four steals. Chaparral enjoyed a huge rebounding edge, 46-32.
Hamilton was led by Jamar Brown and Hayden Quinn with 12 points apiece., but they were a collective 9 of 27 from the field (33 percent) and 3 of 17 from 3-point range.
Chaparral earns the right to play for its fourth championship in the sport and first since 2011 against the # 1Pinnacle, a 79-69 winner over #4 Perry. That game will be Tuesday Feb. 26 at 8 p.m. at Wells Fargo Arena. Chaparral was runners-up in itsthree previous finals (1993, 2010 and 2011). Hamilton was seeking its first berth ever in a boys basketball championship game.
---