Xavier's Trinity Cavanaugh is a master at her craft
February 26, 2019 by Reed Harmon, Arizona State University
---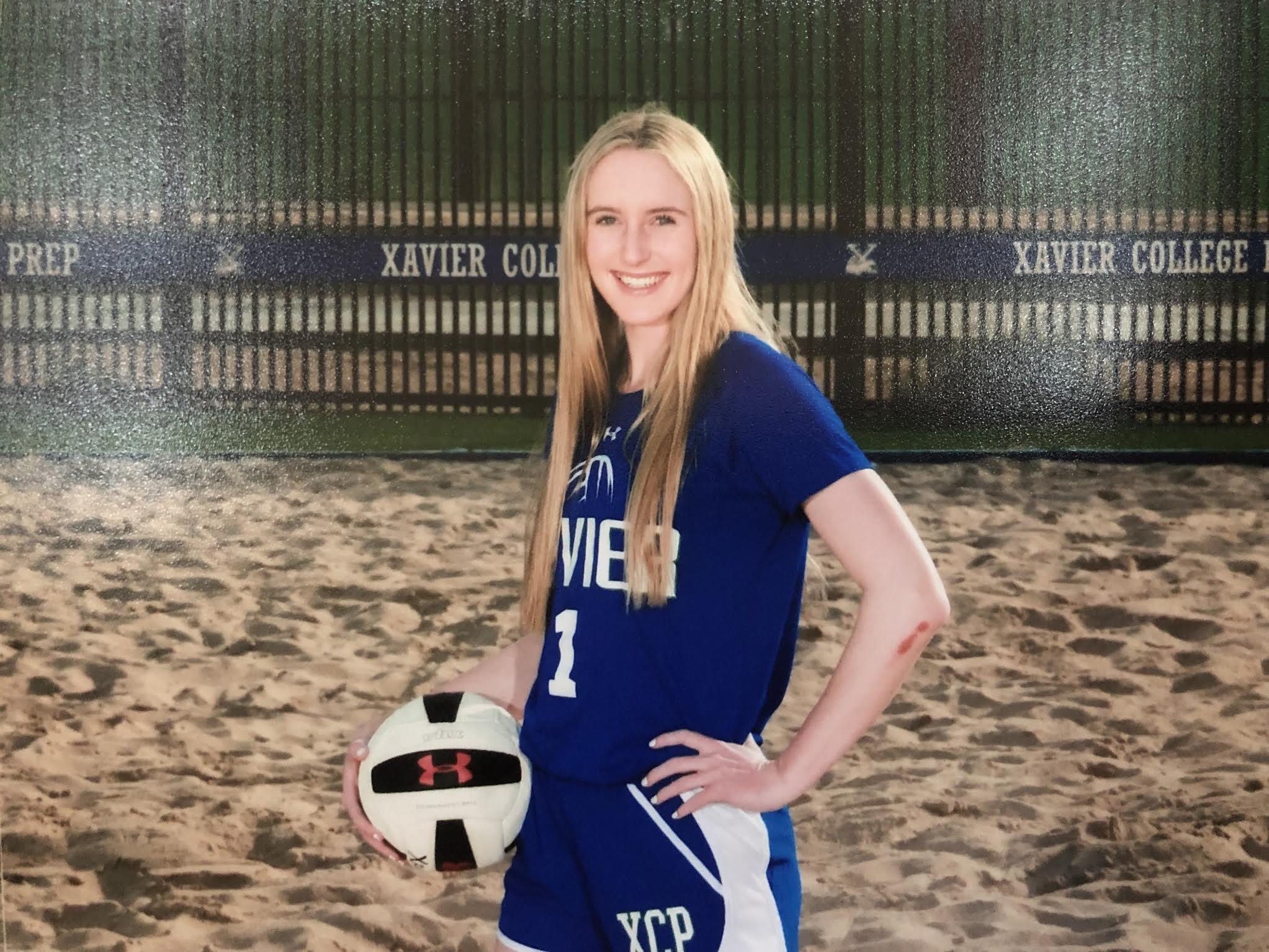 There is a constant voice that echoes from the secluded sand volleyball courts at Xavier Prep. A blind eye would assume it comes from the mouth of a coach — but it actually comes from the heart of a captain.
Senior star Trinity Cavanaugh continues to be the vocal leader and veteran presence for Xavier. She hangs two state championship medals from her neck and is bound for Texas Christian University in the fall.
While it appears her talent on the court brings accolades, it is the unseen skill of perfectionism that makes her unstoppable.
"I am a very determined person and I hate to lose," said Cavanaugh. "I'm the first born, I'm a perfectionist. I hate to disappoint people, so when I lose I feel like I'm disappointing others and myself."
Coming from an athletic family, Cavanaugh began her athletic career on the soccer field until realizing she might have a gift in the gym.
"She just decided to try out [for the indoor team] and ended up making the national team. I mean, she's been a soccer player," said Trinity's mother, Tara Cavanaugh. "I'm asking the coaches if we could take the time to think about it and they're like: 'Alright but do you understand how many girls would kill for this position.'"
Cavanaugh ended up taking the position and balanced soccer and volleyball for the next two years before deciding to focus solely on volleyball. She then dropped indoor volleyball and focused on beach.
"Beach is more free," said Cavanaugh. "You have to hone in on one specific skill in indoor while beach you're touching the ball every rally. In beach, I have the confidence…it really is a physical, emotional and mental game. You have to battle yourself out there to get better."
She has been working on her craft since she was 12 and is in the prime of her young career. When Cavanaugh enters the court, she doesn't kill her opponents — she operates on them.
"She's a surgeon," said head coach Tim McHale. "If you're a fan of the game, to watch her play and to see what's going on, it's just fun to watch. You'll see big swings out of her, but the decisions, defensively, all of those things are amazing. It's a very technical, skillful game she brings."
Cavanaugh and her family preach hard work and dedication. They used sports to teach the fundamentals of success to their children.
"Sports teaches you so many things that you can carry on in life," said Cavanaugh's father, Mark. "If you get an opportunity in sports you learn how to be a leader and serve your teammates but you also learn how to be a servant to the leader. You grow in so many different ways."
It has been high standards in the Cavanaugh household — but the fuel for production comes straight from a willingness to succeed.
"[Our parents] know [we're] going to fail, so they don't necessarily make [us] drive," said Cavanaugh's brother, Maverick. "It comes from me and my sister for wanting to be the perfectionists."
Maverick speaks highly of his sister. The two have a special connection. Cavanaugh has friends through volleyball and school — but no friend compares to the one at home.
"I get so sad when my friends say they don't have a close bond with their sibling because me and Maverick are best friends and I don't know what I will do without him next year," said Cavanaugh.
It has been a balancing act for the brother and sister. Cavanaugh will attend any basketball games Maverick competes in and Maverick will do the same for his sister. When it comes to volleyball tournaments, Cavanaugh cares about one thing when her baby brother comes to watch.
"Trinity would tell her teammates, 'if you don't like my brother, we aren't going to be friends,'" said Mark.
The family connection is soon to be long distance. In around five months, Cavanaugh will head to TCU and play beach volleyball for the Horned Frogs. While she looked at UCLA, Pepperdine and other California schools, she wanted what was best for her happiness — and so did her parents.
"So many parents are living vicariously through their kids," said Tara. "It's not my journey, it's not your journey. The bottom line is — I want my kids happy. If happiness comes at [TCU], that's where [she] needs to be."
It will take time for her to realize her family will not be at the majority of her matches in at TCU.
"I think it will be an adjustment," said Cavanaugh. "I think I will form bonds with my teammates and my coach is such a loving figure. They said they're going to come out to everything but I know that's not possible. I think I am strong enough to get over that and know they're with me supporting me…in spirit."
Her senior year will soon be gone, so Cavanaugh is making sure to hold onto it for as long as possible.
"I definitely want to go to the state things, hopefully Xavier makes it to more," said Cavanaugh. "I missed out on opportunities. Making more memories with my friends and doing things I missed out on. Volleyball will go on for four more years but you won't see a state basketball game again. Taking advantage of those moments that are unique in high school."
Cavanaugh's senior campaign begins Wednesday at 4 p.m. at Ironwood Ridge High School. She has not been officially named captain — but the choice is obvious.
"When you look up the definition of captain you look up somebody like Trinity," said McHale.
---