St. Mary's falls to Flagstaff in tough first home match
March 5, 2019 by Zach Milne, Arizona State University
---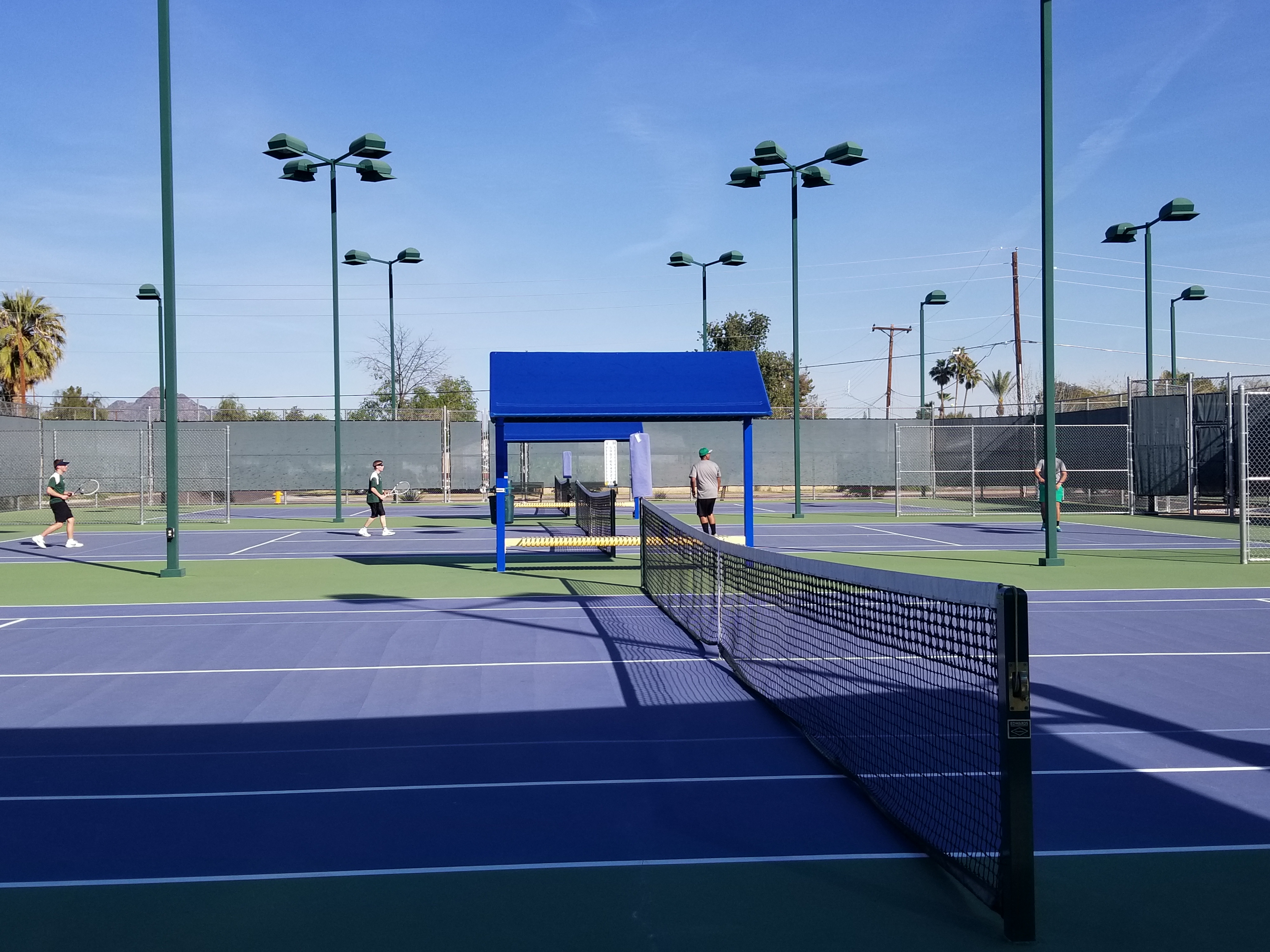 St. Mary's Catholic boys tennis on Tuesday fell to Flagstaff 9-0. Due to weather concerns from the Flagstaff team, the game was moved to St. Mary's home court at Phoenix Tennis Center.
This came as a surprise to senior Quentin Duran, who expected to be heading down to Flagstaff for the match.
"I was prepared to be in Flagstaff, but I got to school and they told me we were here. Now I got to sit through classes," Duran said. "We were supposed to get food, but I didn't eat before my first match."
The weather in Phoenix has been incredibly variable over the past couple of weeks. Their first match on Feb. 21 was rained out, and now this match just two weeks later was played in 80-degree weather with the hot Arizona sun beating down on them.
Preparing to travel to cold weather conditions in Flagstaff can affect prematch plans. Flagstaff also has a higher elevation, which senior Michael Fletez was happy to not have to experience.
"It was good for me," Fletez said. "Honestly it would be hard to play in a different elevation where you can get tired more easily. I personally like playing here in Phoenix."
St. Mary's was coming off its first victory against Dysart High School, winning 7-2. This was a huge confidence booster for the newer players, Fletez explained.
"It boosted our confidence knowing we can win games," he said before Tuesday's match. "We're not as nervous as we were for the first match."
Experience played a huge factor in the day's action. In Duran's first doubles match, where he was paired with one of St. Mary's younger and newer players, Flagstaff's experience showed through. Up 3-2, Duran and his teammate were looking good, until Flagstaff went on a 5-0 run and won the match 8-3.
"You know they've been playing for six or seven years," Duran said. "I've been playing for only four and my partner is playing for the first time this year."
Coach Tim Mowery agreed that it can be an intimidating situation for the newer players.
"Since we have newer, less experienced tennis players, when they see somebody warm up and they come and see them serve and rally and see good forehands and backhands, they get intimidated," Mowery said.
Despite the tough loss, Mowery maintains the same philosophy he brought to St. Mary's three years ago.
"Good and bad things happen," he said. "Many will be out of your control such as the wind, how hot it is, your opponent, their line calls. Focus on being your very best each point of each match and do the best you can at the very moment."
St. Mary's was scheduled to play March 6, but due to not enough players being available for opponent Apache Junction, the next game with most likely be the following week, March12 against Peoria.
---