The making of Gilbert Tigers basketball captain Noah "Doc" Self
March 13, 2019 by Carlo Saenz, Arizona State University
---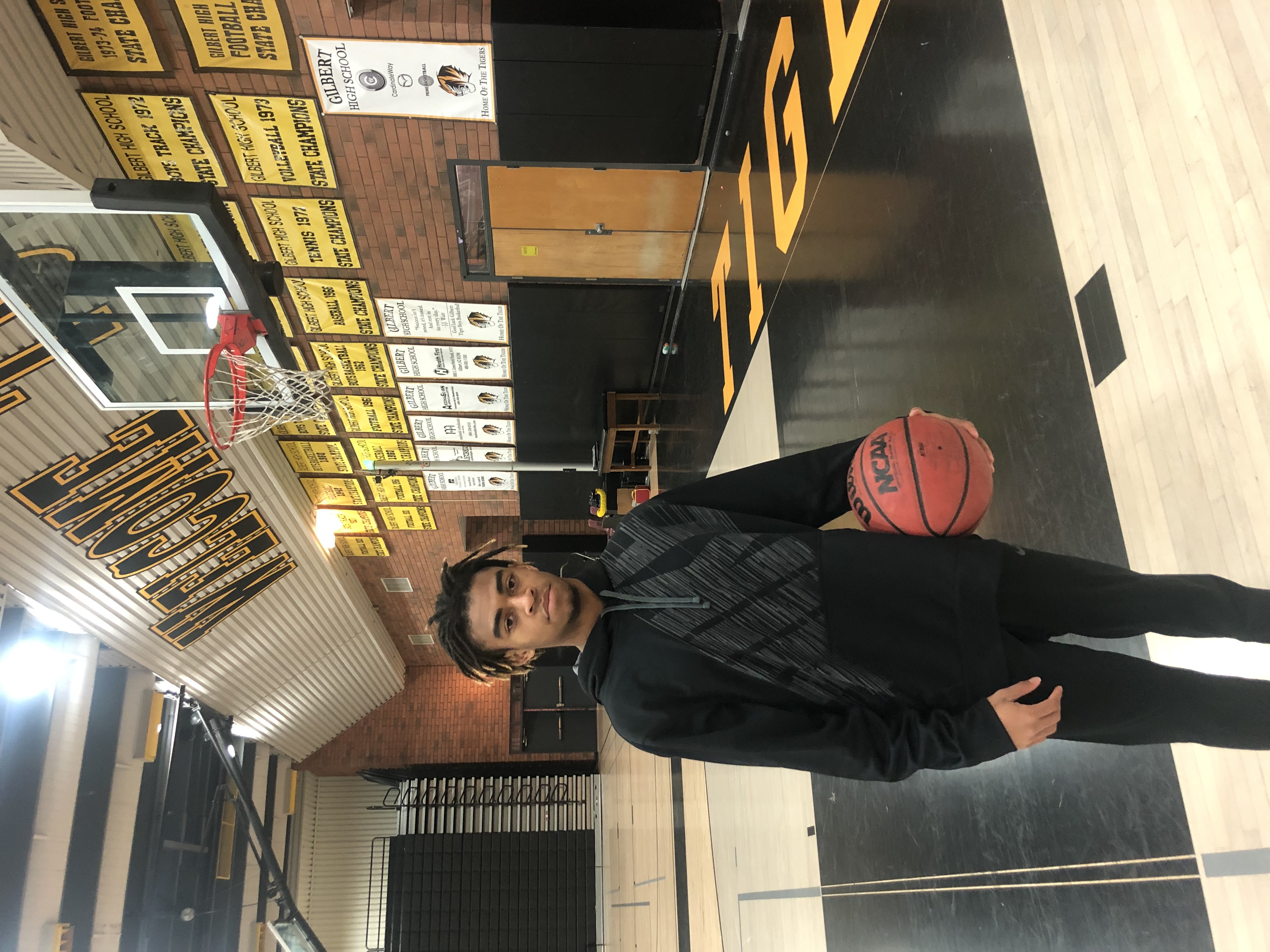 A Chick-fil-A sandwich with a side of mustard and a Powerade is how Gilbert Tiger senior point guard Noah "Doc" Self likes to energize himself on game days. Because Self has a potassium deficiency, he makes sure to order extra pickles with his sandwich so his performance on the court doesn't get interrupted by muscle cramps.
Self may have bad cramps, but it never slows him down from being the best on the court.
Self's basketball journey all began when he joined a program called "Wham" in Gilbert. He was only 5 years old when he found love for the game, and that's when he was also given the nickname "Doc."
"I had to pick a nickname because there was another kid named Noah on my team," Self said. "My dad loves James Bond, so on my fifth birthday card they wrote it out to Dr. No and so my mom started calling me Doc."
The name "Doc" has followed him throughout his life, especially on the Gilbert High School basketball team.
Self made a name for himself when he was pulled up to the varsity team as a sophomore by head coach Jay Caserio. When Caserio first met Self at one of Gilbert's summer basketball programs, he knew that there was something special about this young man.
"Those first few years that I met him, I was like, man, I'd be pretty blessed if we get a kid like him to come to Gilbert." Caserio said.
Self drives a 40-minute one-way commute to Gilbert from his home on the base of Gold Canyon. His father, Frank Self, contacted Caserio when Noah was about to begin seventh grade to ask him what middle schools feed Gilbert. That phone call was the moment when Caserio knew that "Doc" was soon arriving to play basketball as a Gilbert Tiger.
As Self began his junior season, he was named one of the team captains due to his balance of being a vocal leader and a great player.
"He's an unbelievable leader," Caserio said. "He empowers his teammates to want to play hard for our school, he's just so infectious."
Caserio isn't the only one that is grateful for Self's dedication and leadership. His teammate and best friend since junior high, Carson Towte, has always appreciated Self's behavior on and off the court.
"He's always bringing in good vibes, he is never down," Towte said. "You can count on him for being consistent, always coming into the gym ready to work."
After his junior year, it was a no-brainer to place Self in that captain position once again for his final year as a Tiger.
Self also exceeds in the classroom, carrying a 3.95 GPA. He has taken education very serious since he was an elementary student.
"That's No. 1 on anything," Self said. "If school is not being handled or taken care of then there is no fun at home, there is no going out."
While basketball and education are some of the most important things on his list, he can never go a day without music. His favorite artists he enjoys listening to are Tyler the creator, Kendrick, Lamar -- and, most of all, his older brother, NYE CityZen.
"I have to listen to music," Self said. "That's the one thing that I need for me."
Self will usually play his favorite song by his brother on game days called "GRVTY."
After Self graduates, his basketball days will continue on during the summer with AZ Sting, a boy's basketball club in Chandler. While Self also has a couple of athletic scholarship offers from Maricopa Community College and Phoenix College, he has yet to commit to one.
Self has valued his time at Gilbert and finds himself reflecting on the many teammates and friends he met throughout his duration here.
"I'm going to miss coming in and grinding it out with these guys every day," Self said. "These are the kids I've grown up with, it's never going to be like this ever again."
---