Boras Classic: East Valley teams hoard semifinal berths
March 14, 2019 by Les Willsey, AZPreps365
---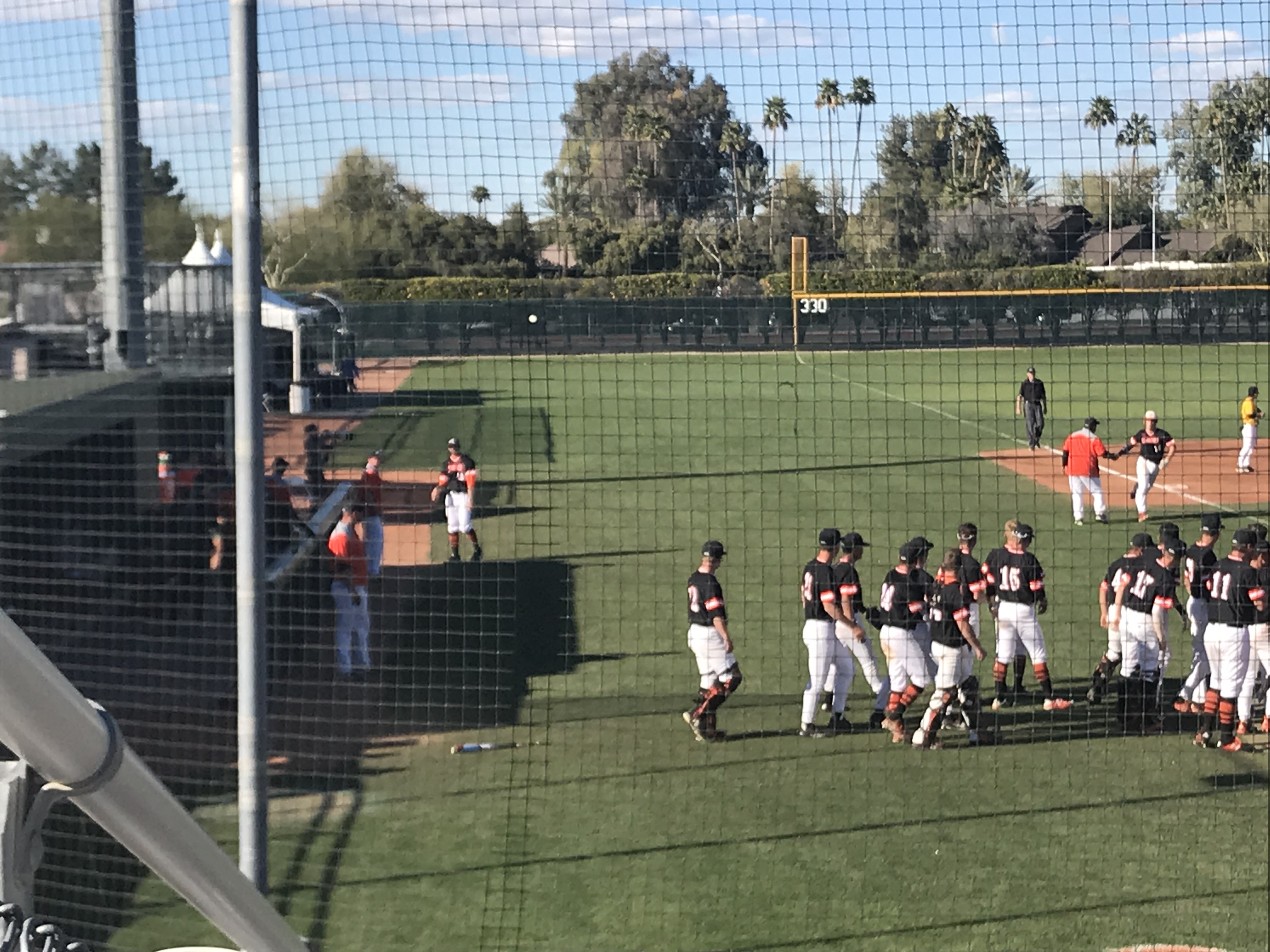 When a player hits .472 his junior year of high school the expectations often rise about what a senior campaign can yield.
Duplicating that feat will be difficult for Corona del Sol's Brian Kalmer, but one at-bat on Thursday was a game-changer for him and the Aztecs in the short term.
Kalmer blasted a long two-run homer to cap a three-run rally in the sixth inning vaulting Corona to a 3-2 victory over Cottonwood UT in a Boras Classic quarterfinal game at Corona del Sol HS.
Corona del Sol advances to Friday's 3 semifinal and will face Mesquite, a 13-6 winner over Legend CO. Game time for the CDS-Mesquite semi is 3 p.m. at Corona del Sol.
The entire semifinal field will feature Arizona schools. All are from the East Valley. Mesquite nabbed a spot topping Legend CO, 13-6, at Arcadia High. Mountain Pointe topped Arcadia, 9-1, and Hamilton blasted Mountain Vista CO, 12-1, for the other spots in the semis.
The Corona-Cottonwood quarterfinal was easily the best of the four winner's bracket games. It was a pitcher's duel throughout as Cottonwood's Kentucky-commit Ross Dunn matched up with Corona sophomore Wyatt Bauer, making his 2019 debut.
Dunn worked five scoreless innings and drove in one of two runs to that point that had the Colts leading Corona, 2-0.
Dunn, a junior lefthander, allowed threee hits, now walks and struck out five. He gave way to reliever Hunter Cornia in the top of the sixth and that's when Corona broke through.
Leadoff hitter Cade Verdusco legged out an infield chopper. Bryan Webb followed slashing a solid single to right to put runners at the corners. Hunter Haas then reached momentarily on a throwing error allowing Verdusco to score. Haas was tagged out at first while returning to the bag.
That brought Kalmer to the plate with an out and tying run at third. Corona coach David Webb mentioned to Kalmer before he stepped in to hit to relax, that his first two at-bats had been too tense -- two strikeouts.
"I went up to do a job,'" Kalmer said. "I wanted to get something in the air to the outfield. I made an adustment concentrating on relaxing."
A smooth swing connected solidly on a 1-1 offering and the ball sailed 360-feet plus over the left-field fence. The homer was Kalmer's third this season and second of the tournament.
Wyatt wanted to finish what he started. He secured the first two outs on infield pop-ups, but gave up a single to Cottonwood's Carson Angeroth, who had two of the Colts five hits and one of their RBI.
At that point Webb summoned closer Aaron Garcia to get the final out. Garcia obliged with a four-pitch strikeout.
HAMILTON 12, MOUNTAIN VISTA (CO) 1: The Huskies used six strong innings from Dustin Bermudez and a 14-hit attack to knock off the Golden Eagles.
Bermudez helped himself at the plate with three hits, a walk and hit by pitch. Michael Brueser addd four hits, including three doubles and two RBI. Will Maxey checked in with a pair hits. Six different players had an RBI for Hamilton.
MESQUITE 13, LEGEND (CO) 6: The Wildcats continued their hitting prowess, scoring double-digit runs for the seventh straight game in downing the Titans at Arcadia HS. Mesquite used a nine-run, third inning to overcome a 5-3 deficit and win going away.
Holden Breeze, TJ Clarkson and Jayden Orozco drove in three runs apiece. Orozco has nine RBI in two tournament games. Davis Heller had two hits and two RBI. Mesquite faces the Mountain Pointe-Arcadia winner in the semis on Friday at 6 p.m. at Arcadia.
MOUNTAIN POINTE 9, ARCADIA 1: The Pride used a four-run, fourth inning to distance themselves from the Titans and reach the semifinals at Arcadia.
Joey Cammarata threw the first five innings, allowing two hits and one run. He struck out eight. Cammarata also added two RBI as did Ethan Long. NIck Wallerstedt, Connor Murphy and Devon Dixon had two hits each among Mountain Pointe's 10 hits. Kellen Slade had two of Arcadia's three hits and drove in its only run.
---