Tennis: Pusch Ridge solidifies top ranking with win over Walden Grove
March 20, 2019 by Andy Morales, AZPreps365
---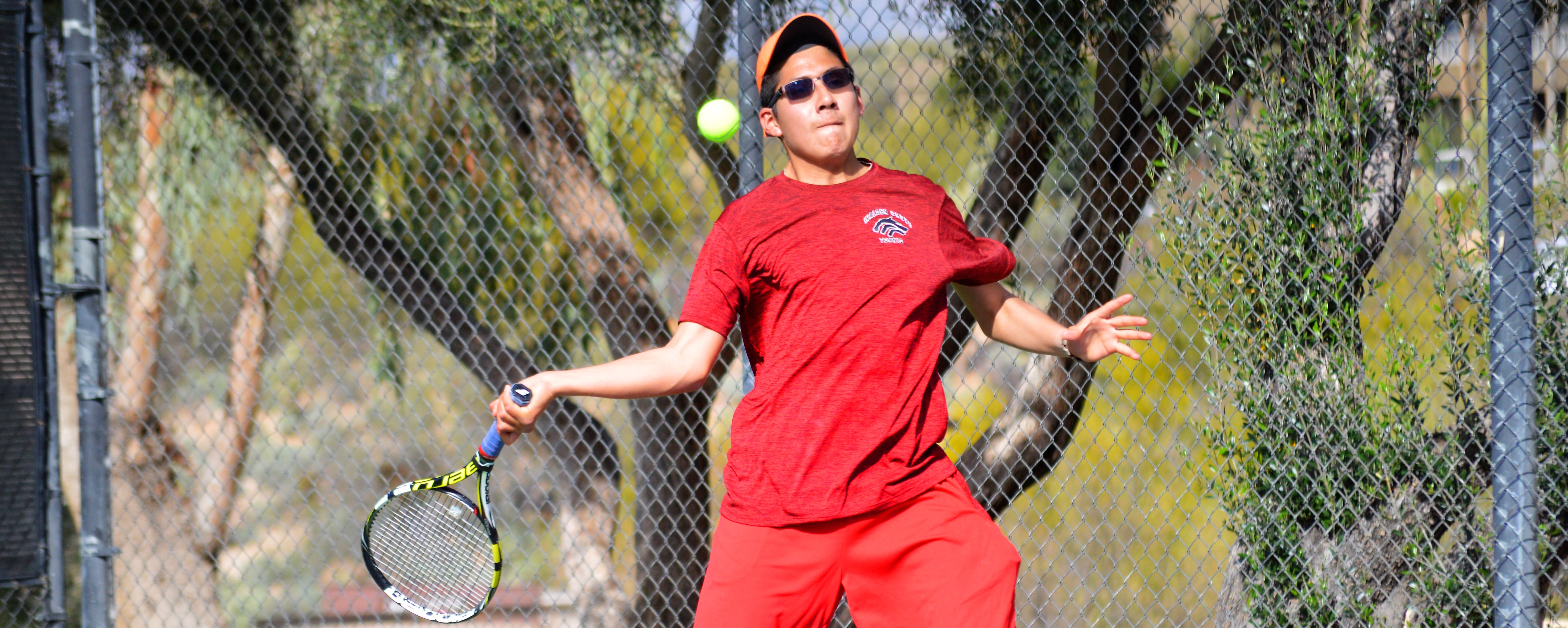 Pusch Ridge beat Walden Grove 7-2 Tuesday to move to 5-0 on the year. The streak includes wins over Division II opponents Salpointe, Ironwood Ridge and Canyon del Oro. The Lions are ranked No. 1 in D-III despite losing the services of two-time state champion Preston Grammond.
Grammond is taking a few matches off to care for his shoulder but he should be back before the season is over according to his father, and assistant coach, Mike Grammond. The Lions were also missing junior standout Diego Rodriguez due to illness so his brother, Daniel Rodriguez, took the main court against Walden Grove.
Diego Rodriguez teamed up with Christian Fetsis to win the D-III doubles title last year but Fetsis graduated so that vacancy opens up a lot of options for the program come state finals when the Lions will attempt to defend their team title.
Walden Grove standout Jesus Cordova is back for his senior year. Big win at Pusch Ridge today #azpreps365 pic.twitter.com/HUxRcyDptQ

— Andy Morales (@AZPreps365Andy) March 20, 2019
In the top spot, Walden Grove senior Jesus Cordova got past Daniel Rodriguez 6-2, 6-2 and Cordova teamed up with Frankie Circuli to win a doubles match over Aaron Reese and Connor Lamour, 8-6.
Cordova took third place as a freshman in the Division III singles competition after taking eventual state champion Gabriel Stadelmann of Florence to three sets in the semifinal round and he followed that up with a fourth place finish after moving up to D-II his sophomore year. Cordova took his junior off from competition but he's back, ready to finish out his high school career with Walden Grove.
Walden Grove (2-3) is 1-0 in Section VIII with a great opportunity to make the state playoffs as a team by taking their section. Not bad for a program that finished 0-12 the year before Cordova stepped on campus. The eight section champions will join eight at-large teams based on ranking to field the 16-team state brackets, set to start on Wednesday, April 24.
Pusch Ridge 7, Walden Grove 2
Jesus Cordova (WG) over Daniel Rodriguez (PR), 6-2, 6-2
Alex D'Agostino (PR) over Matthew Lizardi (WG), 6-3, 3-6, 10-2
Aaron Reese (PR) over Frankie Circuli (WG), 6-1, 6-0
Connor Larmour (PR) over Cameron Legate (WG), 6-0, 6-0
Kyle Bushelman (PR) over Leo Tovar (WG), 6-1, 6-0
Mason Wunder ((PR) over Martin Villa (WG), 6-0, 6-2
Rodriguez/D'Agostino (PR) over Lizardi/Cody Kratzer (WG), 8-4
Cordova/Circuli (WG) over Reese/Lamour (PR), 8-6
Bushelman/Wunder (PR) over Legate/Tovar (WG), 8-0
---