Toros win rivalry game against Red Mountain
April 2, 2019 by Claudia Faust, Arizona State University
---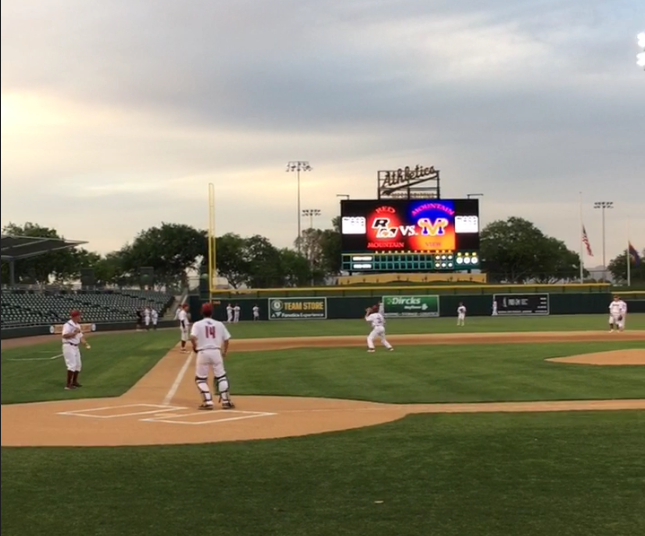 A productive third inning and impressive pitching by Dallas Wise helped Mountain View defeat Red Mountain, 8-1, on Tuesday at Hohokam Stadium.
"I felt pretty good," Wise said. "I felt like I got behind in some of the counts, but my defense had my back and I felt like it was a good outing."
Toros head coach Mike Thiel was equally impressed with Wise's outing.
"Dallas was the man tonight," Thiel said. "I mean he was money. He's a guy that we have a lot of confidence in and we know that he's a great pitcher."
Wise finished the night with four strikeouts and gave up five hits in seven innings but he gave a lot of the credit for his success to his teammates' defense.
Trusting the defense is something that Thiel and Wise have talked about when things don't go as planned on the mound.
"Everyone had to contribute to their role," Thiel said. "Dallas understands that he needs to get ahead of hitters and if he's not he needs to let his defense do the work."
Shortstop Thome Nickelson paved the way for the offense with a vital two-run triple in the third inning to finally get runs on the board. Two wild pitches by left-hander Daevion King scored two more runs in the third inning, helping the Toros' momentum to stay strong. Nickelson, center fielder McKay Barney and designated hitter Jeramy Krause all had productive at-bats throughout the game.
"My mindset is always to win the at-bat," Nickelson said. "Hit the ball hard. Put the ball in play and score a run no matter what."
Nickelson's bat stayed hot throughout the game and managed to get another triple under his belt to lead off the seventh inning.
The teams have had an ongoing rivalry as long as anyone on either team can remember.
Red Mountain was hoping to redeem themselves in Tuesday's game since they lost both games against the Toros last season. But in the 2016 and 2017 seasons the Toros were swept by the Mountain Lions.
Red Mountain will get a chance to split the series with the Toros on Thursday in their second faceoff at Hohokam.
Mountain Lions head coach Rob Gorrell said that his team didn't hit enough to come out with a win but is looking forward to Thursday's game.
"We come back with our best guy, Kai Murphy, on Thursday pitching," Gorrell said.
Gorrell told Murphy that if the team didn't win their first game against Mountain View that he would need to be prepared to pitch on Thursday.
"It's pretty well known that he's our guy and when he goes we've got our best chance at winning," Gorrell said. "But they've got a good team over there so he's going to have to be on his game to get a win."
Murphy, who is committed to play at Oregon State next year, is no stranger to the Toros.
"He throws pretty hard, has good command, good control and that's not a problem for us," Nickelson said. "We're a good team and we like to hit tough pitching so I'm just excited for the next game."
The Toros and Mountain Lions meet again at Hohokam on Thursday at 4 p.m.
---