Coronado's Porras overcame early setbacks before becoming a star
April 4, 2019 by Joe Hace, Arizona State University
---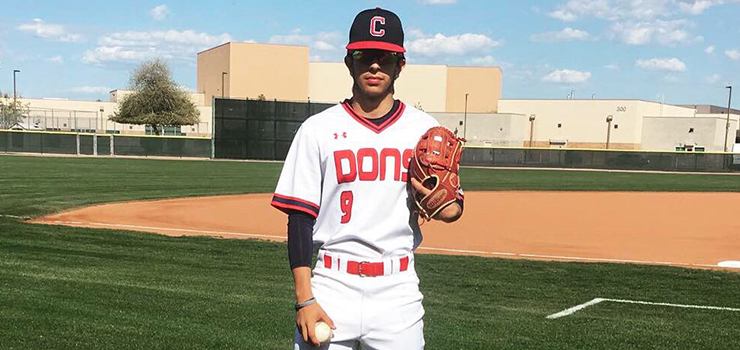 Francisco Porras has played the game of baseball ever since he was able to walk. It was a dream of his to play in high school and in college.
Freshman year tryouts finally arrived for Porras at Broomfield High School in Colorado. When the list was posted, Porras' name wasn't on it.
"It was heartbreaking," said Porras. "This sport means my life."
A 5-foot-8, 125 lb freshman, Porras decided to hit the weight room hard and prove the naysayers wrong.
"I was terrified to get back on that field," Porras said. "What if I got cut again?"
Porras was overlooked once again his sophomore year when he didn't make the roster.
"At that point, I could either quit for good and cry about it or get up and do something about it," Porras said.
He chose the latter.
Porras moved to Arizona because of family reasons and enrolled at Coronado High School in Scottsdale. Coming in three inches taller and 40 pounds bigger, Porras made the varsity team.
"I was able to come here to build a new future for myself in the eyes of people who know who I really am and who I wanted to become," Porras said.
Porras used the sizable chip on his shoulder to persevere and prove his old school wrong. Now in his senior year, Porras is the Dons' ace and has a .333 on-base percentage.
The Dons are 1-9 and have a roster full of young players with little to no background in baseball. Porras has been a player that his teammates look up to and can come to for motivation and advice.
"I lead by example," Porras said. "I work my butt off in and out of the weight room to perform 110 percent for this team. I know my teammates see that and it motivates them to be better."
Coronado's head coach, Ryan Dyer, loves having a leader like Porras on his team.
"It's an awesome feeling when I know I can turn my back and have a guy like Francisco be a leader to these younger guys," Dyer said.
When assessing schools in Arizona, dad Frank Porras knew his son would strive n a leadership role for a smaller program rather than playing for a bigger school.
Porras dedicates a lot of his success to his father.
"My dad is like my personal agent," Francisco Porras said. "He would always tell me how it is. If I was being lazy, he would tell me."
Francisco Porras learned the fundamentals of the game from his father at a little ballpark right across the street from their house in Colorado. Frank Porras gave his son every little information he had about the game of baseball and would even take time out of his day to do his own research.
Francisco Porras has been in touch with the coaches at Mesa Community College, Scottsdale Community College, Pima Community College, and Chandler-Gilbert Community College.
He wants to get his degree in computer science and become a software engineer. When he's not on the field or in the weight room, Porras is coding games and doing computer animations.
Frank Porras always noticed the resiliency his son had, helping him push through the adversity he faced in his career.
"The passion and love he has for the game, I knew he could push through the early setbacks," Frank Porras said.
---