Assistant coach helps Brophy achieve tennis excellence
April 10, 2019 by Lamar Smith, Arizona State University
---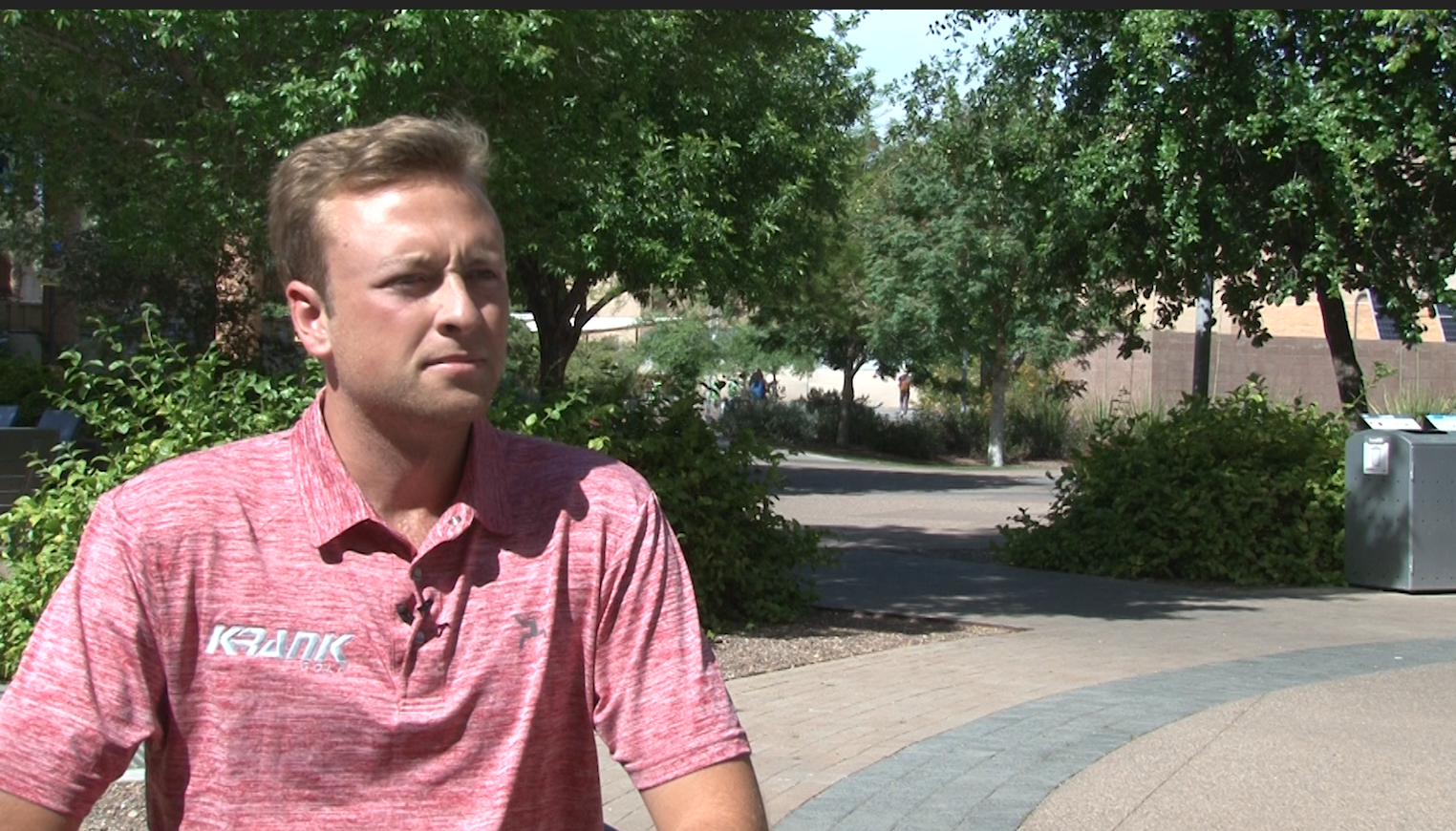 Many people have contributed to the long-term success of Brophy tennis from the players, to the parents and the coaching staff.
It is an elite coaching staff that includes one coach who also happens to be a student at Arizona State University.
Assistant coach Brendan Knight is a junior at ASU and has been a part of the Brophy tennis team's coaching staff for little over a year. During, his short time on the staff he's already made a positive impact on the program, helping coach varsity, junior varsity and the Bronco Developmental League.
"He's literally Coach Chalmers (head coach) right-hand guy," said Chris Campbell, who runs the Bronco Developmental League. "When coach needs something, boom, Brendan's there to deliver it."
His job as an assistant at Brophy came unexpectedly. Amy Gallo, the assistant coach for the Xavier College Preparatory tennis team, knew head coach Eric Chalmers needed an assistant and introduced the two of them.
Knight's tennis background is pretty vast. He played varsity tennis all four years at Ernest W. Seaholm High School in Michigan and was All-State in Division II doubles his last two years there. He also was a tennis instructor for four years prior to coaching at Brophy.
Chalmers, a former state champ in tennis at Brophy, wanted a younger coach on his staff. Someone who could relate well with his players.
"You see him as an assistant coach who can really talk to guys one-on-one," Chalmers said. "Pull them aside when they're feeling down, get a drill court up and running or get the guys pumped. And it doesn't matter who he's working with, whether it be our beginners in Bronco league or our top varsity guys."
Characteristics that people applaud include his positivity and his reliability.
"Last year he took the light rail the first half of the season until he got a car," varsity co-captain Josh Belgrad said. "That just shows his dedication. He took the light rail every day and he'd meet us at the buses (at Brophy) to come here (Phoenix Tennis Center) for practice. And also, sometimes we'd pick him up from ASU (Tempe Campus) to go to the matches that are in that area."
Varsity co-captain Hugh Campbell said one day he was having a rough day at practice and Knight told him a funny light rail story that cheered him up and made his day better.
Knight is committed to excellence and brings the best out his players by pushing them. Chalmers applauds his ability to "hold guys accountable."
The high bar Knight and the coaching staff set speaks to the program's consistent excellence. Brophy players are not concerned about succumbing to complacency.
Outside of coaching the Broncos, he's treasurer of his fraternity (Sigma Nu), he works at Krank Golf, and he is a Barrett Honors student.
Despite his busy schedule, he always makes time to be there for the team.
Last year the Broncos went (14-0) in the regular season and won back-to-back Division I state titles. Brophy had one of its closest matches all year on the road against Corona del Sol. Knight's laid-back demeanor and positivity helped Josh Belgrad rally to win what ended up being the deciding match.
"I was in the middle of my singles match," Belgrad said. "I looked back saw Coach Brendan and he really calmed me down. And really fought me back in that match just by his relaxed mentality, kind of his laid-back persona and his way of coaching."
During his time at Brophy, Knight has grown a lot from his coaching and tennis knowledge to his comfortability with the guys on the team.
Knight says "just doing the small stuff right is really what helps impact the guys... You know like cleaning up after we leave a match, picking up all the balls and being a positive influence on the court."
The Broncos are currently on a 43-match winning streak including 30-0 since Knight joined the staff last January.
Knight has been one of the main cogs to the program's success. He's not focused on getting recognition or attention. He says he loves Brophy tennis and has respect for all the guys on the team.
"You can count on him," Campbell said. "You can count on him 100 percent. If you need something done, he's not going to say no. Or he's not going to be too busy. He'll figure out a way to make stuff happen."
---