Baseball: Chandler hands Brophy 1st region loss
April 11, 2019 by Les Willsey, AZPreps365
---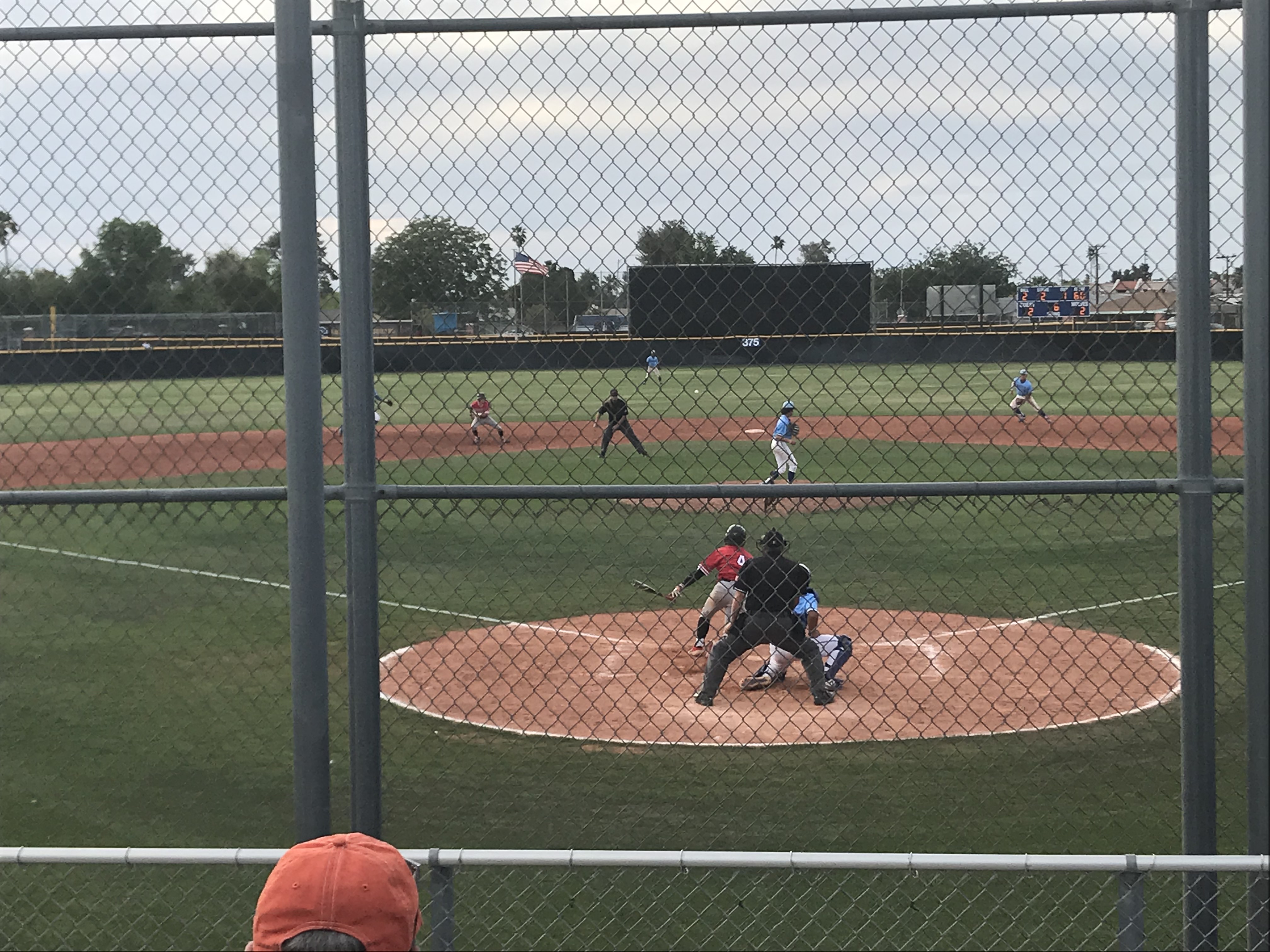 It's been hard to piece together a winning streak in 6A Premier Region baseball this season. Brophy came in to Thursday's contest at Chandler High with a four wins in as many region tries for the best streak. Perry managed to win three in a row, but has fallen out of region-title contention with a four-game skid.
Brophy's streak came to an abrupt end in this one as Chandler plated six runs on seven hits tin the bottom of the sixth to turn a two-run deficit into an 8-4 victory.
The Premier Region lead remains Brophy's at 4-1. Next is Hamilton 4-2, then Perry 3-4, Chandler 2-3 and Basha 1-4.
Brophy, which entered play as the region leader and No. 3 in the power rankings, could do nothing but tip its cap to Chandler's late hitting prowess. Brophy coach Josh Garcia said prior to the game his team's solid run to the final six at state last year could be credited in great part to one portion of the season.
"We learned a lot playing region games," Garcia said. "They prepared us for just about anything."
Both starting pitchers fared well working deep into the fifth or better. Three of the four runs Brophy's Josaiah Estrella and Hamilton's Michael Kasik combined to give up with the game tied at 2 scored on wild pitches. Two of the four runs Kasik allowed were unearned.
Brophy (14-6, overall, 10-4 power-ranking games) didn't trail until Chandler's turn to hit in the sixth. The Broncos grabbed leads of 1-0 (first), 2-1 (third) and 4-2 heading to the last of the sixth. Brophy's bullpen, a strength most of the season, couldn't get it done this time.
The Broncos weren't able to go to their usual late-inning choice, John Clasen. Clasen was in the starting lineup, but left mid-game. Clasen was hit in the elbow by a pitch in the second inning and it swelled hastening his removal. Clasen has two wins and two saves in seven relief appearances and sub 1.00 ERA.
"We consistently barreled up some balls that last inning," Chandler coach David Lopez said. "We did a good job of putting the ball in play with two strikes and putting together good at-bats. This was a big-time team win. A lot of guys contributed."
Chandler (17-5, 9-5 prg) caught and passed Brophy in the sixth after Brophy scored twice to break a 2-2 tie in the top of sixth. Those runs came via an RBI single by Alex Palacios and a bases-loaded walk to Sean Cooper.
Chandler sent 11 batters to the plate in its winning rally. A bases-loaded single by Javan Ah Quin tied the game at 4. No. 9 hitter Elijah Thurman, who Lopez said has operated essentially as a second leadoff hitter in that spot, delivered his third single in as many at bats to fill the bases.
An out later David Romero broke the tie with an RBI groundout to make it 5-4. Efran Manzo followed with a two-run double giving him three RBI for the game. Joseph Dicarlo, who began the inning with an infield hit, lined a single to left to knock in the final run.Chandler outhit Brophy, 13-6. Three other players besides Thurman and Dicarlo had multiple hits for Chandler -- Manzo, Luke Bass and Brent Renteria.
Brophy had one player with mulitple hits -- Johnny Dowse - who dropped a perfect bunt ntended to be a a sacrifice and instead was a hit keying the Broncos' two-run rally in the sixth.
Brophy and Chandler meet again Friday at Brophy at 6 p.m. Brophy finishes region play next week with a two-game set with Hamilton. Chandler does likewise with Basha.
---