Faith, family and softball
April 13, 2019 by Sarah Farrell, Arizona State University
---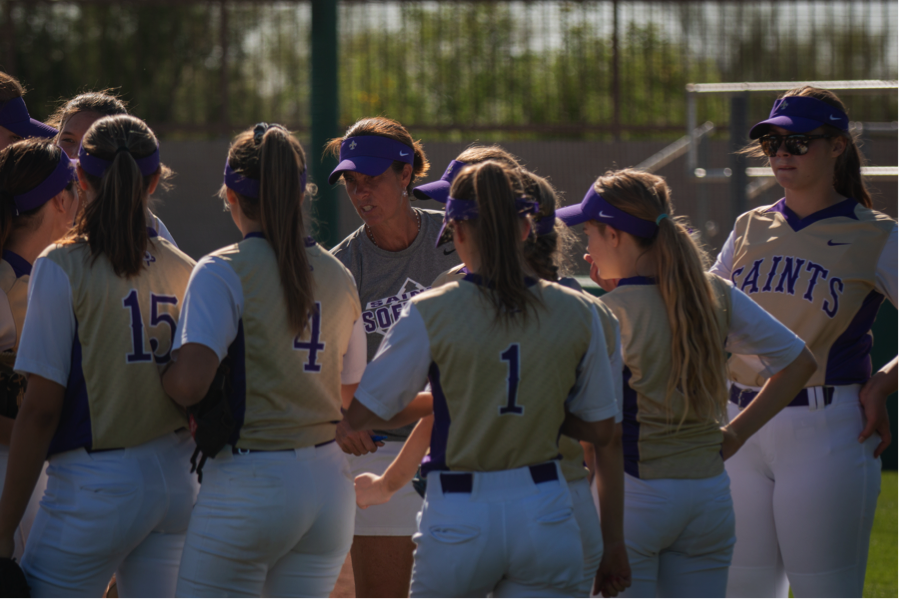 It was an ordinary Friday afternoon softball game; the second game in as many days between the McClintock Chargers and the Notre Dame Prep Saints. But for the two coaches in the dugout, this game was anything but ordinary.
Charlie Marshall, the head coach at McClintock, has known Kim Braatz-Voisard, the head coach at Notre Dame Prep, for almost a decade. He helped her get her first coaching job in the Valley, as a volunteer assistant with the Chargers.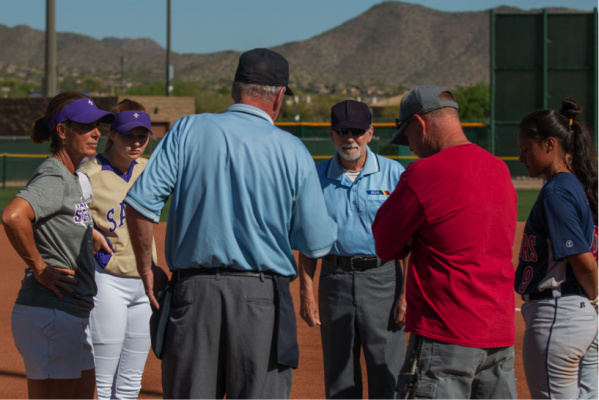 Notre Dame Prep swept the two-game series with the Chargers. They won 7-6 in Tempe, and 16-12 at home. (Photo: Sarah Farrell/AZPreps365)"Not only does she give everything she's got to these girls, and what she does coaching-wise," Marshall said. "Family-wise, what she gives to her kids is amazing. It takes a special person to do what she's done."
This is Braatz-Voisard's first season as head coach of the Saints, a program that has had five coaches in the past seven years and has endured losing seasons since 2012.
"It's hard when you lose so much," she said, "because I wasn't created to lose that much. Inside I'm just like, 'mwah!' I don't know how to take it. I've never lost this much in my life, as a coach, as a player, anything."
For Braatz-Voisard, losing isn't in her DNA. She was an All-American softball player at the University of New Mexico. She played women's baseball with the Colorado Silver Bullets, a team that barnstormed around the country and competed against top men's amateur teams in the late 1990's. In 1996, she was the first woman to hit an out-of-the-park home run off a male pitcher. She won two gold medals in the 2004 and 2006 IBAF Women's Baseball World Cup as an outfielder with the USA Women's Baseball team.
When she took over the Saints program this year, her goal was to bring a culture of integrity, commitment and intensity to this program.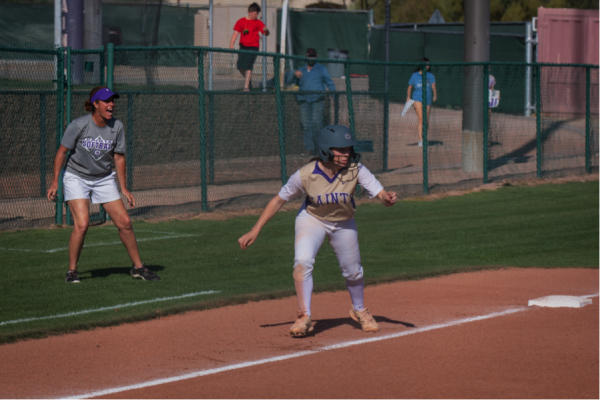 Braatz-Voisard has tried to keep a positive mentality as her team has struggled to get wins this year. (Photo: Sarah Farrell/AZPreps365)"We would lose, our record did not reflect how good we were playing, and I just kept telling them that and praising them," Braatz-Voisard said. "Because for me, if they were working hard, and they were all in, and they were giving me everything and learning, that was a win."
While the team hasn't had a miraculous turnaround this season (5-10, 5-5), Braatz-Voisard believes they have turned a page in recent weeks, and her players agree with her.
"In the beginning of the year it was a little shaky of course because we were all new to each other," junior shortstop Madison Osmussen said, "so we weren't really working together. But now I can definitely see the outfield is working as one team. The infield is working as one team."
Coaching has never been a grand dream for Braatz-Voisard though. It's something she just kind of fell into.
"I wanted to be a pro athlete, and that's what I was," Braatz-Voisard said, "but then when I was done with that I was like, 'Now what do I do?' It was really just what I knew, what I was passionate about, so that's why I kind of started on that path."
She started coaching because that was what she knew how to do, "but really it was my heart for the kids," she said that kept her in it. They motivate her, especially when she has struggled to support her family as a single mother. Both her family and faith have dictated the trajectory of her career.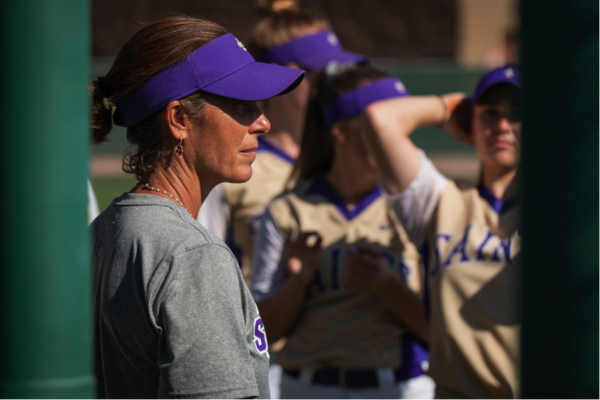 The impact that she has on her players is her biggest motivator to continue coaching even when she's faced struggles as a single mother. (Photo: Sarah Farrell/AZPreps365)
Braatz-Voisard is a mother of two. Her daughter Madison is 20, and her son Franklin is 16. Franklin was born when Braatz-Voisard was coaching softball at Samford University with her ex-husband. Pretty early on, she realized that Franklin wasn't like other kids – he had autism
She always knew that being a mother was important to her, so taking care of her son and supporting her family became her biggest priority.
"I really just wanted to be a mom, and take care of my kids," Braatz-Voisard said. "I didn't have all of this drive and ambition to be this top D-I college coach. I just didn't have aspirations for some big career."
She moved to the Valley, and worked to continue coaching. She coached club softball for a few years and held softball clinics around Arizona.
Early on, she helped coach the Arizona Thundercats – a club softball program in Tucson. She would drive down once a week and run a four-hour practice for the outfielders. But after about a year, the travel was too much for her to balance while trying to support her family.
Instead, she started club softball teams under the Arizona Thundercats in Phoenix.
At one point, she was invited to live with a family in McCormick Ranch for a couple of years. "They said, 'Oh God just put it on our heart and we want to bless you, and see if you want to live in our house,'" Braatz-Voisard recalled.
They had a big five-bedroom house that they were looking to tear down to build their dream house, but for the time being it was the perfect space for Braatz-Voisard and her family. "She would be like, 'Oh don't worry about it. If Franklin puts holes in the walls don't worry about. We're going to tear it down anyways.'"
The house was on an acre lot, so Braatz-Voisard put a batting cage in the back and was able to work from home and continue giving lessons. "I was really able to give more to my son," she said, "because I didn't have to worry about the money."
To this day, she counts it as one of the biggest blessings she's received in her life.
It was an experience that really humbled her, and taught her how to receive. "It was really hard at first because I was always, 'What do I have to do for this? I have to work for it. I have to earn it.' As an athlete, that's such your mindset," Braatz-Voisard said.
Fast-forward to the present day, and Braatz-Voisard has been the head coach of the Saints for almost a full season. The private Catholic school has been a great fit for her. At Notre Dame, she's been able to coach and live out her faith every day.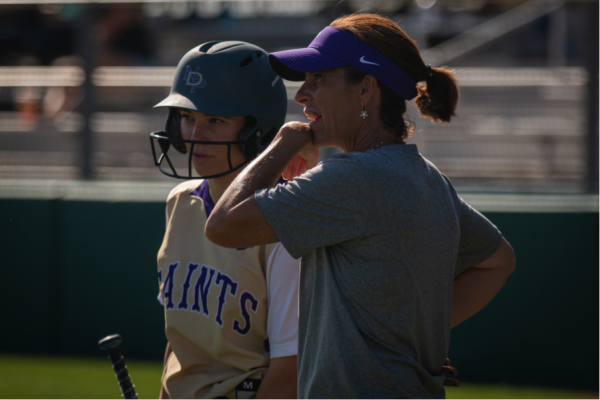 Braatz-Voisard brings decades of experience as both a coach and player to the Saints this year. Her players have taken every advantage to learn from her. (Photo: Sarah Farrell/AZPreps365)
After only a few months, her impact has definitely been felt on the team.
"She's very proud in her faith," freshman infielder Elle Aister, "and it wears off on the team. I've grown [spiritually] in that sense, and she's also given me so many good tips and taught me so well this season that I can tell I've improved."
Braatz-Voisard and the Saints finish the season with a game at Maricopa on Monday, and an away-and-home series with region opponent Cactus Shadows on Tuesday and Wednesday.
---