Matt Bergevin - resiliency through adversity
April 15, 2019 by Scott Rowe, Arizona State University
---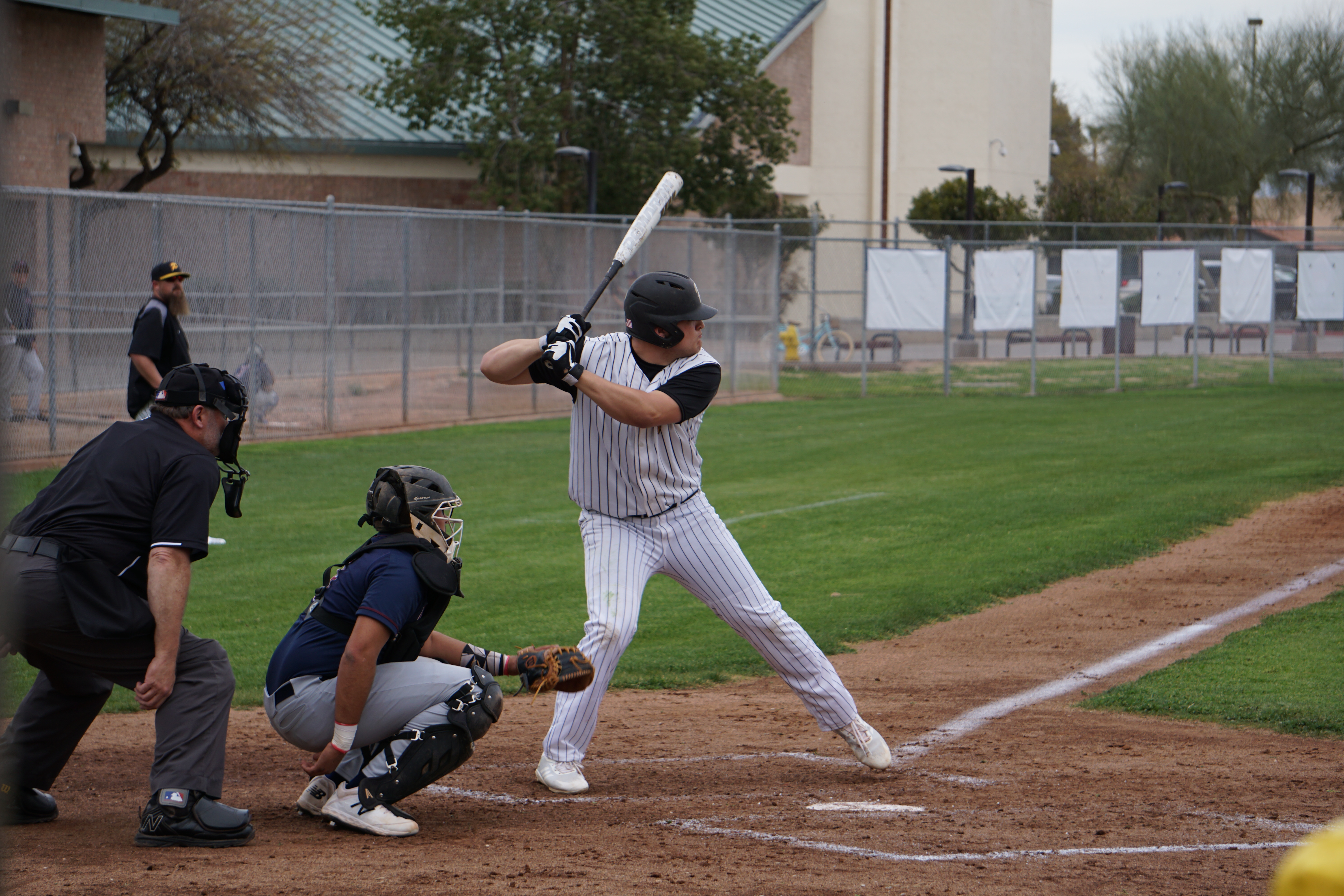 Marcos de Niza's star baseball player Matt Bergevin is a lot more than just a student-athlete who excels both inside the classroom and on the diamond.
The senior plays first base, third base and pitcher for the Padres (11-9), and leads his team in nearly every offensive category. He also has a 3.75 GPA, has taken many AP level classes, and is involved in Distributive Education Clubs of America (DECA), student council and sprit club.
Bergevin is hitting .490 on the season with four home runs and 20 RBIs from the No. 3 spot in the lineup. On the mound, Matt also leads his team with a 2.38 ERA and 43 strikeouts in seven appearances. Next year he will play on the Concordia University Cavaliers baseball team in Portland, Oregon.
"Matt is a great senior leader. He leads by example," Marcos de Niza baseball coach Matthew Courtney said. "He is the first one everyday to arrive and the last one to leave. Best work ethic I've seen in years."
Toughness, resiliency and work ethic are all characteristics that the people around him use to describe Bergevin. Another list of words that can be used when talking about him are humble, caring, and reserved.
Bergevin has worn number 19 when he is on the diamond and not because his offense resembles that of the late San Diego Padres first baseman Tony Gwynn. He wears the number as a tribute to his older sister Jillian "Jillie" Bergevin, who passed away when he was only 13.
Although Bergevin is only 18, he has been through a lot more than most people have to endure in a lifetime. Jillie was nine years older than Matt and by the time he was born Jillie had lost the ability to speak and most of her motor skills.
Jillie had seizures a couple of times a year from the time she was 3 years old until she turned 9. Around the time their mother, Linda Bergevin, was pregnant with Matt, her health took a turn for the worse.
"We don't know what happened, but she had a very quick and sudden decline," Linda said.
The Bergevin family was living in Georgia at the time but had to fly to Arizona to get Jillie the best neurology care at St. Joseph's Hospital, which is now Phoenix Children's Hospital.
"It was actually Christmas Day," Linda said. "We checked into St. Joe's because she was having too many seizures and she was losing function of her talking. We ended up staying for about four months. She at one point slipped into a coma and was not expected to survive."
While Jillie was recovering and fighting to stay alive in the hospital, Matt was born. After her miraculous recovery, they were able to return to Georgia, but only for about six months.
Jillie had another rapid decline that completely debilitated her motor skills. Walking, talking, even showing emotions became next to impossible. She had to be taken out of school and cared for full time by her family.
"I think her neurologist to this day will tell you it's probably his greatest mystery and failure that no one was ever able to diagnose her," Linda said.
Although Jillie had lost her ability to speak and communicate by the time Matt was old enough to himself, that didn't stop the two from developing a bond deeper than words.
"I've always had this connection to her, and I try to honor her in everything that I do," Matt said.
Linda said that the relationship between the two siblings was anything but traditional, but their connection was stronger than any.
"Jillie had difficulty with any kind of expression. Laughing, smiling or anything, but he absolutely lit her up," Linda said.
Linda said that Matt would always know things like which kinds of candy that his sister wanted even though she couldn't speak to him. She didn't understand how but knew that Matt was in tune with what his sister was thinking and feeling.
Not only would Matt bring a smile to his sister's face when playing at home, but the two shared a love for baseball.
"She loved watching him play baseball," Linda said. "She wouldn't always be able to make an expression or sound, but when he would come up to bat, she'd smile."
Jillie passed away in July 2014 at the age of 22. Matt continues to try to honor his sister by wearing the number 19 which is the sum of Jillie's birthday (2/12) and the day of the month he was born (5).
Towards the end of Jillie's life, she would have up to 30 or 40 seizures a day. Matt was there for all of it and knew how to help his sister and took care of her throughout her daily battles. Matt quickly learned how to become stoic through everything she was enduring and kept everything to himself.
"No opposing team knew that he had been up late the night before helping me with his sister's health management," Linda said. "Same for teachers and classmates. He rarely spoke of the difficulty in helping Jillie."
Matt selflessly aided his sister for years growing up and developed the work ethic that he exhibits in every aspect of his life. He leads his team in nearly every offensive category and always makes time to study and maintain his status on the honor roll.
"I get a lot of resiliency and a lot of toughness from [Jillie]," Matt said. "I think she really did instill a lot of that in me."
Matt's dream is to be one of the best hitters to ever play the game of baseball when he hangs up his cleats. Next year, he will continue to pursue his dream of playing major league baseball when he heads to Portland.
"He's going to be successful there. It wouldn't surprise me to see him at the next level after that," Courtney said.
Bergevin said that he is extremely excited to also live out his dream of moving to Oregon, a place he has admired since he was 11 years old. In 2013, Jillie was having back surgery at the Phoenix Children's Hospital when the Oregon Ducks football team came to town to play Kansas State in the Tostitos Fiesta Bowl.
Ducks coach Chip Kelly and a number of his players went to the hospital in the days leading up to their game to meet the kids and their families. From that moment on, Matt was smitten with the state of Oregon and the good-natured people he met.
Matt also displays his own compassion to families with special needs children. At his games, he is the first person to run over to kids with special needs in attendance and strike up conversation. As someone who dealt with incredible hardship, Matt does his part in assisting the families who are facing similar struggles.
One family in particular that Matt met had a child whose sibling had special needs. Matt found out that he loved Hot Wheels and he promptly went home, gathered up all his old toy racecars and gave them to the family.
"He's just really in tune with not just the child battling whatever the disorder is, but their brothers and sisters," Linda said. "He makes sure that if he can do something for them, he does."
Heading into the final week of regular season games, Matt is looking to take his team into the postseason with some unfinished business from last year. The Padres were unable to acquire a home playoff game last season and were eliminated in their game at division -ival Seton Catholic.
Bergevin will likely be up for many individual awards, but he insists those aren't what he's after.
"If we make the playoffs, if we get that home playoff game, that's an experience that I'm going to remember for the rest of my life," he said. "I won't care about some trophy or medal that I get. I'm going to remember that home playoff game with my guys out there."
Matt is a selfless leader who inspires others through his unparalleled work ethic and toughness. While he has battled through a lot more than the occasional slump or two on the diamond, he continues to use those experiences as motivation to succeed and make those in his life proud.
As his high school career comes to an end, you can be sure that Jillie will be watching over him, smiling down during each at-bat.
---