AIA honors Seton's Tate during luncheon
May 17, 2019 by Jose Garcia, AZPreps365
---
The late
Tiffany Tate
gave a lot even when she didn't have to.
On Friday, she was on the receiving end of an award that recognized her commitment to Seton Catholic as she battled cystic fibrosis valiantly. Tate was awarded posthumously the first ever Arizona Interscholastic Association Courage Award during the AIA's annual
Champions Luncheon
at State Farm Stadium Friday.
Longtime Valley sports broadcaster Brad Cesmat of Sports360AZ gave an impassioned speech about the time he spent with Tate as he relayed her story. Bob Tate, Tate's father, accepted the award the AIA bestowed on his daughter.
Tate spent 10 seasons with Seton Catholic as an assistant basketball coach and starred at Chandler High as a player.
"She never once said why me," said Bob about her daughter. "Her only concern was her family and her players. She loved the players at Seton (Catholic), working with them and mentoring them."
Award winners
Ton Komadina and Leadership in Girls Athletics
1-3A: Mohave River Valley
4-6A: Empire
Coach Karen Self, Seton Catholic
Scholar activity
1-3A: Stephanie Clark, Horizon Honors
1-3A: Nate Campbell, Blue Ridge
4-6A: Zoe Walker, Maryvale
5-6A: Joel Joseph, Mequite
Scholar athlete
1-3A: Lauren Foster, Chino Valley
1-3A: Josiah Goode, Blue Ridge
4-6A: Alyssa Botkin, Sahuaro
4-6A: Keegan Freid, Sunrise Mountain
Coach of the Year
1-3A: Ryan Palmer, Superior
4-6A: Joe Muecke, Saguaro
Unified Sports Coach of the Year
Michael Wakeford, Raymond S. Kellis
Unified Sports Partner of the Year
Kyle Shagena, Perry
Unified Sports Athlete of the Year
Jorge Garcia, Amphitheater
Better Business Bureau/Isagenix Ethics Award
Kendyl Thompson, Seton Catholic
Wayne Burling Jr., Dobson
Director's Cup
Campo Verde
Skip Bryant Media Award
Steve Paynter
Glen Treadaway Sportsmanship
1A: Superior
2A: Valley Sanders
3A: Chinle
4A: Thunderbird
5A: Metro Tech
6A: Corona del Sol
Student Leadership Award
Abby Converse, Xavier
Ahlias Jones, Arizona College Prep
Administrators of the Year
Byron Maynes, Bicentennial School District
Rick McCutcheon, Paradise Valley
Gary L. Whelchel Official of the Year
Don Logan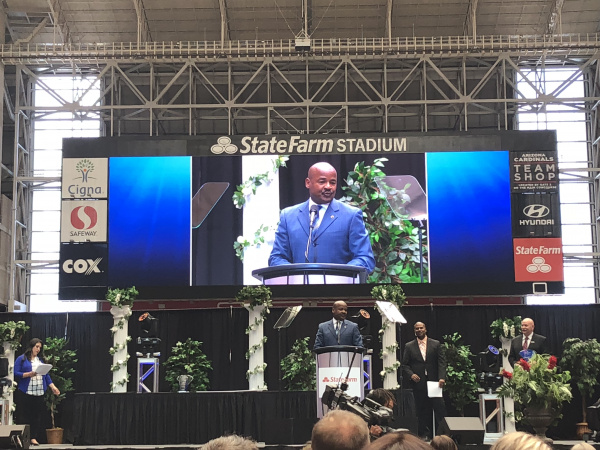 (Don Logan)
Students of the Year (Each one received $5,000 scholarships.)
Morgan Cryder, Tempe Prep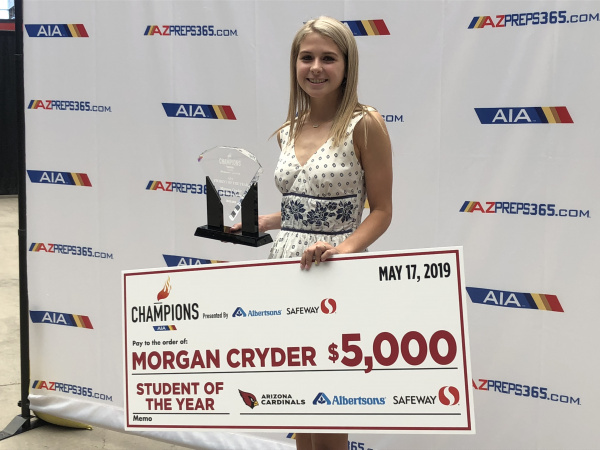 (Morgan Cryder)
McKade Finch, Safford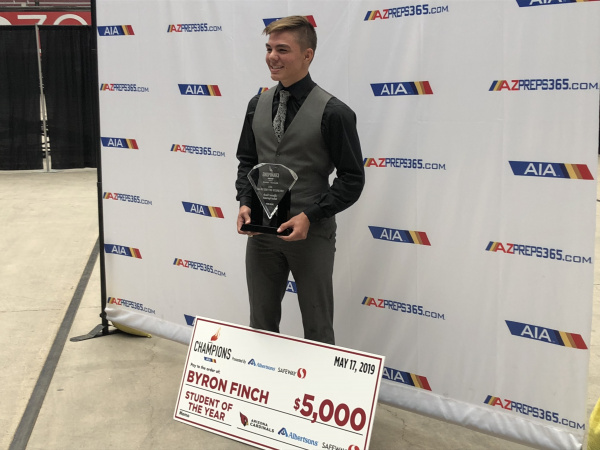 (McKade Finch)
---