Sunnyside wrestling, Part III: DeBerry doesn't disappoint
February 10, 2013 by Jose Garcia, AZPreps365
---
A nervous Robert DeBerry stepped into the shadows wrestling coaching giants Richard Sanchez and Don Klostreich cast when DeBerry took over Tucson Sunnyside's wrestling program in 1993.
"At the time, it was a little spooky," said DeBerry about stepping in after Sanchez stepped down as Sunnyside's coach. "There was some doubt about whether I could uphold the tradition. There was some pressure."
The doubts DeBerry and the Sunnyside wrestling community may have had were erased once the state championships started rolling in.
Winning just one state championship during a coaching career at Sunnyside is unacceptable. Multiple titles are expected, and, if at all possible, a championship every year a coach is at Sunnyside.
That's the standard Klostreich and Sanchez set. DeBerry lived up to those expectations and then some, though.
In fact, no other wrestling coach in Arizona high school history has experienced as much success in wrestling as DeBerry. The gaudy numbers speak for themselves: 15 state team champions and two state runner-ups in 17 years.
"I enjoyed every single season, even the ones that weren't as good, because I love wrestling," DeBerry said. "By the end of the year I saw progress and I enjoyed that."
DeBerry was an assistant coach at Canyon del Oro before moving to Sunnyside.
Besides winning championships and helping his wrestlers grow, DeBerry also grew to love the Sunnyside community.
"It's hard to describe the love for the sport and the love for wrestling and team as a whole by Sunnyside," DeBerry said. "You are getting into (decades) of expectations for the program."
The coaches' families helped foster the family atmosphere surrounding Sunnyside when their sons wrestled for Sunnyside.
The sons made their fathers proud by dominating and winning individual state titles, including DeBerry's two sons, Kyle and Kory.
But their sons weren't the only big-name wrestlers Sunnyside's coaches also developed. Some of the state's greatest wrestlers also called Sunnyside home, including Eddie Urbano, Thom Ortiz and Eric Larkin.
DeBerry attended Tucson High, where he is now the head wrestling coach. The 52 year old grew up near the Sunnyside community in a housing project.
His mom passed away when he was a sophomore and his dad got into "trouble," leaving DeBerry to live with an aunt. Sports became an escape for DeBerry, who wrestled at Tucson High, he said.
Downside of success
They aren't expecting others to feel sorry for them, but the pressures of sustaining a perennial champion ultimately led Klostreich, Sanchez and DeBerry to ultimately remove themselves as coaches.
"It was time for somebody else to do it, a younger person to get in there and try to keep the thing going," said DeBerry about leaving his post after the 2010-11 season.
After DeBerry stepped down, Sunnyside hired Anthony Leon, who just completed his second season at Sunnyside.
"People love to compare this (Sunnyside coach) to that (Sunnyside coach) and this time period to that time period," DeBerry said. "But the next guy, he'll find his way. In a sense, it makes me feel sad for him. We did well for 17 years, so he might have to work for 18 years before people can compare, but even then that is not fair to him."
Back to work
At a program where every month of the year is mapped out for training purposes, Leon got off to a late start when he inherited Sunnyside last year.
The time Leon and his program missed in the off season hurt them at the end of the season, when Sunnyside finished fourth at state.
Prior to last year, Sunnyside had won 14 consecutive state championships. Leon can take solace in that the architect of Sunnyside's wrestling machine, Klostreich, also had a team finish fourth, the lowest a Sunnyside team has ever finished at state.
Plus, Sunnyside wrestling, Hopi's boys cross country team, Brophy's boys swim team, and Xavier's golf and swim programs, are the only programs in the state that have consistently won championships in the past two and a half decades.
Leon didn't use the late hiring as an excuse, however. He just rolled his sleeves up and followed Sunnyside's winning formula: work, work, work.
This season, when Sunnyside punched the clock for the final time, it returned to the top spot, winning its 30th state championship on Friday.
"Sometimes you have to go through some tough times to find yourself," said Leon about his first season as head coach. "Adversity builds character."
And champions.
Young blood
When Leon heard that DeBerry had stepped down, Leon joked about giving Sanchez, a district athletic director in Tucson, a call.
But the more he thought about it, Leon, a Catalina High product, the more it made sense for him to return to Tucson. Leon was working as an assistant wrestling coach at a university in Missouri when he finally called Sanchez to inquire about the Sunnyside opening.
"We are fortunate to have coach Leon," Sanchez said. "He's done a great job with the kids."
Leon said before winning last week's title that if Sunnyside did win a championship this year, it won't mean that Sunnyside is ready to retake its wrestling throne.
Leon knows he still has a long way to go before he reaches the legendary status of Sunnyside's triumvirate: Klostreich, Sanchez, DeBerry.
But Leon, 27, is young and single, and time is on his side.
"It (training) is draining in the best of ways," Leon said. "I was taught by my dad and three brothers that you have to put all of your energy and whole life in it. That's what I've done all of my life.
"I embrace it. I don't have a family, so I can dedicate 24-7 to this program. What I lack in experience and savvy, I make up for it in work ethic."
(To read Part I of Sunnyside's coaching giants, go here. To read Part II, go here.)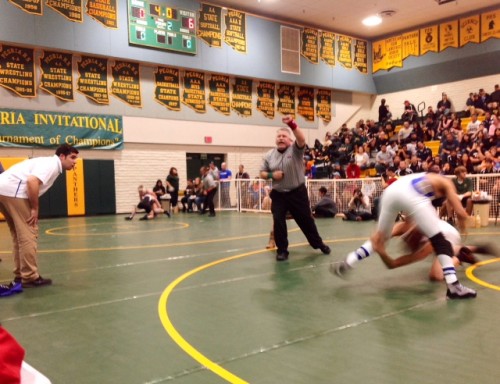 (Sunnyside wrestling coach Anthony Leon (left) watches as one of his wrestlers battle during a tournament this season. Photo by Jose Garcia/aia365.com)
---