Youvella's father: Son was larger than life
November 12, 2013 by Jose Garcia, AZPreps365
---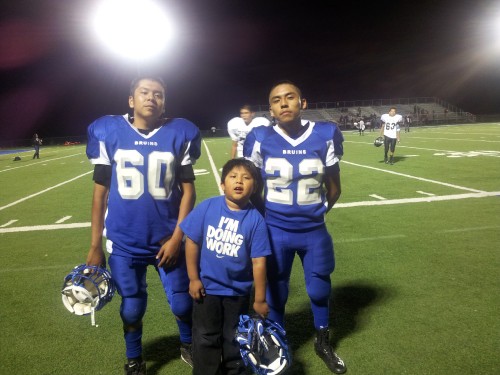 (Hopi High's Charles Youvella (No. 22) stands with his cousin Trystin (No. 60) and little brother Dominique. Youvella passed away Monday night from a head injury. Photo courtesy of Charlene Youvella)
Charles Youvella, all 5-feet-4 inches of him, went to defend a teammate during a regular season game this season when an opposing player got in the face of Youvella's friend.
The opposing player was almost a foot taller than Youvella, but it didn't matter. If you ever needed somebody to have your back, Youvella was the person you wanted in your corner.
A couple of plays after the confrontation between Youvella's Hopi High teammate and another player, that player shoved Youvella, who didn't fall but did shove the player back. Hopi High's bus driver later would tell Youvella that he should have picked on somebody his own size.
Without hesitating, Youvella sternly looked at the bus driver and said: "He was my size."
In Youvella's eyes, he was on equal footing with everybody he faced.
He embodied toughness, and those who stood in Youvella's way either moved aside or got run over. Hopi High's 17-year-old football captain doesn't have to fight anymore to prove he was right, though.
On Monday night, Youvella died two days after suffering a traumatic head injury during a first round game of the Division V state playoffs. On Tuesday, Youvella's father, Wallace, and brother, Zachary, talked about the fighting spirit of a special young man who loved his family, culture, competing, music, and Hopi High.
Wallace, Hopi High's athletic director and Arizona Interscholastic Association board member, was on the sideline Saturday when he saw his son play his final game and score the only touchdown for Hopi High during the team's loss to Arizona Lutheran Academy. The touchdown was scored during the 9:03 mark of the second quarter, helping cut Arizona Lutheran's lead, 20-6.
On the play, Youvella scored during a well-executed hook and lateral play that saw Youvella outrun defenders during the 62-yard touchdown.
"For Charles, that was probably one of the highlights of his life, to score in the playoffs," Wallace said. "When Charles made that run, it gave us (Hopi High) a sense of hope and a sense of pride that we belonged in the playoffs."
Hopi, the No. 16 seed, faced the No. 1 seeded Arizona Lutheran Coyotes.
Youvella ended his scoring play with a flip in the end zone.
"I don't condone it (flip), but in this case it was worth it," Wallace said. "It wasn't done to degrade any of Arizona Lutheran's players. It was just to show his teammates that they belonged (in the playoffs)."
The injury came during the fourth quarter, when Arizona Lutheran held a big lead.
On that play, Youvella caught the ball between two defenders and was tackled, but the senior wide receiver/running back then quickly got back up.
"It was a clean tackle," Wallace said. "There was no helmet to helmet. But Charles came down on his back and his head and (there was) a whiplash affect. But Charles jumped up like he always does and gave the ball to the ref. There were no signs of dizziness or anything like that. If he doesn't feel right, he'll motion to the sidelines, but he didn't (motion to the sidelines) on that play."
Two plays later, with 7:28 remaining in the fourth quarter, Wallace spotted his son on the ground.
"He (Youvella) was trying to get back up," Wallace said. "He was responsive and wanted to get up. He was asking me to get him up, but I wanted him to lay still. He was asking his coach to get him up. But we said, 'Let's check you out.' I know my son, and you could tell something was wrong."
Youvella was then taken to St. Joseph's Hospital and Medical Center, where, with family members surrounding him, he passed away.
About 1,500 Hopi High fans travelled to the Valley on Saturday to cheer for Hopi High's nationally recognized boys cross country team at state and some of those fans then travelled to watch Hopi's football playoff game.
"Charles touched a lot of lives," Wallace said. "Not only on the Hopi reservation but around the state. He exemplified what a Hopi Bruin is. I am biased of course, but it's my son. My son was a true Bruin."
One person who became a fan of Youvella was Larry Fitzgerald of the Arizona Cardinals.
Fitzgerald was one of the first persons to send his condolences and post a photo of Youvella on Twitter.
"It blew us away that he (Fitzgerald) did that," Wallace said. "Larry Fitzgerald has no idea how he touched Charles' family."
The support that the Arizona Lutheran Academy administration and family members have shown also was greatly appreciated by Wallace and his family.
"We want to thank them (Arizona Lutheran Academy) for the love and support they have given us not only through prayer but also financially," Wallace said. "Charles has a huge family, and we were able to buy meals, and the financial support also allowed immediate family members to stay here (in the Valley)."
One of the things that Wallace will always remember about his son is Youvella's love for his family.
Wallace is the first Native American to serve on the AIA's executive board, and he attends monthly board meetings in Phoenix. After the board meetings, he returns home, opting to make the 5-hour drive home instead of staying in the Valley an extra day.
During his trips home, Youvella always called his dad about three times to make sure Wallace was OK.
"He cared about each one of his family members," Wallace said. "He put himself before us, and that's what I'm going to miss the most about him. But I know he will always be with us in spirit."
Youvella was the youngest of five children Wallace had with his late wife, Winifred.
Winifred was killed in 1988 in a car accident. She was on her way to church along with her five kids in a vehicle she was driving when a vehicle crossed into her lane and hit her head on.
Youvella was in the vehicle and was two when his mother passed away.
His four siblings also survived the crash, but growing up without a mother left Youvella feeling empty, Wallace said. Youvella would always question why his mother was taken away from him so early, something he'd write about in his music lyrics.
Youvella was a big fan of rap and heavy rock music and wanted to become a music producer.
"One comfort that I have along with Charles' immediate and extended family is that we believe that when we move on to the next world we will be reunited," Wallace said. "He (Youvella) is now with his mother and his oldest brother (Lane), who passed away as an infant. Charles doesn't have to ask more questions about his mom now."
Lane was born prematurely and past away shortly after he was born.
Youvella inherited Winifred's competitiveness, Wallace said. Winifred was a former athlete.
That drive fueled Youvella on the field and in the classroom, where he held a 3.0 GPA.
"Charles was larger than life," Wallace said. "He was small in stature, but he had the heart of a champion. He was a very determined individual and highly competitive.
"Pound for pound he was the strongest player on the football team and the fastest player on the team."
Youvella's commitment carried over into other parts of his life as well. Youvella was part Tewa, Hopi and Navajo, and he was very involved in his cultural responsibilities.
"His cultural activities took up a lot of time and effort, but he never questioned it," Wallace said. "That was Charles. He was willing to sacrifice and do it without questions. He drew from the Tewa, Hopi and Navajo cultures to better himself."
Zachary, Youvella's 19-year-old brother, beautifully captured the essence of his brother in a journal entry he wrote while Youvella was in the hospital.
Zachary shared those verses during Tuesday's interview. The words will live forever in the Youvellas' hearts.
I am Charles.
I am a warrior of Tewa.
I face challenges that others would not dare to head on.
I do not know the meaning of surrendering.
I dig and claw my way to victory when there is nothing but failure for that is who I am.
When others reach their breaking point, I continue to fight on, because that is how I was raised.
To excel in every aspect of life.
To grow and prosper.
To be a better version of myself.
And to never give up.
That's what it means to be a Youvella.
And that's who I am.
Viewing, funureal schedule for Youvella
The viewing for Charles Youvella is scheduled for Friday at 10 a.m. and the funeral will follow at 11 a.m. at the Church of Jesus Christ of Latter Day Saints in Polacca, Arizona (State Rt. 264, Mile Marker 394, 86042).
Youvella fund
Those wishing to contribute to the Charles Youvella fund, you may send contributions initially to:
Charles Youvella Fund
c/o Hopi Jr/Sr High School
PO Box 337
Keams Canyon, AZ 86034 928-738-5111
An account is currently being set up through Bank of America and that information will be provided when that process is complete later in the week.
---