Millennium basketball continues to ascend
January 13, 2014 by Jose Garcia, AZPreps365
---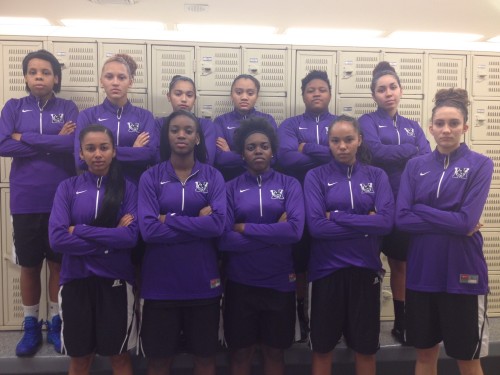 (Millennium's girls basketball team. Photo courtesy of Courtland Rojeck.)
Courtland Rojeck isn't a babysitter, but he is tending to a lot of kids lately.
For starters, he's got 19-month-old twins at home. At work, Rojeck coaches a high school girls basketball team without a senior starter.
Fortunately, Rojeck has a super team around him (wife Jocelyn and assistant coach Tamika Stukes) to help him deal with the stinky diapers and teen angst. But raising children and a basketball program can also leave you brimming with joy, and Rojeck has been smiling a lot recently.
Besides his two bundles of joy at home, Rojeck's basketball Lady Tigers are 17-1 after the halfway point of the season, dropping their only game to nationally ranked Desert Vista in a tournament. But you have to go back to 2009 to explain why Millennium is in the position it is today.
In 2009 is when Rojeck, 30, was named Millennium's head coach, but he didn't seem like the right choice to turn Millennium into a winner. Rojeck had never coached basketball and was a three-year baseball starter at Cleveland State.
But it turns out that basketball was the former center fielder's passion. He missed playing basketball so much at a competitive level that Rojeck quit playing baseball to walk on on Cleveland State's basketball team as a senior.
"Let's just say my baseball coach wasn't happy," Rojeck said.
After being named Millennium's coach, Rojeck wasn't happy with what he saw around him.
Open enrollment and lack of a year-round training program for basketball thinned Millennium's roster numbers. But the driven Rojeck and Stukes, a former four-year basketball standout at New Mexico, quickly went to work assembling Millennium to their liking.
"At the end of the day we wanted the girls to enjoy their basketball experience at Millennium and looked at as one of the more competitive teams in the state," the head coach said.
Last year, Millennium won its first ever girls basketball playoff game, and Millennium has increased its win total every year since Rojeck took over.
Compared to last year, this year's squad is much more balanced, scoring wise, with six players who are capable of scoring in double figures. A sophomore, second-year starting point guard Raina Perez, leads the team in scoring (14.7 per game) thanks in part to an improved outside shot.
With Millennium's scoring ability, Rojeck wants his players to screen more this year to get them open and make defenders work, but opponents aren't obliging, opting to use a zone instead of going man-to-man.
But Rojeck has an experienced player at center, Wati Franklin, who tends to find the open man out of the zone.
"The exciting thing is that we haven't shot particularly well," Rojeck said. "So our best is yet to come."
Millennium has a couple of important games coming up, including next week's showdown against West Valley rival Westview, which beat Millennium three times last year.
So Millennium's players better find their shooting touch quickly. On defense, the team continues to make strides with its full-court pressure.
One of Millennium's defensive stoppers, senior Amma Fordjour, personifies Millennium's rise in the rankings (No. 5 in latest D-I aia365/Maxpreps rankings). Fordjour was raw and was cut from her middle school team, but she eventually found her role on the court with Millennium.
Fordjour also is the team's spiritual leader and carries a 4.2 GPA. When she was a freshman, Rojeck caught Fordjour passing around what looked like notes to her teammates during warm ups before a game.
"When I asked her why she (Fordjour) was doing that," Rojeck said, "she said, 'Coach, they aren't notes. It's my pocket Bible."
There's nothing wrong with saying a prayer or two before games.
In Millennium's case, it seems to be working.
---