Club director helping high school team win
January 21, 2014 by Jose Garcia, AZPreps365
---
A prominent club soccer coach in the state, Harry Demos, joined a high school team this season.
Not too long ago such a move seemed unlikely because the philosophies of club and high school soccer clashed. But the two sides are learning to coexist now.
Not everything is perfect, but seeing a club coach director, Demos, on a high school sideline is a positive step. Demos' impact was immediate at Sandra Day O'Connor High, which reached the finals of the state's national high school tournament, the Arizona Soccer Showcase, and was ranked in the top-4 in the aia356.com's rankings this week.
Last year's Sandra Day O'Connor coach, George Archuleta, stepped down and asked Demos to apply for the job and continue building that program into a contender. Archuleta also coaches at the same club, CCV Stars, where Demos has been the director for eight years.
"Coach Archuleta has put together a great group, and I have a great athletic director (Chandler Evans)," Demos said. "I couldn't have asked for a better group of leaders.
"I wanted to help out a bunch of kids that wanted to play and have a good season."
Demos has coached most of the kids on Sandra Day O'Connor's team since they were about eight.
He's also trained current pros Robbie Findley, Brandon McDonald, Rob Valentino and recently drafted George Malki when they were youth soccer players in Arizona. Some of the more talented high school players now tend to play strictly club during their junior seasons to attract college offers.
It's a trend that started in 2003, when Demos was at a club, Sereno, that was the first to take players during a high school season to play in a big club tournament, Disney Showcase, in Florida. The move didn't sit well with high school coaches.
Players can no longer leave during their high school season and return, but some players are opting to skip their junior seasons — and sometimes their entire high school career — to play with just their respective club team. Despite some issues that still exist, high school and club coaches now tend to appreciate what each one has to offer for kids.
"It seems like there is a lot more depth in the high school talent, and that's a tribute to the club system," Demos said. "But I also see a lot more different styles in high school now, and I see the two (club and high school) working nicely."
Sandra Day O'Connor will play an important game Tuesday when it faces a top-10 team, Ironwood, which already beat Hamilton, with three games remaining in its regular season schedule.
Demos' 14-1 team carries a good mix of young and experienced talent. Sophomore Musa Morris leads the team with 12 goals and 13 assists.
Junior Jackson Jella is second on the team with seven assists and third with nine goals. Jella reminds Demos of Findley, a wing player who can stretch the field just as Jella does, Demos said.
Senior Anthony Archuleta (10 goals, 6 assists) is another player who works well with Morris and Jella in the attacking third.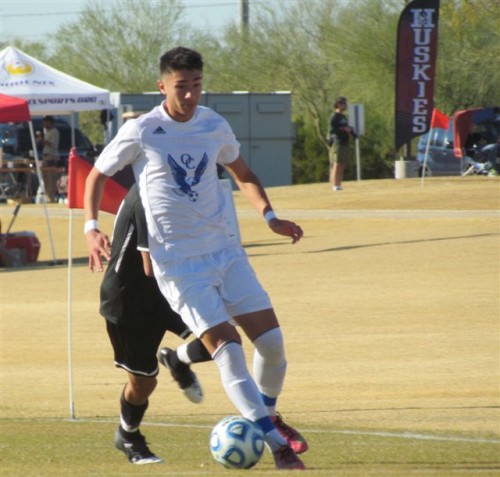 (Sandra Day O'Connor's Anthony Archuleta. Photo courtesy of Sandra Day O'Connor.)
Demos also raved about the play of his goalkeeper, Spencer Ratkovich, who doesn't play club soccer.
"Spencer doesn't get much publicity, but he's a great goalkeeper," Demos said. "He loves his high school.
"(Defender) Collin Dobash never played soccer and wanted to play, and he's gotten into games. Those are the type of stories that get me excited."
Another great story at Sandra Day O'Connor is Demos' role in the lives of Morris and Jella, two Liberian refugees.
Demos and his wife of 31 years, Fran, became the legal guardians of the two a couple of years ago after meeting them at Demos' soccer club.
"We just fell in love with them (Morris and Jella)," Demos said. "And they have blessed us more than we could have ever imagined."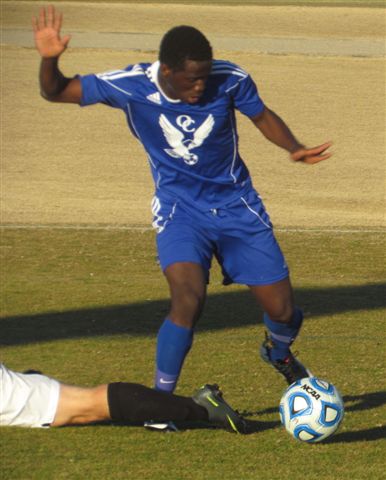 (Sandra Day O'Connor's Musa Morris. Photo courtesy of Sandra Day O'Connor.)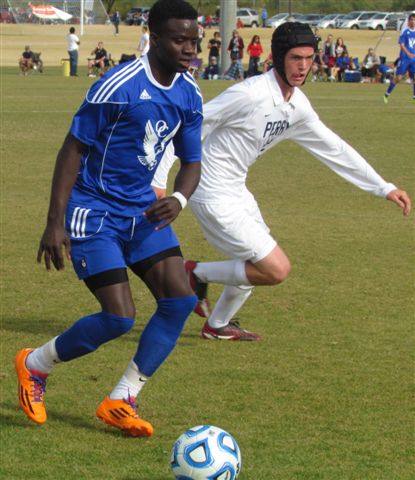 (Sandra Day O'Connor's Jackson Jella (left). Photo courtesy of Sandra Day O'Connor.)
---