SOFTBALL: Tanque Verde gets past Desert Christian 16-8
April 23, 2015 by Andy Morales, AZPreps365
---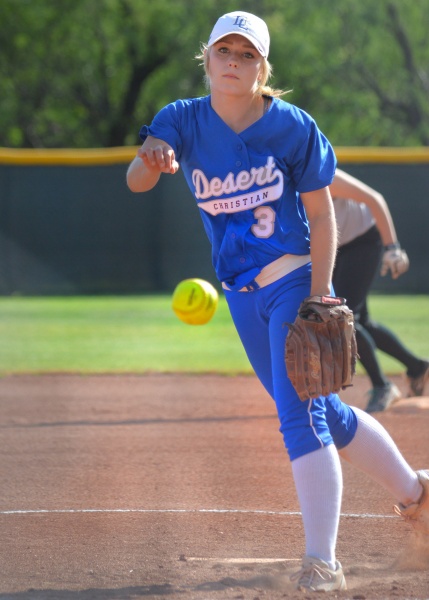 At 26-1, Tucson Tanque Verde is more than ready for the postseason. The only blemish on their record came against Payson (28-1) in the championship game of the Gracie Haught Classic in March. That game was a 1-0 pitching duel with Payson winning in extra innings.
Payson is the top-ranked team in Division III and Tanque Verde is ranked second. The Hawks know a rematch in the state playoffs is possible if they can remain unbeaten and they took another step with a 16-8 victory over D-IV power Tucson Desert Christian on Thursday.
Coincidentally, Payson's only loss came against Vail Empire at the Wrangler Classic in early March. Empire (23-5) is set to take on Tanque Verde on Tuesday night for what might be the Section III championship.
Desert Christian appears to be headed for the D-IV playoffs but they still have four games remaining on their schedule.
The Eagles struggled early against Tanque Verde and fell back 10-2 after the first inning but they kept battling and eventually cut the lead down to 10-5 but Tanque Verde has too many weapons.
One of those weapons is standout pitcher Kellye Springstead (14-1). Springstead was not in the circle against Desert Christian but she has been the ace for the Hawks in her three years with the program.
"Our season is going really, really well," said Springstead. "We are still undefeated in our regular games and I'm really happy with my pitching."
Springstead will be reunited with her sister Amanda at California Baptist this coming fall. The sisters terrorized opponents last year with Amanda batting .668 with 58 RBI, 19 doubles, six triples and four homeruns while Kellye batted .551 with 44 RBI, 20 doubles, four triples and four homeruns.
This year, Kellye is batting .627 with 53 RBI.
"I can't wait to join her in college next year," Springstead added. "But we have unfinished business here first."
Lauren Radtke has been a leader in the slow but evident change in culture at Desert Christian. The senior has played for three coaches in her four years and she likes the stability the team has now.
"My four years have been interesting," she explained. "We went from freshmen with jitters to a total attitude change. I think having a coach stick with us for two years has made a difference because we know his style. I also like having my father be one of our assistant coaches because he never gets too busy to stay longer to help us."
Bob Vance is in his second year at Desert Christian. Vance led Oro Valley Pusch Ridge to a state championship in 2012.
Senior standout Courtney Tyra came up big for Desert Christian with a two-run blast in the sixth. Taylor Radtke and Sheylee Jones both had doubles. Lauren Radtke (8-5) and Jones (3-2) both saw pitching action.
Brianna Griffiths led Tanque Verde by going 4-4 with two RBI. Rianna Campagne (5-0) and Makenna Clausen (6-0) took the circle for Tanque Verde.
---