Xavier badminton three-peats
October 31, 2015 by Game Previews, AZPreps365
---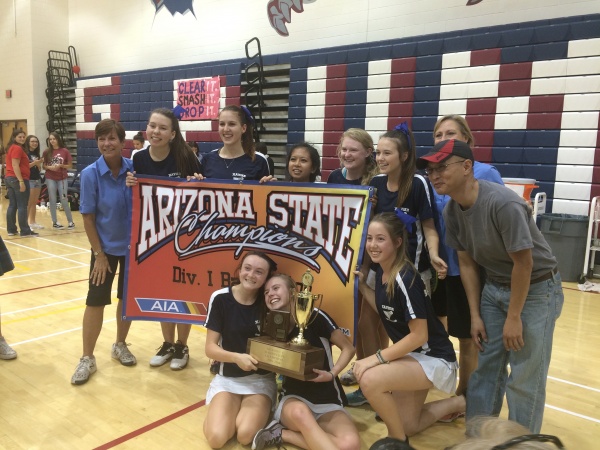 By Kaci Demarest
They say lightning doesn't strike the same place twice, but for Xavier College Prep lighting's struck three times.
Xavier claimed the 2015 badminton high school state championship title Oct. 30 at Perry High School in Gilbert for the third year in a row.
The No. 1 seeded Gators swept through the No. 3 Red Mountain Mountain Lions to clinch the state team championship and keep its perfect record (15-0) intact.
Red Mountain and Xavier previously met in the regular season. Xavier defeated Red Mountain in that meeting 6-3, ending Red Mountain's perfect season.
Xavier won the 2014 high school state championship when it knocked out Perry High School, and in 2013 when the team beat Mountain Pointe.
"I'm absolutely thrilled," Xavier head coach Nancy Meyer said. "This is the closest team. They worked so hard this year."
Xavier's winning team was comprised of seniors Kirielle Singarajah, Sydney LaPierre, Katie Russell, Laura Pearl, and juniors Tatum Clarke and Emily Woodrow.
For Red Mountain, their varsity roster contained seniors Sam Berg, Nicole LoDestro, Melissa Schradt, Kylee Gillespie, Jamie Rostron and sophomore Abby Mann.
Singarajah faced Berg in the first seed singles match. The first set was tied for the majority of the matchup, but Singarajah won after Berg lifted it on her backside and Singarajah took advantage and smashed it. Although the first set stayed fairly close, Singarajah pulled out a 2-0 win over Berg in two sets (11-8, 11-4).
"We pulled together and we got it," Singarajah said. "I'm just really ecstatic and so proud of everyone."
Between the two, rallies in the game were consistently lengthy because both athletes were pulling to work the court to their advantage with lethal combinations of smashes and drops.
Singarajah took second place in the individual badminton state championship last week.
Red Mountain's two and three seeds gained wins, LoDesoto (11-9, 11-9) and Schradt (11-8, 11-7), respectively.
The remainder of the matches went to Xavier, with Russell over Gillespie (11-0, 13-10), Pearl over Mann (11-3, 6-11, 13-10), and Woodrow over Rostron (5-11, 11-3, 11-4).
Following the singles matches, Xavier led the matchup 4-2. For Xavier to win, it only needed one doubles game, and its number one seeded player came through for it.
Berg and LoDestro clinched their doubles match against Clarke and Pearl in two, 15-3 sets.
Less than a minute later, Singarajah and Russell wrapped up their second set, 15-6, after taking the first 15-1. Their win in doubles automatically gave Xavier the win.
"I feel like their doubles have improved a lot, which is something we needed to do because we couldn't rely solely on singles," Meyers said.
Despite the loss, Red Mountain head coach Maggie Borze said she couldn't be happier with her team's performance.
"As long as they had fun at this point and played their game," Borze said, "There isn't anything I would do differently. The girls killed it out there. Both teams were outstanding."
Kaci is a sophomore at Arizona State University majoring in Sports Journalism. She co-hosts Double X Sports, a talk show about women's sports, on college radio station Blaze Radio. After college, she aims to work as an on field sports broadcaster.
Twitter: @Kaci_Demarest
---