Soccer: Salpointe girls & Tucson boys claim Brandon Bean titles
December 6, 2015 by Andy Morales, AZPreps365
---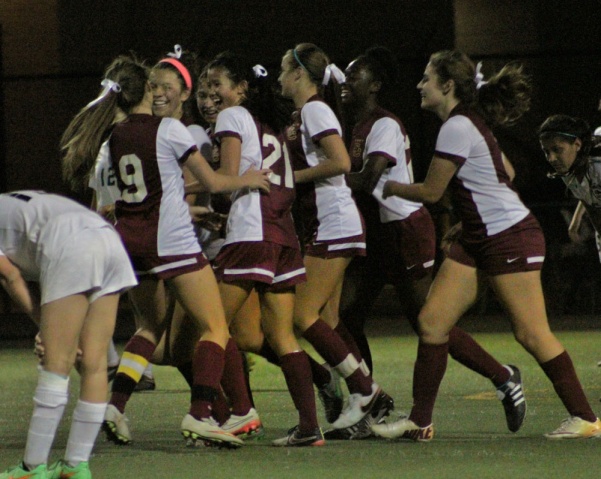 It has become the soccer rivalry in Southern Arizona and it's a good one. The Salpointe girls defeated Walden Grove 1-0 on a goal by Rachel Kinnison in the 49th minute to win the championship of the Brandon Bean Invitational Saturday night but the match was just round three of a heavy weight fight.
Salpointe (6-0) defeated Walden Grove 1-0 in the first meeting between the two schools back in 2013 but no one could have guessed what was in store. That fall was just the second full varsity season for the Red Wolves and the team would remarkably turn around and win the Division III state championship a year later.
Not only did Walden Grove (5-1) win the state title last year, the rivalry with Salpointe became a heated one.
The Lancers beat Walden Grove 2-1 during pool play at the Walden Grove Invitational last year but the Red Wolves knocked off Salpointe 1-0 in overtime to win the championship a few days later on a goal by All-State standout Isabella Solorza.
And here we are again.
The goal by Kinnison has given Salpointe a 3-1 margin against Walden Grove but the two teams might meet up again at the Walden Grove Invitational in three weeks. Even better, both schools will be in the same region next year. Game on.
"They are a really tough team. It's going to be a good battle," Kinnison said about the prospect of playing Walden Grove more often.
The game had few shots on goal with Madison Hargis stopping Solorza a couple of times but Kinnison took advantage of a mixer and let one fly.
"The goal box was really crowded and kind of crazy," Kinnison added. "I couldn't see my shot and I thought the goalie was going to save it because their keeper is really good but we just had to keep taking shots."
Kinnison was mobbed by her teammates a few seconds later, letting her know her shot found net.
Solorza already has seven goals this year (giving her 53 goals in 40 games) so stopping her became a priority and Salpointe defender Taylor Bigelow covered her like a glove. Still, Solorza had a couple of chances.
"We just want to stay humble and work hard," Solorza said. "It's a tough loss but we want to get them back in our tournament. They are a fun team to play"
Cienega goalie Kayla Birbeck was named Outstanding Goalie in the girl's bracket and Tucson freshman Sabrina Zepp was named Most Outstanding Field Player.
"I knew I had a great tournament and I was hoping I would be recognized," Birbeck said. "I was little sad we couldn't keep playing but all in all I think we are getting back into it. We are doing good."
On the boy's side, Tucson remained undefeated at 6-0 thanks to a 4-0 win over Sunnyside (5-1) in the championship Saturday night.
The Badgers outscored opponents 22-1 in the tournament which made the decision to hand sophomore goalie Michael Pallanes the Most Outstanding Goalie award a no-brainer.
"I didn't expect to do so well," Pallanes said. "It wasn't just me either it was the whole team."
Pallanes only played in a handful of games last year but he is the starter now. "I have a lot to live up to," he added. "They all know what they are doing so I am getting better."
Senior Anthony Negrete put the Badgers up 1-0 in the 26th minute and Julian Gaona increased the lead to 2-0 in the 35th.
Gaona was named the Most Outstanding Field Player.
"Our season started out good and we had a good tournament, Gaona said." "Our goal keeper did an outstanding job."
Gaona isn't talking state right now because the Badgers are getting ready for the Chris Maier Tournament that gets underway next Thursday at Sabino.
Tucson came out of the half and Luis Mejia scored in the 42nd and Negrete scored again in the 46th to give us the 4-0 margin.
---