Boys Hoops: Flowing Wells holds off Empire 79-75
December 7, 2015 by Andy Morales, AZPreps365
---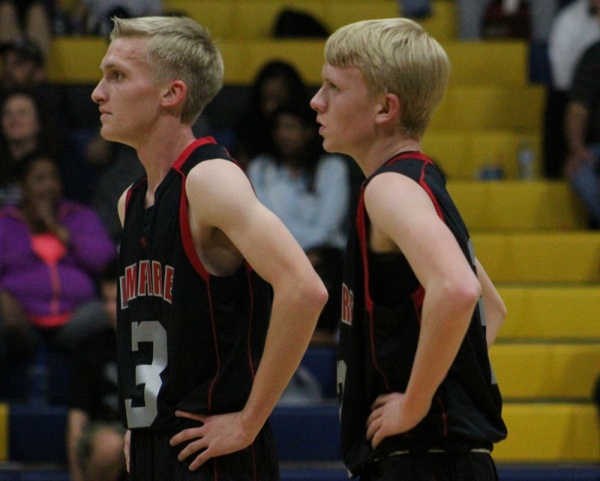 The Flowing Wells boy's basketball team evened up their season record to 3-3 but, more importantly, the Caballeros won their first section game of the year thanks to a 79-75 win over Empire Monday night.
The Caballeros are coming off their best record in a few generations thanks to the hire of Tio Harris two summers ago. Harris directed Flowing Wells to an 18-8 record in his first year which was almost as many wins as the previous three years combined. Though his team didn't make the playoffs, the culture of winning was set.
His son Martio Harris was a junior on that team and he has returned for his senior year along with his freshman brothers Tomari and Demari Harris.
The family atmosphere is also alive at Empire. The Ravens (3-2, 0-1) are led by senior guard Grant Plouck and his sophomore brother Jack. Their father Dana Plouck took over head coaching duties three years.
A regular in the Division III state playoffs, the move to D-II proved to be a bit more difficult although the team came close thanks to the play of Deion James. James scored 1,650 points in his career at Empire but he is now playing at North Carolina A&T where he is averaging six minutes a game as a true freshman.
Empire only has three returning lettermen according to Dana Plouck. Still, the Ravens have plenty of firepower thanks to the scoring ability of his two sons and the move back to D-III.
The two teams combined for 18 3-pointers on the night with Jack Plouck making five and Tomari Harris making four.
Flowing Wells led 17-13 after the first quarter and the Caballeros eventually went up 32-25 with the ball but a turnover led to an Empire run that saw the Ravens cut the lead down to 34-33 with 29.2 seconds left in the half.
A bucket by Luis Arellano with 8.3 seconds left put Flowing Wells up 36-33 at the half.
Empire tied the game up 40-40 with 4:51 left in the third quarter but Garrett Woolridge made back-to-back 3's to rebuild the lead to 46-40. But Jack Plouck hit two of his own to help bring the score to 48-48 with 2:56 left in the third.
Zachary Flynn responded with two 3-pointers of his own to put Flowing Wells up 56-50 but Grant Plouck hit one to end the third quarter, bring Empire to within 56-53.
It looked like Empire was about to break the game open thanks to the arrival of senior point-forward Jordan Behrend and his 12 points in the second half but Empire erased a 64-58 deficit to tie the game up at 66-66 with 3:34 left in the game.
Jack Plouck gave the Ravens their first lead since midway through the first quarter when he broke free for a layup with 2:34 left. The 70-69 lead didn't last long with Brandon Guerrero scoring two seconds later.
Guerrero made two free throws to give Flowing Wells a 73-70 lead with 1:30 left but two turnovers and a missed free throw by Empire helped Flowing Wells increase the lead to 75-71 with 1:02 left.
Behrend came up with a huge blocked shot and he stole a rebound on a missed free throw as Flowing Wells built a 79-73 lead with 28.2 seconds left but the Caballeros inexplicably fouled Empire twice in the final moments but still held on for the 79-75 win.
"I had to sit out the first half because I missed practice," Behrend explained. "And, to be honest, this wasn't one of my best games but both teams were shooting well from outside and it was hard to stop their guards."
Grant finished with 30 points and Jack added 19 in the losing cause while five Flowing Wells players finished in double figures.
Guerrero had 15 points, Martio Harris added 13 and Behrend had his 12 as did Tomari Harris. Josh Chamberlain scored 10 to round out the leaders.
"We are a young team and even our seniors are young," Dana Plouck said. "Working with my kids gets better over the years. It has become more of a joy as they mature on the court."
Flowing Wells hosts Catalina Foothills (3-2) on Tuesday night and Empire hosts Willcox (1-1) on Wednesday. 24 teams will make the Division III playoffs this year. It's a long season but Flowing Wells took an important first step.
The initial MaxPreps/AIA rankings will be released on Friday, Dec. 18.
---