BASEBALL: Empire beats Safford 12-5 at D'Eredita Memorial
March 17, 2016 by Andy Morales, AZPreps365
---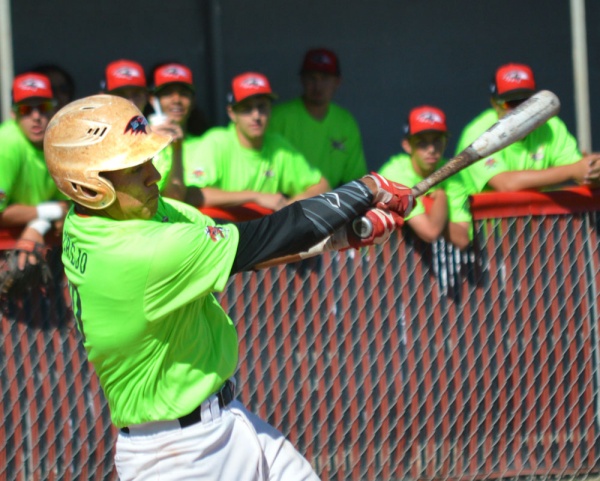 D'Eredita Memorial Raven Baseball Invitational
Mar. 16-19: Empire High School
Empire beat Safford 12-5 Thursday afternoon at the inaugural D'Eredita Memorial Baseball Invitational held at Empire High School in Vail.
Six teams are taking part in the memorial dedicated to the mother of former Empire athlete Adam D'Eredita. Lynne Taylor D'Eredita was diagnosed with breast cancer in 2006 and she passed away six years later on August 13, 2012. A favorite of many Raven athletes, parents and fans, Lynne attended baseball games even when she was understandably not feeling well.
A donation from the invitational will be made on her behalf to the Susan G. Komen Foundation.
Empire (5-6) scored five runs in the top of the second and four more in the third to take a 9-0 lead on Safford (2-6). Meanwhile, Nathan Delahanty limited Safford to two hits until the Bulldogs broke through for two runs in the bottom of the third.
The Ravens were able to maintain their lead the rest of the way with Mateo Hackman taking over on the mound in the sixth inning.
Jared Kromminga led Empire with two doubles and three RBIs. In all, the Ravens collected 15 hits and six doubles against Safford. Gabe Ornelas led Safford with a double and two RBIs.
Pool play continues Friday with bracket play taking place on Saturday.
Wednesday, March 16
Flowing Wells 18, San Miguel 1
Desert Christian 13, Pusch Ridge 2
Thursday, March 17
Desert Christian 20, San Miguel 2
Empire 10, Flowing Wells 2
Empire 12, Safford 5
Pusch Ridge vs. Safford
Friday, March 18
Pusch Ridge vs. Empire, noon
Flowing Wells vs. Desert Christian, 3 p.m.
Safford vs. San Miguel, 6 p.m.
Saturday, March 19
Bracket Play: 9 a.m. - 3 p.m.
---