GOLF: Empire beat Pusch Ridge & Bodhi Roether shot a 39
April 7, 2016 by Andy Morales, AZPreps365
---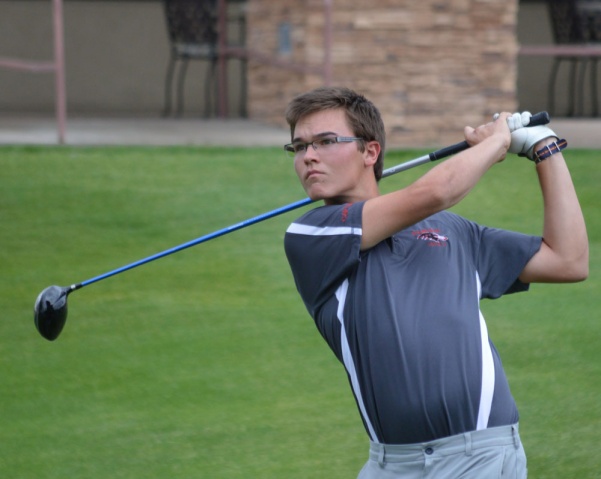 We are about five weeks away from the Division III state golf championship to be played May 13-14 at the Antelope Hills Golf Course in Prescott. There are seven sections in D-III and each section winner will earn an automatic berth to the playoffs while eight more teams will earn an at-large berth based on their iWanamaker rankings.
In addition, the top 15 individuals not attached to a qualifying team will also qualify for the state tournament.
Very few teams have reached the minimum seven qualifying rounds but Blue Ridge is leading Section I, Wickenburg is leading Section II, Empire is tops in Section III, Scottsdale Prep is ahead in Section IV, Sedona Red Rock is leading Section V, Valley Christian is leading Section VI and Desert Christian is leading Section VII.
Empire (193) defeated Pusch Ridge (194) and Immaculate Heart (DNS) on Thursday in Oro Valley. Empire and Pusch Ridge are both in good positions for a state playoff berth while Immaculate Heart junior Jerime Enjady has a shot at an at-large berth as an individual. He shot an 11-over 47 to take fifth place on Thursday.
"I've improved my game in every area," Enjady said while explaining his growth from a freshman to this point. "This is something I feel I am good at and I've been playing since I was five. It keeps me focused."
Ian Patterson won an individual state title playing for Immaculate Heart in 2010 before moving on to South Mountain and then UTEP. No Southern Arizona teams have won a team title in the small school divisions although Desert Christian took runner-up in 2011.
Cooper Barghols is fresh off of a state championship in football but the Pusch Ridge senior is focusing on golf now and he took third with teammate Keegan Chaffin (44).
"We have a young team and it's been a lot of fun," Barghols said. "Our coaches have invested a lot of time and we have potential."
Barghols has also played four years at Pusch Ridge and, like a typical golfer, sees the need for improvement in his own game.
"My game has been sporadic," he added. "When it's good it's very good but there are times when it's frustrating."
Brendan Preuss (42) took second for Empire and Bodhi Roether came in first with a sub-40 39.
Roether played golf as a freshman and sophomore but skipped last season to play baseball. He decided to play golf his senior year on the day before tryouts.
"It was tough to get back into it," he explained. "I know I have the talent and I'm super glad I did it. It was rough at first and disappointing but I'm starting to get it all back."
Team Results
1. Empire 193 +49
2. Pusch Ridge 194
3. Immaculate Heart DNS
Individual Results
1. Bodhi Roether, Empire 39 +3
2. Brendan Preuss, Empire 42
3. Cooper Barghols, Pusch Ridge 44
3. Keegan Chaffin, Pusch Ridge 44
5. Jerime Enjady, Immaculate Heart 47
6. Mike Dickinson, Pusch Ridge 51
7. Conner Cech, Empire 55
7. P.J. Haynes, Pusch Ridge 55
7. Matt Raciopo, Pusch Ridge 55
10. Aidan Nash, Empire 57
11. Diego Moscoso, Immaculate Heart 65
12. CJ Arnold, Immaculate Heart 72
12. Wyatt Zadro, Empire 72
---