GIRLS SOCCER: Salpointe, Ironwood Ridge & Catalina Foothills advance from Tucson
February 1, 2017 by Andy Morales, AZPreps365
---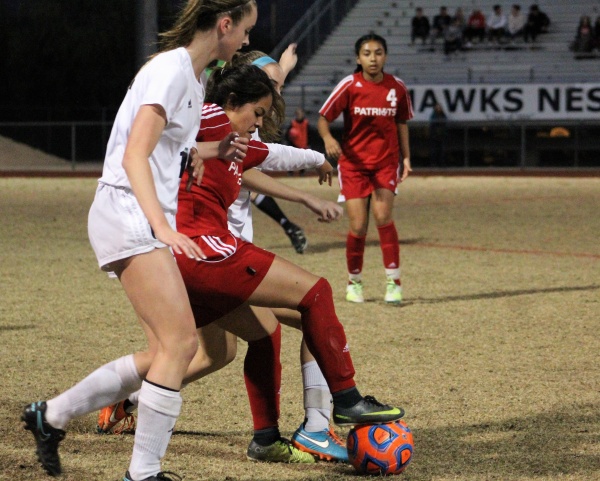 Ironwood Ridge, Salpointe and Catalina Foothills survived first-round action Wednesday night to advance to the respective quarterfinal rounds of the 5A and 4 A state championships.
The fourth-ranked Nighthawks outpaced No. 13 Independence in 5A play with senior midfielder Mariah Loya recording two goals in the win. Sophomore Isabella Santavicca and senior Kelly Koppy scored two early goals and sophomore Alyssa Kopach scored the fifth and final goal.
Ironwood Ridge will host No. 5 Campo Verde on Saturday, Feb. 4 at 11 a.m. The Coyotes outlasted No. 12 Cienega 1-0 to set up the match.
In 4A play, No. 7 Catalina Foothills beat No. 10 Palo Verde 3-0 with freshman forward Hannah Draper and junior Meghan Hawkins giving the Falcons a 2-0 lead at the half. Sophomore Tatianna Lizarraga put the match out of reach with a second-half goal.
The Falcons will travel to Phoenix to play No. 2 Thunderbird on Saturday at 2 p.m.
No. 4 Salpointe eliminated No. 13 Nogales 3-0 in a match played at Tucson High due to field renovations taking place at Salpointe. The Lancers will play No. 5 Cactus Shadows in the quarterfinal round on Saturday with the time tentatively scheduled for noon at Tucson High.
Sophomore Kate Connelly put the Lancers up 1-0 in the second minute on an assist from senior Jiaying Brust and freshman Sydney Lenhart (Paloma Teran) made it 2-0 in the 42nd minute. Sophomore Aryana Sanchez found senior Rachel Kinnison in the 55th minute to round out the scoring.
Junior keeper Madison Hargis kept Nogales out of the net for the shutout.
"This was one of the best offensive games we have had from start to finish," head coach Becky Freeman said. Every time someone went on top we created chances and we put them away. We scored in the first two minutes of the game and the first two minutes of the second half. We had a lot of energy and we were ready to play."
Tucson and Rincon/University fell in 6A action while Sahuaro and Cienega came up short in 5A play. No. 6 Walden Grove was upset at home by No. Sunrise Mountain, 2-1.
---