D-IV wrestling: Close-knit Morenci now the favorite
February 8, 2017 by Jose Garcia, AZPreps365
---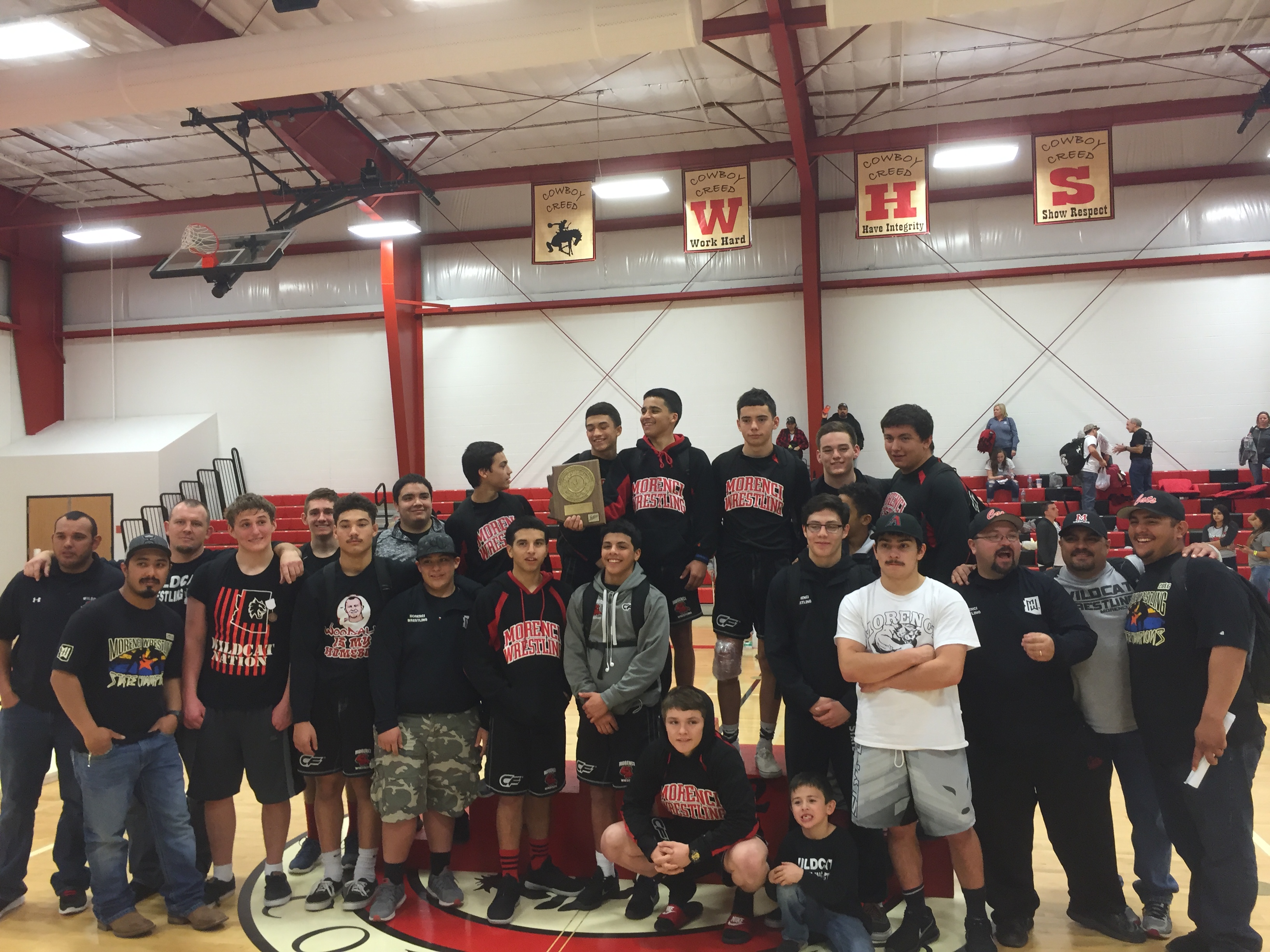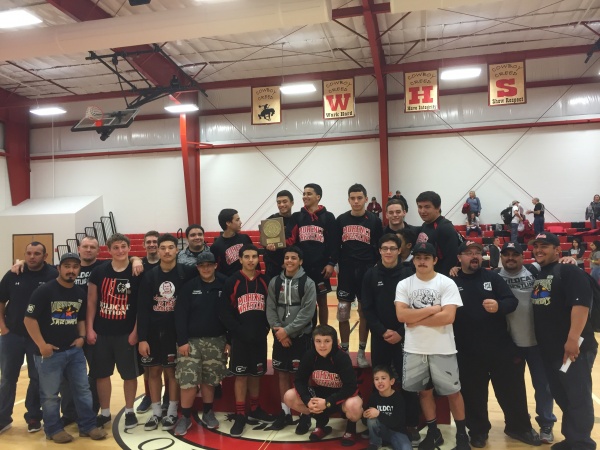 That knot coach Casey Woodall felt in the pit of his stomach two years ago during the second day of the state tournament returned last year.
Two years ago, Morenci was in position for a state wrestling title but a poor second day outing wrecked those plans. So, last year, there was Morenci again, in the same spot as the 2015 state championships.
But this was a different team, and others took notice.
"You could just tell that you guys aren't going to get beat this day," said Woodall about what an official told him just as his boys hit the mat on the final day of wrestling in 2016. "Just by the way they were warming up, you could tell they were fired up and focused."
With Woodall finally at ease, his boys went on to capture Morenci's first team title in 11 years, snapping Camp Verde's three-year Division IV title streak in the process.
But unlike the previous two seasons, Morenci enters Thursday's state meet at Prescott Valley Events Center with the biggest target in D-IV. The defending champ is favored to repeat behind a strong returning corp of juniors and seniors.
Woodall took over four years ago with the intention of reenergizing a program he helped lead to its first ever state title, in 1999, as a wrestler.
"Not to dismass that (being the favorite)," Woodall said, "but we really try and focus on trying to get better every single day. If we wrestle for another state championship, that's fine. But I want them to be the best wrestlers they can be every day."
The process of becoming a champ is very important to Woodall.
Once Woodall got his program to accept his 100 percent accountability, zero excuses philosophy four years ago, everything else fell into place. That his wrestling program is raising Morenci High's flag high doesn't escape Woodall also.
"(Morenci) is my hometown, and I feel a strong sense of pride in that," Woodall said. "I'm proud of where I grew up. Until last year, Morenci hadn't won a state championship in any sport in 11 years. I really want our program to be something that our community can be proud of both on and off the mat."
Besides its 2016 team title, winning a sportsmanship award at a tournament Morenci won was also a high honor for Woodall.
The coach's approach is helping develop leaders up and down his roster. This year's team might be led by its juniors and seniors, but don't overlook freshman Zach Waltrip.
Three returning state champs, Christian White, Frankie Gonzales, Derek Waltrip, are back for another shot at team and individual championship hardware.
Gonzales has displayed a lot of grit this year while competing with a football injury. He lost his section championship match to Franky Renteria of San Manuel, but, if it all plays out, the wrestlers might meet again, this time for the 170 state title.
Morenci is also capable of returning home with a couple of first-time state champs, but it won't be easy. Heavyweight Jordan Arbizo bided his time during his first two years to earn his varsity spot.
The senior was third at state last year and is one of the top-seeded D-IV heavyweights this year. Nico Carasco, who will likely have his hands full in his weight class with Camp Verde's Hayden Uhler and Trent Sherwood of St. Johns, and No. 1 state seed Marky Roybal also are shooting for individual titles for Morenci.
Besides having a talented wrestling stable, there's also a family vibe that permeates throughout the Morenci wrestling program. The bond has created a close-knit brotherhood.
"Morenci is a very small, tight-knit community, and our team reflects that," Woodall said. "We have brothers and cousins on the team. Our coaching staff features cousins, uncles, etc. We really care about each other, and that is important to me."
Morenci's state qualifiers
106- Zach Waltrip (Freshman) 23-9
Was not on varsity early this season but has really stepped up and took second at sectionals. Wants to live up to his big brother.
113-Derek Waltrip (Junior) 36-6
Defending state champion, 2017 Sectional Champion
Waltrip had a losing record as a freshman but won state as a sophomore, a testament to his hardwork and dedication.
120- Cory Cota (Junior) 40-7
4th at state last year, 2017 Sectional Champion
Absolutely great kid. Coach Woodall's 6 year old son follows Cota around, refers to him as brother, and has asked if they could get bunk beds so Cota can live with the Woodalls.
126- Tito Casillas (Sophomore)
29-12 Sectional Champion
Another kid who really "bought in" and has improved leaps and bounds. Went from not being on varsity last year to sectional champ this year.
132- Marky Roybal (Sophomore) 39-4
Sectional Champion, 4th State last year
Is Woodall's wive's cousin, a great kid who is maybe the most positive person Woodall's ever been around. Current #1 seed in state ournament.
138- Nico Carrasco (Junior) 50-3
4th at state last year, Sectional Champion
Another great kid. He knew early on that he was in the weight class of a kid who is trying to be a 4x state champ (Camp Verde's Hayden Uhler). He could have easily gone to a different weight class and been a state champ. He wants to wrestle the best kids in the state. 4.0 GPA, never in trouble. Just an absolute workhorse in every aspect of his life.
145- Gabriel Cabrera (Junior) 29-17
Kid gets the absolute most of his ability.
152-Kyle Sarret (Senior) 33-7
Has never placed at the state tournament, but is a different kid this year. Woodall is really excited for him.
170- Frankie Gonzales (Senior) 18-2
Defending State Champion
Tore his ACL in football and is wrestling without an ACL. Will get surgery after season, but this kid's heart is unbelievable. The kind of kid you want to build your program around.
182-Jacob Vierra (Junior) 41-11
This will be Jacob's first trip to the State Tournament.
195-Christian White (Senior) 47-0
2x State Champion
Christian is special. He is a next level kid who will I expect to do very well at the college level. He hasn't lost a match in Arizona in 2 years, and Woodall bumped him up weight classes to wrestle other state champs.
220-Nathan WIlley (Sophomore) 30-9
Nathan was 2nd string at 170 last year. He really bought into the weight room over the summer. Woodall also is really excited for him, expecting big things in the future.
HWT- Jordan Arbizo (Senior) 45-3
3rd at state last year
Jordan's quest for a state title enters its last leg. Woodall doesn't believe that anybody in the bracket will have worked harder then he has.
---