GIRLS HOOPS: Sahuaro used late surge to beat Apollo 48-41
February 9, 2017 by Andy Morales, AZPreps365
---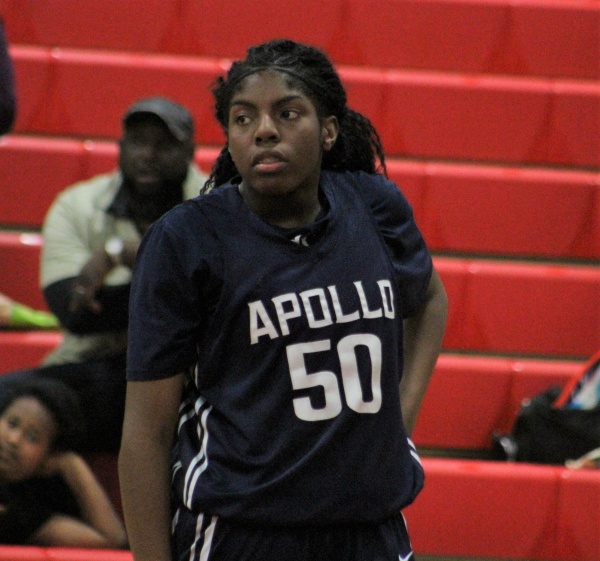 No. 11 Sahuaro used a late surge to get past No. 22 Apollo 48-41 in a 5A play-in tournament game hosted by the Cougars Thursday night. The Hawks led 16-9 midway through the second quarter but Sahuaro was able to stay within striking distance until a pair of free throws from Elena Arriaga gave the Cougars a 25-23 lead with 4:51 left in the third.
Arriaga scored a game-high 23 points to lead Sahuaro, including two 3-pointers in the third quarter, to give the Cougars a 33-27 lead heading into the fourth.
"I came in really nervous because our scouting report told us this would be a close game," Arriaga said. "I told myself to relax at halftime and just play my game and do my job."
Apollo sophomore Jakaree Harris used her size (6-0) and her length to close off the inside to Sahuaro in the early going. Harris recorded seven blocked shots in the game and her presence in the lane also led to several missed opportunities from Sahuaro.
Harris finished with 12 points, as did her teammate Arlene Buenrostro.
Sahuaro sophomore Luly Heslep finished with 10 points with six coming in the deciding fourth quarter. Junior forward Shayla McCraney was held to four points but she was able to limit Harris to only one bucket in the fourth.
Sahuaro improved to 18-9 on the year and Apollo finished 16-10. The Cougars will advance to the 5A state playoffs, set to begin on Tuesday, Feb. 14.
Sahuaro 48, Apollo 41
AP: 12-9-8-12: 41
SAH: 9-8-16-15: 48
AP: J. Harris 12 (4-4); A. Buenrostro 12 (2-6); M. Simon 8; Y. Sanchez 5 (1-2); Y. Morales 2 (2-2); D. Harrington 2 (2-2); J. Torres 0 (0-2). 3-Pointers: A. Buenrostro 2. 41 (11-18).
SAH: E. Arriaga 23 (9-10); L. Heslep 10; C. Mendoza 5 (3-4); S. McCraney 4 (2-4); D. Bonillas 2 (0-2); D. Zaragoza 2; M. Leon 2 (2-2). 3-Pointers: E. Arriaga 2. 48 (16-22).
---