Boys soccer: North Canyon earns 1st title trip
February 9, 2017 by Jose Garcia, AZPreps365
---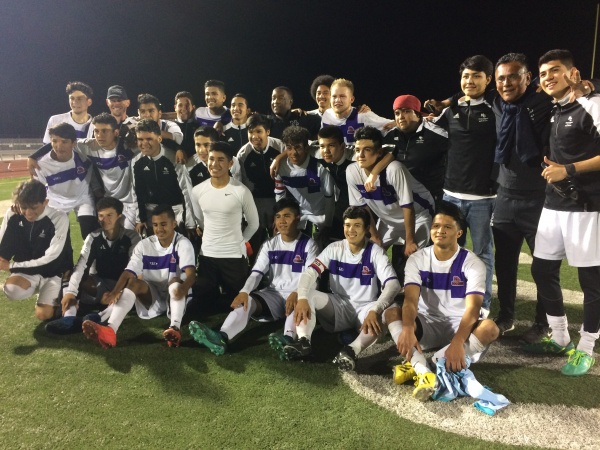 Coach Didi Zekila dropped to his knees as soon as Thursday's state semifinal game ended and thanked the soccer gods for allowing his program to continue to float in the clouds.
"This is seven years in the making," said Zekila after his North Canyon program clinched its first ever state championship appearance.
Over the past seven seasons, North Canyon has steadily climbed the soccer ladder of success under Zekila and his staff.
Their efforts were rewarded at Camp Verde High School, where North Canyon defeated another up and coming soccer program, Independence, 2-1 to advance to Saturday's 5A Conference final. North Canyon felt somewhat apprehensive, Zekila said, when it walked off the bus to play Independence High (14-5-1), which stun Chaparral High, 5-2, in the quarterfinals.
That same Chaparral team defeated North Canyon 3-0 about two weeks ago. But during the outset of Thursday's game, North Canyon was the aggressor.
The match eventually evened out after Independence struck first when its No. 10, German Lopez, somehow dribbled away from two defenders in the 9th minute. That left him with just the goalkeeper to beat, and he did just that from inside the box.
But the physical presence of North Canyon's two tall targets, Daniel Bustamonte and Alex Simon, didn't stay silent. A run of about 20 yards by Bustamonte in the 10th minute ended when he was tripped and awarded a penalty kick.
But one of Independence's leaders, goalkeeper Alberto Lopez, made a great save with his left hand while diving to his right to keep his team ahead 1-0. Independence took 10 shots in the first half but only four in the second half, when North Canyon (15-3) controlled possession during the first minutes.
It was during that stretch that Bustamonte broke free after receiving a pass from Braulio Villanueva from the left side of the box. Bustamonte then went to the near post with his right foot to collect his 23rd goal of the season.
Simon, a senior whose motor doesn't stop, got his head on the end of a long free kick and directed it in in the 57th minute for the game-winning goal.
"We are making a name for ourselves and North Canyon," Simon said.
Beat Campo Verde in Saturday's final, and North Canyon won't soon forget the special season it is having.
---