Boys soccer: Gilbert gains redemption, tops Tolleson 1-0
February 11, 2017 by Les Willsey, AZPreps365
---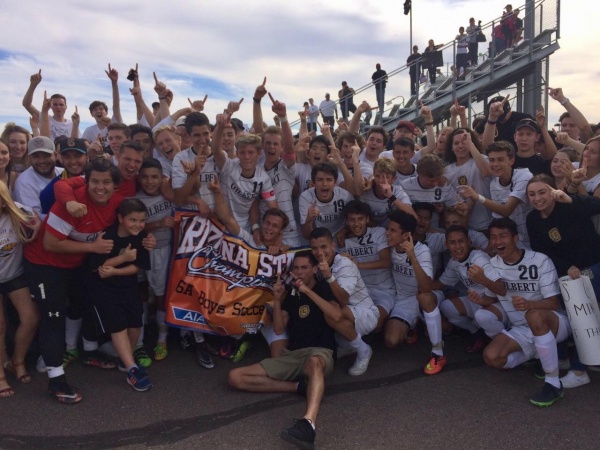 Gilbert's soccer team celebrates their championship with a handful of fans in tow. Photo by Jose Garcia
Gilbert's boys soccer team felt the anguish of a late-match loss in last year's big-school soccer final with Hamilton. Perhaps it was only fitting they were able to enjoy the reverse outcome in similar fashion this season.
Senior scoring standout Danny Baca knocked home the match's only goal in he 74th minute --- with Gilbert down a man -- on Saturday and defeated Tolleson, 1-0, in the 6A final at Campo Verde High School.
Gilbert (16-2-1) won its first outright title in the sport. The Tigers shared a crown with Salpointe in 2004 when ties were not settlled by penalty kicks. Tolleson suffered its only loss of the season and finishes with a 20-1 mark and runner-up trophy. The Wolverines defeated teams most thought they couldn't to reach the final -- Corona del Sol and Brophy Prep. They were seeking the school's second boys soccer crown. The first was won in 2009 at the 5A-II level.
Gilbert coach Jeff Perry knew he and his team didn't want the same outcome from 2016.
"it was so disheartening to lose that way, just the way it went down, Perry said. "It was tough, even tough to talk about it because you know how long it takes to get through this and get a championship. It's a daunting task.
"After we got into training camp in the winter it started to resonate we started to have a little success early in the season, that started to steamroll a little bit especially in January we got real hot.
"I loved the way my team played last year year. But I was concerned about would they rebound, would they have the fortitude to come back and they have. To come back and run through the tournament this year and beat the teams we beat is pretty impressive."
Baca had to feel good about his game winner -- his 37th goal of the season The Tigers thrive on long kicks and throws and this goal was initiated by a long outlet boot by Michael Johansson to Baca. Baca beat a a pair of defenders and connected top shelf past Tolleson's outstanding keeper Alan Cazares.
Early in the second half, Baca had the best opportunity of the match to put Gilbert in front. He was fouled in the box and awarded a penalty kick. Baca, who clinched the semifinal win over Hamilton with a PK in the shootout of that match, had this one knocked away and covered by Cazares. It was his girst PK miss of the season.
"Words can't even describe how I feel," Baca said. "After that loss last season definitely hurt for a while, but as soon as new year started we used that as motivation. We weren't going to let that get to us. It still stung to be that close but this was everything we worked for. We grinded all season got the result."
A lot of fouls and yellow cards were handed out in the match, but one red card put Gilbert a man down for the match's final 48 minutes. Junior defender Ethan Sotak got the red for taking down Tolleson's Armando Valdez in the 32nd minute.
Tolleson had its chances to score both in the first half with Gilbert at full strength and some in the second half with the Tigers at a disadvantage. Some were just misses by Tolleson. The others were saves by Gilbert's equally-talented keeper Noah Rivera, who came up big in the PK session with Hamilton with a pair of saves.
---