6A girls hoops: Top-seed Gilbert guts out win over No. 16 Mesa
February 14, 2017 by Les Willsey, AZPreps365
---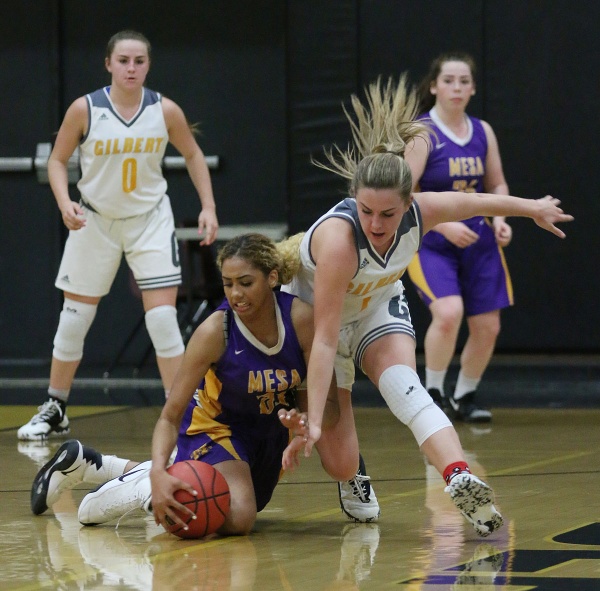 Gilbert's Hailey Cavinder (1) battles for possession with Mesa's Diamond Fuller (21) during Tuesday's 6A state tournament game won by Gilbert, 61-49. (Photo courtesy of Dennis Webb).
No. 1 seed Gilbert High never trailed Tuesday night on its home floor, but that doesn't mean its win over No. 16 Mesa High in the first round of the 6A state girls basketball tournament was comfortable.
The final score read Gilbert 61, Mesa 49. It equaled Gilbert's biggest lead of the contest registered early in the second quarter. Gilbert expended more energy than it thought it would need in its second tough tussle with Mesa. The Tigers hung on a month ago fin the final mnutes for a 57-56 victory,
Gilbert (25-2) presses on to face sister-school and rival Highland for the third time this season on Friday in the quarterfinals at 6:30 at Gilbert. Mesa finished up 17-12 with nothing to be ashamed of it its final game of the season.
"They played us tough again,' Gilbert coach Kyle Pedersen said. "They really beat us in rebounding. Rebounding has improved for us this year. We've had more this year per game than last year. But against Mesa it's been an issue."
Gilbert had four players score in double figures led by Hanna Cavinder's 15 points. She scored seven of those in the final period. Hailey Cavinder (12), Stacy Hock (11) and Tessa Kowalski (10) were the others.
All the second chances Mesa garnered rebounding ended up adding to foul trouble for Gilbert, which ultimately had three starters foul out in the final quarter -- Hailey Cavinder at 5:56 to go, Shayla Huskey with 4:40 left and Hanna Cavinder at the 2:29 mark.
"Even though they fouled out, they didn't sulk about it," Pedersen said of his three starters."They kept the same energy they had in the game on the bench. (Freshman) Leah Millman filled in and did a nice job for a few minutes at the end. She hadn't played in months."
Fortunately for Gilbert, a 2 1/2 minute run early to mid-fourth quarterr improved a precarious two-point lead to 58-48. That run was fueled by Hanna Cavinder, Kowalski and Hock. Mesa pulled within two of Gilbert in the opening seconds of the final quarter and again with 6:12 to play and again at 46-44 with 6:12 to go on another offensive putback.
"We seemed to match up against them," Mesa coach Brock Landis said. "We fought hard and battled. Both times against them. That little stretch in the last quarter it got away from us."
Mesa had three players score in double digits. Brea Patterson led the Jackrabbits with 17, including three 3-point field goals. Diamond Fuller, who closed out a fine career for Mesa and Landis, tallied 13 points and Eliza Heiney was a demon on the boards adding 11 points.
Fuller had a tough finish even with her 13 points. Gilbert was poised to defend her (she averages 20 points a game and nine rebounds). Fuller was 3 for 22 from the field.
"It was sad that she had probably her worst game of the season tonight," Landis said. "We tried to get her the ball more, but she couldn't get it going. She's been such a great player for us."
---