1A girls hoops notes: Ft. Thomas ready to clear quarters hurdle
February 16, 2017 by Jose Garcia, AZPreps365
---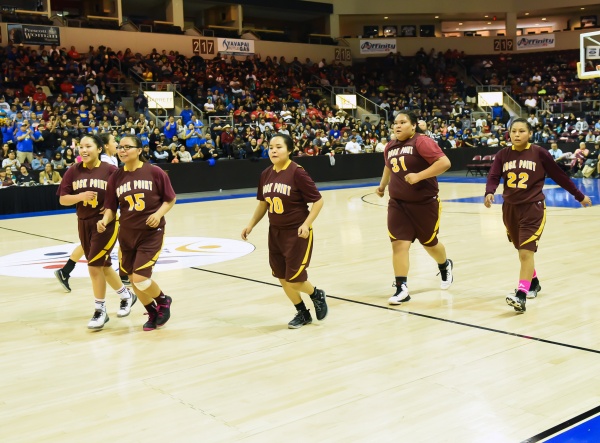 Before analyzing its chances of winning the state title, let's first get to the puzzling quarterfinal exit streak of Fort Thomas.
Fort Thomas' dejected girls basketball teams cleaned out their lockers after the state quarterfinals in the past five years. Three of those quarterfinal games were lost by a combined five points.
But all signs are pointing toward the semifinals and beyond for this season's Fort Thomas Lady Apaches once the 1A Conference state tournament begins Friday. The team will head into the tournament as the No. 1 seed and with a 25-2 record.
"We feel we need to get over that hump and think this is the year we can do that," 10-year coach Lee Haws said. "Our team is ready to compete this year. We feel that we have underachieved the last couple of years, and we have been working to overcome the psychological part of playing in the big game. We refuse to choke again and will do everything possible to win."
Haws' team is loaded with leadership and seniors, a combination that may have been missing during the last five years.
Since their days at the same elementary school, seven seniors on the team have experienced their share of postseason heartaches and regular season highs. The tough moments, though, didn't break their spirit.
"They (seniors) have stuck by each other and played for one another," Haws said.
"We are about unselfishness and being good people."
Two of those seniors, guard Kiara Goseyun (12 ppg, 51 percent shooting percentage) and forward Jemila Flame (56 percent shooting percentage), are four-year starters.
But, it seems, everybody on this team is contributing toward finally helping Fort Thomas play for a state championship for the first time since 2006.
So far, Fort Thomas hasn't lost to a 1A team this season.
"They (players) are determined and focused to do their best and compete for the golden ball," Haws said.
Not to jinx Fort Thomas, but another potential pitfall awaits Fort Thomas if it reaches the quarterfinals this year.
Fort Thomas has outscored each of its 1A opponents by at least 15 points or more this season except for one team, Ray. In the first round, if Fort Thomas defeats Fredonia, and No. 9 seed Ray takes care of business against No. 8 Mogollon, guess in what round Ray and Fort Thomas will meet?
The quarterfinals. This season, Ray lost to Fort Thomas 62-53, but that game was played on Dec. 6, and a lot has changed since that day.
Let's see if Fort Thomas' postseason fortunes have also.
Notes
The No. 2 seed is 16-6 Rock Point, a team that played for a state title last year.
The team has won 10 in a row and dresses seven players who are either sophomores or freshmen. … No. 3 seed The Gregory School (19-7) is led by first-year coach Josh Dickinson, a girls varsity coach since 2001. The school didn't have a program for girls two years ago but "bounced back strong during the past two seasons." It lost in the second round last year. Senior captain Taylor Thompson (28.8 ppg) is the team's leader. Senior guard Elaine Writes is headed to Princeton. Former Ironwood Ridge standout Alysa Johnson and "X's and O's specialist" Jim Carlson are Dickinson's assistants. … Immaculate Heart (24-4) will send its best team ever assembled at the Catholic school of about 75 kids to the playoffs this season. The 4th seeded team has won 18 in a row. Sophomore Emily Haynes "runs the show" and is a steal machine. Meredith Ethridge, one of 10 children in her family, has 72 three-pointers. She is the president of her local 4H Club and, like the entire team, has a high GPA. Immaculate Heart hasn't lost since Dec. 3, when junior Sarah Martin returned from an ACL non-basketball injury. Coach Tom Danehy also has produced girls high jump champs and writes for a living. … Edward Measel is in his first year as Valley Lutheran's coach and guided his team to a 20-win season. The team only won 12 games in the previous two seasons. They are winning this year despite having no seniors. Junior G/F Ashley Measel (4.5 GPA), arguably the best player in 1A, is Valley Lutheran's scoring, rebound, steals and assist leader. A strong summer program helped No. 7 Valley Lutheran turn its program around, Measel said. … No. 8 Mogollon only carries two seniors and is led by senior captain Rebekah Whipple. This is the second year in a row that the team has reached the playoffs. "Hard work and dedication along with big hearts have led the Mustangs (18-6) to a winning season," second-year coach Jim Maner said. "The Mustangs believe in tough hard-nosed defense."
---