2A girls hoops notes: Make room for Leading Edge
February 16, 2017 by Jose Garcia, AZPreps365
---
It is rare to see a varsity program win a state championship in its first year as a member of the Arizona Interscholastic Association.
Can the new kid on the the AIA 2A Conference block, Leading Edge Academy's girls basketball program, accomplish the feat? We're about to find out.
On Friday, when it plays Hopi at Bradshaw Mountain, Leading Edge's talented unit will take the court during an AIA postseason for the first time. Riding a 17-game win streak, including a quality victory over a Southern California section champ, Barstow, Leading Edge's first-year AIA resume so far is impressive.
Its first-year wins allowed Leading Edge to earn the No. 2 seed in the state tournament. The win over Barstow came during a stretch in which Leading Edge went 4-0 and won its division in the 88-team Southern California Holiday Prep Classic.
Leading Edge, currently 27-2, dropped its only games to the 3A Conference's No. 1 state seed, Valley Christian, and 6A Conference's Perry. Leading Edge began making a name for itself in the Charter Athletic League, where the team won eight consecutive state championships
In charge of the program since its first layup is Erik Gray, who in nine years with Leading Edge is 217-22.
"Our team's identity comes from the defensive end," Gray said. "We really use our defense to create offense. We average 18 steals per game, which allows us to get out on the break and get easy baskets in transition."
Only one senior, guard Brielle McKinney, appears on Leading Edge's roster, but it doesn't lack leadership.
Ariana Clavell, a 6-2 junior captain, isn't the team's leading scorer, but she's one of the "biggest" leaders in Leading Edge's program.
Clavell's defensive skills and love for her teammates allows her to excel on the court, Gray said. She is averaging a team-high 7.6 rebounds per game, but not far behind her in rebound average is Prima Chellis, the team's points per game leader at 14.4.
At 13.7 points per game, point guard Brielle McKiney also can light up a scoreboard. McKiney dropped a season-high 29 points against the 2A state tournament's No. 3 seed, Scottsdale Christian, this season.
At 7.6 steals per game, Chellis is also the 2A's state leader in that category. The junior also is shooting 46 percent from beyond the arc.
Halle Price runs the show for Leading Edge, leading the team with five assists per game. Despite the first-year success, it hasn't been all gravy for Leading Edge.
Injuries forced key players to miss games this season. Nineteen seconds into this season's first practice, Price injured herself and was forced to sit the first 10 games.
Sophomore Mariah Estrada's sprained MCL also led to missing 10 games. And nine games into the season, the then team's leading scorer, Jasmine McKinney, was lost for the year with an ACL injury.
"Unfortunately, we were only able to play six quarters this season with a full roster," Gray said. "But I feel like we are really starting to hit our stride right now, as it took a few weeks to work on getting players back and into game shape as well as (finding our) chemistry on the court. We are very excited about our first year in the AIA state playoffs and hope to make a run deep in the tournament."
Some of the AIA's traditional powers likely won't take it easy on Leading Edge if they meet in playoffs.
Leading Edge and No. 3 seed Scottsdale Christian could face off again this season if they advance to the semifinals. It took two overtimes for Leading Edge to get by the Scottsdale school, 74-72, on Dec. 5.
That was the only 2A game Leading Edge didn't win comfortably this season. And don't forget about the the No. 1 seed, Thatcher (21-2), which hasn't seen Scottsdale Christian and Leading Edge this season.
Thatcher has given up the least amount of points by a 2A team this season and lost only one player off of last year's team state championship team.
Notes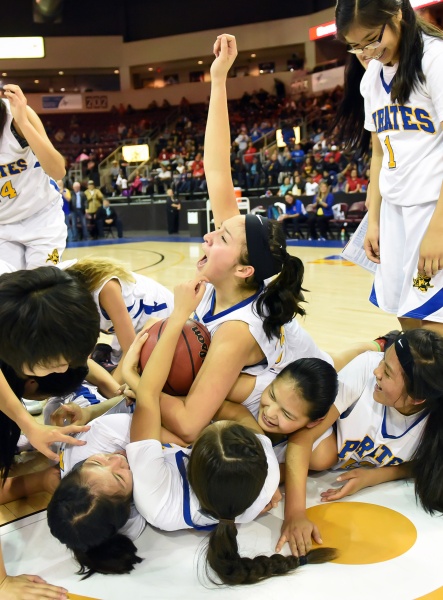 Valley (Sanders), the No. 5 seed, won the state's smallest school division state title last year.
Valley (21-2) hasn't lost to a 2A school this year and is led by sophomore Valiyah Yazzie's 14.9 points per game. Sophomore Samantha Quigley and Tiffany Quigley are each averaging more than nine rebounds per game.
Sedona Red Rock(27-1), the No. 6 seed, lost 58-46 to Thatcher in the semifinals last year. Sophia Perry has lettered in volleyball and basketball in each of her four seasons and has competed for 11 state championships.
Hannah Ringel, a captain, carries a 4.25 GPA, is the editor of two school publications and an officer of four clubs. Ringel is also a two-time state shot put champ and 2016 discuss runner-up.
Gilbert Christian (25-5), the No. 8 seed, has qualified for the playoffs the past 11 seasons and won state titles in 2009, 2011 and 2014. Coach Daryl Young took over in 2010 and has a 171-46 record.
The defense is allowing only 23.4 points per game. The team's three captains are Dana Sullivan, Faith Johnson and Rachel Field (team-high 10.2 rebounds per game).
Sullivan and Johnson, who suffered a season-ending ACL injury in January, are the vocal and spiritual leaders of the team, and Field leads by example, coach said.
Junior point guards Victoria Zebb leads the team with 11.5 points, 4.5 steals and 2.9 assists per game.
"We emphasize giving our very best and then leave the results up to God," Young said.
---