2A boys hoops notes: Pima is back to winning ways
February 16, 2017 by Jose Garcia, AZPreps365
---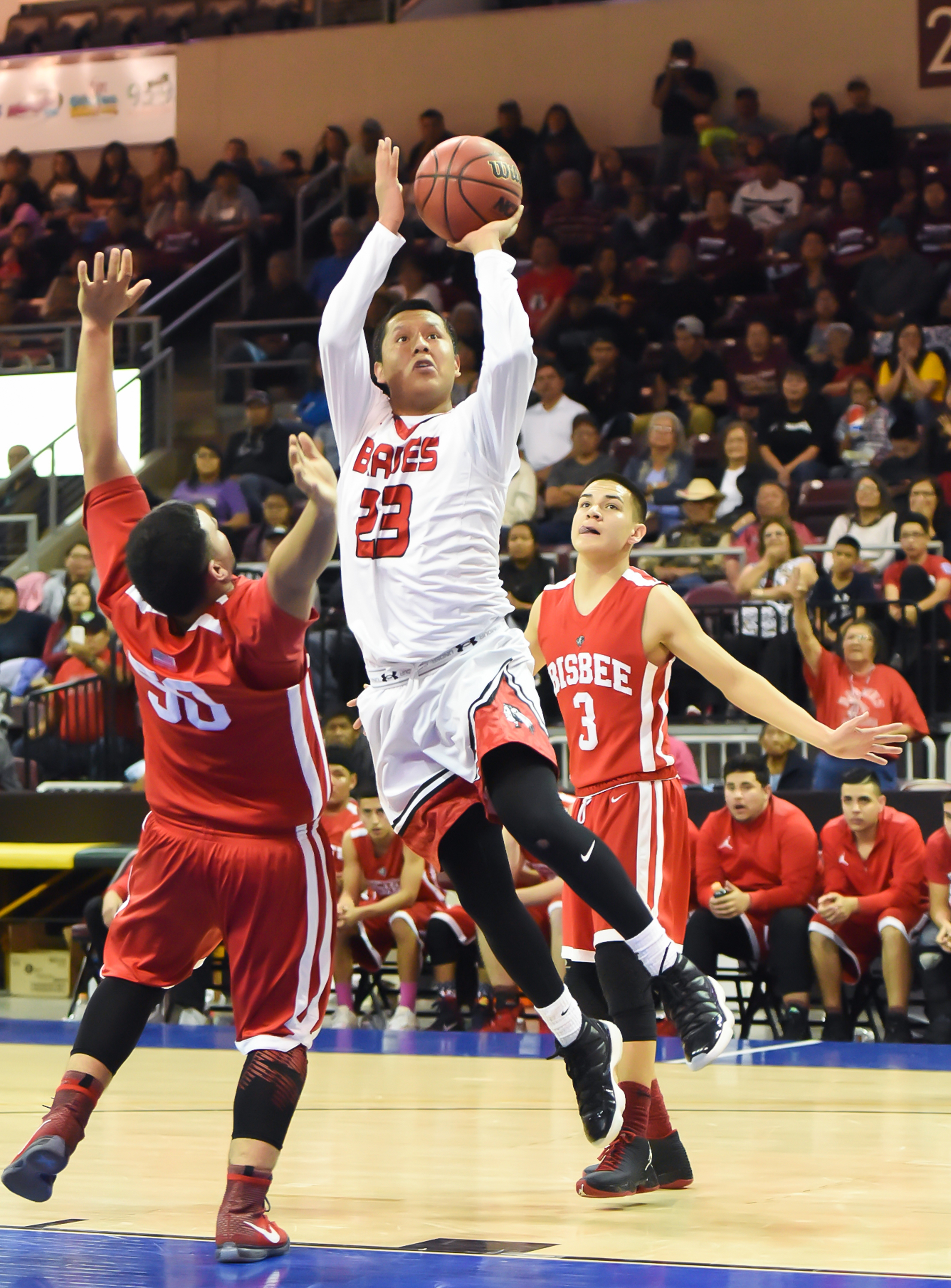 Pima's boys basketball program figured out how to become a contender with Cliff Thompson at the helm.
What they need to do now is climb over the semifinal wall they've hit in the last two years. Once they do, Pima's perennial champ status will be within sight again.
The program owns the longest win streak — 75 games in the 1970s — by an Arizona high school basketball program and has won 10 state championships. But from 2009-14 Pima had losing records for the first time in a long time.
After 2013-14's woeful 9-17 season, Thompson and his boys made a dramatic turnaround, winning 26, 28 and 25 games during the past three seasons. This season, Pima continued its basketball ascent, claiming the No. 1 seed in the 2A Conference basketball tournament.
Pima's next step in its journey to win another championship arrives Feb. 17 at Yavapai Community College, where it plays Kingman Academy in the first round.
"Our team is build on defense, and when we are playing well it starts with our defense," Thompson said. "We are led by three senior captains, Jarrett Kartchner, Justin Kartchner and Alex Pruszynski. They have been the core of this team with some underclassmen filling in nicely."
Pima has given up the second fewest points in 2A this year.
The leader in that category is Paradise Honors of Surprise, but Paradise Honors has played six fewer games than Pima (25-2) this season.
There's a strong family bond on this year's Pima team. The Kartchners are twins, and the team's point guard, Trey, is Thompson's son and cousin of the Kartchners.
There's more. The Pruszynskis, Alek, a starting shooting guard, and Dawson, a starting forward, are brothers and their father, Yuri, is one of Pima's assistant coaches.
If the plan is to finally win another title, then why not bring the entire Pima family.
Notes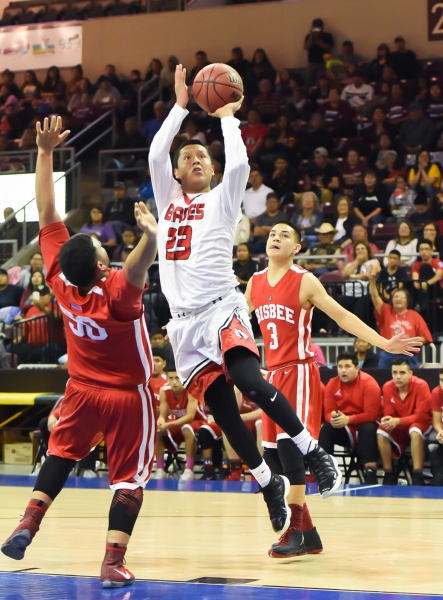 No. 2 seed Alchesay (30-2) has reached the playoffs the past eight years under head coach Kyle L. Goklish, who has won more than 180 games at Alchesay. The team lost to Pima in the semifinals last year. The last time the program won a title was in 1993. It was state runner up in 1998. "The team works hard as a unit during practice," Goklish said. "There is no substitute for hard work and these student athletes have put in some good work over the past season." Raekwon Cosay (10.7 ppg) and Chad Amos are the captains of the team. Raekwon is "the team's point guard and does a wonderful job of keeping his teammates motivated during practice, and he also does a good job of settling the team during tough moment in the game." Chad "also does a great job of motivating his teammates in practice and takes initiative to lead the team in drills during practice and leads the team in pre-game preparation." Alchesay's boys regularly volunteer time time at rest homes, elementary schools and local basketball camps. NBA Hall of Famer Kareem Abdul Jabbar was an assistant coach on the 1999 Alchesay team, which Goklish played on.
No. 3 seed San Carlos (22-3) was established in 1991 and reached the semifinals in 1992 and 2009 and won its first state title last year. Coach Terry Antonio has coached basketball for 19 years, nine with the boys, at San Carlos. Juniors Aloysius Case (20 ppg) and Leo Pechuli "lead by example" at practice and in games, Antonio said. John Cutter is averaging 16.4 points per game.
No. 4 seed Scottsdale Christian (16-8) has won six state titles and was state runner up three times. Coach Bob Fredericks has been at Scottsdale Christian for 32 years and won his 700th game this season. Injuries to Ethan Spry, Robbie Witte, Jordon Moody and Tanner Hoffman hampered the team this season.
"Our identity has to be perseverance," Fredericks said. "We still have a ways to go."
Spry and Reed Myers are sophomore co-captains and played key roles on last year's state championship team.
Make God look good with attitude and effort is Scottsdale Christian's motto, Fredericks said.
No. 5 seed Gilbert Christian (21-5) won state titles in 2007, 2010, 2012, 2013 and 2015. The program has qualified for the playoffs every year since it opened in 2003. Coach Kurt Keener is in his third year as coach and is 67-17 at the school, 757-128 overall. "The identity of this year's squad is centered on unselfishness," Keener said. "The guys have bought into the belief that if everyone goes out and fulfills their role, it doesn't matter who gets the most points, rebounds and assists." The team's captains are senior Caleb Young, the vocal leader, Nate Graville, a play maker, and level-headed junior Brayden Finkbeiner.
"Caleb is a tenacious defender and super hustler," Keener said. "Nate is a highly skilled 6-7 athlete who can score inside or outside, and Brayden is a knockdown three-point shooter who is solid in all phases of the game." The team's leading scorer is 6-5 sophomore Kyle Patterson (18 ppg), who scored 29 points in the region championship game. Patterson is the son of former Green Bay Packer Shawn Patterson. Assistant coach Matt Johnson was a former head coach at Fountain Hills and Skyline. Juniors Miles Lightfoot and Nick Johnson gives Gilbert Christian some size off the bench, Keener said. Lightfoot's brother, Mitch, is currently playing for Kansas. Two years ago Johnson had surgery to correct a curved spine. He was 6-5 before the surgery, but now stands 6-9. "Our team is very appreciative for the gifts God has given us to be good basketball players and committed to use those gifts in a way that is our gift back to our Lord and Savior."
No. 6 seed St. Augustine (23-3), a 10-year member of the AIA, reached the postseason for the first time last year. Chance Strawdermann is the state's 2A assist leader. Andrew Reyna (21.4 ppg) is a clutch player who seems to score "during key moments of games." Senior Max Navarrete is "guard size" but the "quick jumper" plays in the paint for the team. Senior forward Jacob Dybas also has a "knack for scoring." He is the second player in the program to ever score 1,000 career points.
Reyna, Theo Gates, Strawderman, Navarrete and Dybas experienced some growing pains along with their program when they were freshmen and sophomores. But the fruits of their labor were rewarded last year when they helped St. Augustine earn its first playoff berth and first 20-win season. This season, the team was joined by baseball player Max Fimbres (7ppg, 6 rpg). "It has been a wonderful ride that these seniors have taken us on these last four years," coach Mike Reyna said. "It would be a great ending to their careers if we made a deep run in the playoffs."
No. 7 seed Thatcher (17-8) has reached the state championship game twice and semifinals an additional time during Chris Cook's eight years as coach. "Our team has had some ups and downs with injuries and intensity," Cook said. "When we play with intensity we are very good and could go far." Dallin Cook, Logan McMaster and Carson Goodman are the team's leaders. Dallin and McMaster are great athletes, Cook said. They have won three team state tennis championships and one doubles title. Dallin also helped Thatcher win a football title in December. Goodman "has worked hard in the off season to bulk up and continues to work on his offensive skill set."
---