4A girls hoops: Seton, Cactus Shadows reach final again
February 22, 2017 by Les Willsey, AZPreps365
---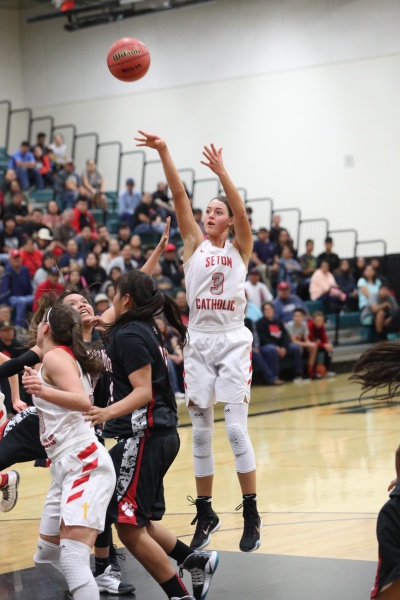 Seton Catholic's Jenn Wirth fires up a shot during the Sentinels' 52-19 victory over Coconino in the 4A semifinals at Copper Canyon High School (Photo courtesy of Rory Self)
The current group of seniors playing for Seton's girls basketball team wouldn't know what to do in late February or early March if they weren't playing in a state championship game.
Four seniors are headed to a fourth title game in as many years following Wednesday night's 52-19 victory over Coconino in the 4A semfinals played at Copper Canyon High School in Glendale,
Seton (28-3) takes on Cactus Shadows, a 58-39 victor over Flagstaff for the 4A crown on Saturday (Feb. 25) at 12:30 at Gila River Arena. It will be a rematch of last year's final, won by Seton, 49-40. Coconino, bidding for its first title-game visit in 30 years, closed out its season 26-5.
Seton seniors Jenn Wirth, LeeAnne Wirth, Liz Holter and Courtney Knecht are seeking to make it three titles in four years. Juniors Sarah Barcello and Kendall Krick will be appearing in their third title game in three years. The group made it possible with a commanding second-half performance that saw the Sentinels limit Coconino to two points in the third period (five in the second half) in breaking open a relatively tight game at halftime.
"I thought we were rushing our offense in the first half," Seton coach Karen Self said. "We needed to be more patient. In the first half it was 'Am I really open or would one more pass help.' We took better shots in the second half. And to hold a team to two points in a quarter in a semifinal game. ... I was happy with that."
Barcello led Seton with 15 points and Jenn Wirth and Holter tallied 13 apiece. Barcello scored 10 of her 15 in the first half while Jenn Wirth and Holter tossed in eight and nine of their points, respecitively, in the second half. LeeAnne Wirth scored six points, but led Seton in rebounding (12) and assists (4).
Coconino stayed close enough to make a game of it for a half, thanks to eight first-half points from leading scorer JJ Nakai. Nakai scored one point in the second half and got off just three shots after intermission. Coconino turned the ball over 17 times and shot just 20 percent for the evening (7 of 35 from the field).
CACTUS SHADOWS 58, FLAGSTAFF 39: The No. 1 seeded Falcons (26-4) picked up the tempo in the second half and ran away from the No. 4-seeded Eagles (27-6) in the other semifinal. Cactus Shadows not only gets a title rematch from last year with Seton, but tries to prove a 52-41 victory a month ago over Seton was no fluke.
Cactus Shadows junior standout Caitlin Bickle filled up the box score with a game-high 21 points, 11 rebounds, three assists and four blocks. Bickle did most of her damage in the paint with a couple of 10-foot jumpers for good measure. She connected on 9 of 12 shots. Teammates Tierney DeDonatis and Chloe Warrington made it tough on Flagstaff from the perimeter finishing with 13 and 12 points, respectively. Warrington sank four 3s and DeDonitas two.
Cactus Shadows bulit a 30-19 lead at halftime despite 16 turnovers and 14 fouls, Their lead was due mostly to Flagstaff's cold shooting as the Eagles made only 4 of 27 shots. Cactus Shadows shot 47 percent from the field for the game, but also missed 12 of 20 free throws.
Flagstaff, which trailed by 19 point with 5:15 left in the third period, managed to put a scare into Cactus Shadows by shaving the deficit to 10 a couple times late in the quarter and early in the fourth. Seven points by Bickle in the final period bumped the lead back to the level of the early third quarter.
---