3A hoops semifinals: Winslow chasing spirit of '79
February 24, 2017 by Jose Garcia, AZPreps365
---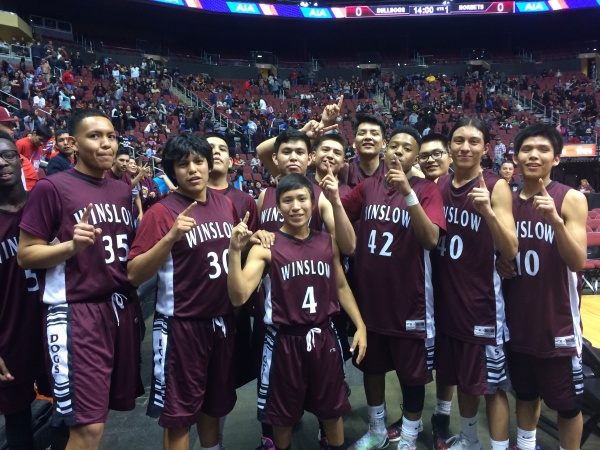 Buckle up. Winslow is revving up for a chance to win its first boys basketball crown since 1979.
The team loves to run, run, run. Ganado, for the most part, matched Winslow stride for stride, but its scoring output couldn't keep up Friday in their state semifinal, mostly because of its 27 turnovers and poor shooting night.
Ganado sprinted its way to a 59-42 victory behind a strong second half shooting performance at Gila River Arena.
The breakneck pace of the game was has hardly interrupted by timeouts, and there were times when it seemed Ganado needed to call a timeout. But why slow the game down.
Mix in the support of passionate basketball fans who almost filled the lower bowl of Gila River Arena, and your liable to leave the arena with your head spinning and ears ringing.
Welcome to Rez ball.
We'll see Saturday if Fountain Hills, Winslow's 3A Conference championship opponent, wants to spin its wheels.
Ganado was game, but its inside enforcer, Jamaal Coleman, failed to really get out of the starting blocks. Winslow's head coach Scott Corum praised Rory Billie (17 rebounds) for keeping Coleman away from the low blocks.
Pete Dalgai (22 points) and his Winslow (26-9) teammates didn't shy away from driving inside with Coleman in the middle during the second half.
"We were taking too many three in the first half," Corum said. "We were more aggressive attacking the basket in the second half."
There's a connection on this season's Winslow's team to the 1979 team.
Assistant coach Jim MacLean played on the 1979 team.
Valley Christian girls holds off Holbrook
In a game of runs, Valley Christian's senior leaders had the final say.
Valley Christian opened its 3A state semifinal game with a 20-7 lead, but Holbrook received a boost from a throng of fans at Gila River Arena and its three point shooting in the second quarter to retake the lead, 27-24, by halftime. The third quarter, however, belonged to Valley Christian, which held off Holbrook the rest of the way in its 69-54 victory.
Valley Christian senior Angie Andrews hit a couple of big threes to open the third quarter, junior Anna Gorman followed with key buckets and senior Megan Timmer closed the third quarter with a three just before the buzzer to help their team jump ahead, 48-36.
Holbrook went on an 7-0 run to open the fourth quarter but senior Bethany Wolph then halted Holbrook's momentum with a three.
Gorman, Wolph, Timmer and Andreas each scored in double figures. Madison Chappel recorded 17 points and 12 rebounds for Holbrook.
Late run sends Ft. Hills to final
Sparked by a three by Bryce Andrashie with 4:12 left, Fountain Hills outscored Northwest Christian 17-4 the rest of the way to advance to the 3A Conference boys final with a 55-43 win.
Northwest Christian was up 39-38 when Andrashie made a three from atop the arc, the only three point field goal he made in the game at Gila River Arena. Andrashie and teammate Joe Wagoner each scored 15 points. Andrew Augsustine scored 17 for Northwest Christian.
Page downs Chinle for 3rd time
Page held a one point lead heading into the fourth quarter but outscored Chinle 15-7 to in the final eight minutes to advance to the 3A girls final with a 48-39 win.
It was Page's third win over Chinle this season. Page's bench outscored Chinle's 18-4.
Twelve of those bench points were scored by Nailone Beard. Starter LeLisa Watson led Page with 13 points and seven steals.
Chinle's scoring leaders were Nahatabaa Nacona (14 points) and Stacey Begay (15 points).
---