SOFTBALL: Ironwood Ridge advances at the Dorado Classic with 10-9 win over Rincon
February 24, 2017 by Andy Morales, AZPreps365
---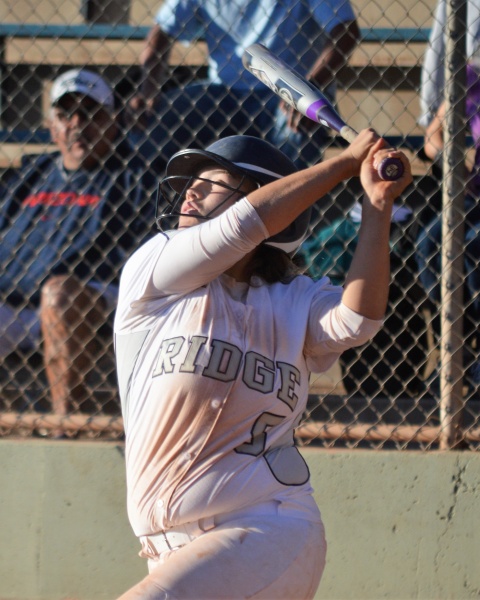 Ironwood Ridge plated six runs in the bottom of the fourth and another run in the fifth to comeback and defeat Rincon/University 10-9 in the second round of the Dorado Softball Classic held Friday in Marana.
Ironwood Ridge (4-1) beat Queen Creek in the first round and the Nighthawks will play the winner of Sahuaro (5-1) and Desert Vista (4-1) in the semifinals scheduled for noon at Mike Jacobs Sports Park. Sahuaro and Desert Vista will play at 10 a.m.
Rincon/UHS (1-5) beat Pebble Hills (TX) 17-1 in the first round Friday morning to set up the game with Ironwood Ridge. The Rangers lost to Ironwood Ridge 4-3 in pool play on Thursday morning and the Nighthawks needed some late-inning heroics to get that win and there was just enough magic and skill to get it done again on Friday after the Rangers built a 6-2 lead.
Rincon/UHS took a 3-0 lead in the top of the first thanks to a 2-RBI double from UTEP commit Melissa Mange that scored Arianna Encinas and Areili Valdez. Julia Vega came in and scored Mange on a groundout RBI.
Down 3-0, University of Arizona commit Isabel Pacho hit a towering 2-run homer in the bottom half on the inning to keep the Nighthawks close. Morgan Reidhead started off the inning with a walk.
The Rangers got one run back in the second inning after Kelsey Jarecki doubled and Lee knocked her in. The Rangers scored two more in the top of the third thanks to an infield hit from Vega (Yailin Figueroa courtesy runner) and a sacrifice by Melanie Ginther that was misplayed, allowing Figueroa to score. Jarecki followed with a sac fly to score Ginther from third.
Down 6-2, the Nighthawks started to come alive. Jaiden Reid came up with a one-out double and Pacho followed with an RBI double to cut the lead down to 6-3 after three. Then came the fourth inning.
Jess Rapp drew a one-out walk and Sydney Brown singled one out later. Reidhead came up with an infield hit to load the bases with two outs. Reid singled in Rapp and then Pacho (Maddie Judge courtesy runner) was walked with the bases loaded to score Brown.
Down 6-5 with the bases loaded and two outs, Indiana commit Annika Baez doubled to score two more runs to give the Nighthawks a 7-6 lead. Alexis Orth followed with 2-RBI to put Ironwood Ridge up 9-6.
Arianna Encinas doubled with two outs in the top of the fifth for Rincon/UHS and Ginther followed with a single but Frankie Lucio picked up a fly ball to end the threat.
Rapp singled in the bottom of the fifth and Reidhead doubled her in to put the Nighthawks up 10-6 and the Rangers had three outs to try to send the game to extra innings.
Lee doubled with one out and then Encinas reached on an error. Mange stepped to the plate one out later and she delivered on a 3-run blast to cut the lead down to 10-9 but the Nighthawks held on for the win.
"We started out rough but we are starting to come together as a team," Pacho said. "We are starting to bond and when we struggle we can count on the energy coming from our bench. It's not just one player or two players, it's the whole team. It's all of us together."
As far as drawing a bases-loaded walk Pacho added, "I'll take a run anyway I can get it."
Even with the loss, the Rangers appear ready to take the next step this year with the regular season on the horizon.
"This feels good because it feels like family," Ginther explained. "I am enjoying this because we are growing together. We are learning and we are gaining experience. We are more educated and that's something we always talk about."
Rincon/UHS travels to Cienega on Tuesday, Feb. 28.
---