Valley Christian nips Page for 3A girls hoops title
February 25, 2017 by Les Willsey, AZPreps365
---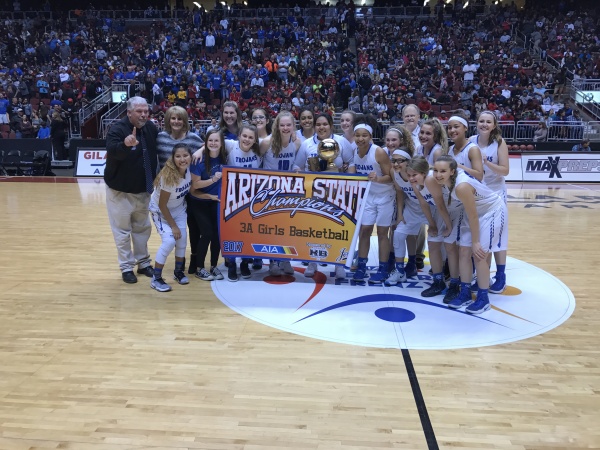 Valley Christian's girls basketball team is all smiles after pulling out a 41-40 victory over Page in the final seconds to win the 3A championship at Gila River Arena. (AzPreps365.com photo)
Valley Christian's Anna Gorman gave six senior teammates a going-away present late Saturday afternoon. One they will never forget.
Gorman calmly sank her only two free-throw attempts of the game with 8.8 seconds left to lift the top-seeded Trojans to a 41-40 victory over No. 2 seed Page at a rocking and rolling Gila River Arena.
The triumph left Valley Christian coach Scott TImmer misty eyed as he realized that six seniors, including daughter, Megan, were ending their careers with a long, sought-after championship. Valley Christian finished runner-up in 2014 and 2016 and bowed out in the quarterfinals in 2015 with this current group of seniors.
"We talked about this since Megan was a little girl," Scott Timmer said. "She felt bad fouling out, but other people stepped up for us and got the job done."

The victory, in easily the most thrilling girls title game of four played in two locales on Saturday, was VC's third crown overall in the sport and all in this decade. The other two came in 2010 and 2011.
The Trojans (26-3) have knocked on the championship door the past three seasons, led in large degree by this year's senior class. Page, (26-4) no stranger to championship games, nearly won its fifth in its 12th title appearance.
Gorman, a junior who starts along with seniors Angie Andreas (three points and five assists), Timmer (12 points and seven rebounds), Bethany Wolph (15 points) and Sabryia Smith (four points), drew a blocking foul as she drove the right sideline in halfcourt trying to work for a final shot. When Scott Timmer realized who was going to the line, his spirits were lifted.
"When I saw it was Anna I knew we had it," Timmer said. "I have so much belief in her. I'm happy for all the girls, especially the seniors"
Valley Christian enjoyed nearly its biggest lead of the game, 33-27, in the tightly played contest early in the final period only to see Page score the next seven points over a four-minute span for a 34-33 lead with 3:51 to play. Valley regained the lead briefly a few seconds later via a three-point play by Smith.
Page then made VC's bid for the title look far-fetched after five straight points (a LeLisa Watson 3 and two Ariell Austin free throws) with 1:41 left. It looked even worse with 1:12 to play and Page up 39-36 and at the line for two free throws. Watson and Jacey Salabiya led Page with nine points apiece and and Austin finished with eight.
But Page's Myka Taliman missed both free throws. VC got a layup from Megan Tmmer and a steal and one of two free throws from Wolph to tie the game a final time at 39.
Page worked 21 seconds off the clock before calling time out with 15 seconds left likely to set up a final shot. Megan Timmer was called for her fifth foul with 13 seconds left defending a shot and sending Austin to the line for two shots. Austin missed the first and made the second for a 40-39 edge.
The next four seconds resulted in Gorman's heroics, but only after VC partially blocked one shot (Watson) and defended another by Salabiye successfully at the buzzer.
---