Will of Fountain Hills too strong in final
February 25, 2017 by Jose Garcia, AZPreps365
---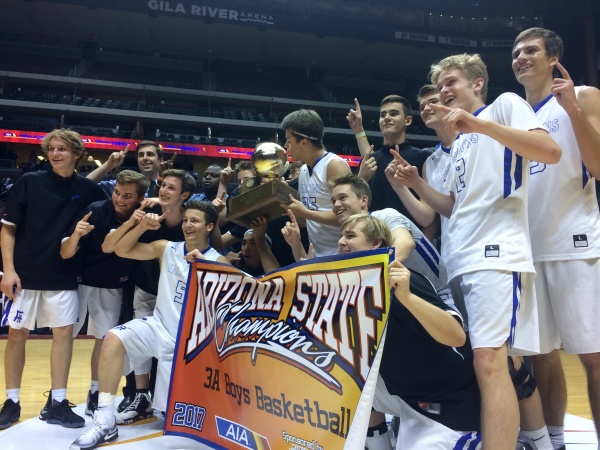 Joe Wagoner, the tallest player on the court, threw himself to the floor to get a steal and then a timeout.
It was another hustle play in a season filled with many Fountain Hills' seniors made this season. The difference this time is that Wagoner's all-out effort came in the biggest moment of the year, the the 3A Conference state championship game.
The steal, with 22.6 seconds remaining in Saturday's game, helped Fountain Hills snare a 55-48 victory over Winslow at Gila River Arena.
"Everybody played hard this year," Wagoner said. "Not just one person.
"I just forgot about all the cuts and bruises, and I had to go make a play (late-game steal)."
Fountain Hills was up by three when Wagoner knocked the ball lose near midcourt and then landed on the floor.
Last year's 9-16 season spurred Fountain Hills' seniors to raise their commitment level in their final high school season. They were rewarded with a 23-6 record and the program's fourth boys basketball state championship trophy.
"The seniors' will carried the team," coach Matthew Keating said.
Keating took last year off from coaching after his second son was born but returned when his former high school coach, Fountain Hills' principal Cain Jagodzinski, asked him to come back.
Fountain Hills' four seniors starters, Wagoner, Bryce Andrashie, Max Giger, Teo Vargas, scored all of their team's points Saturday.
Andrashie and Giger also had 15 rebounds apiece to help their team outrebound undersized but tenacious Winslow 46-22. Fountain Hills trailed 22-17 at halftime against a team that was pursuing its first title victory since 1979.
Winslow's Rory Billie knifed his way through the lane for his team-high 13 points.
But its was Vargas who helped set the second half tone with two steals and buckets as soon as the third quarter started. Fountain Hills shot 70.6 (12-17) percent in the second half, when it made more of an effort to get points in the paint.
"This year was a testament to hard work," Keating said.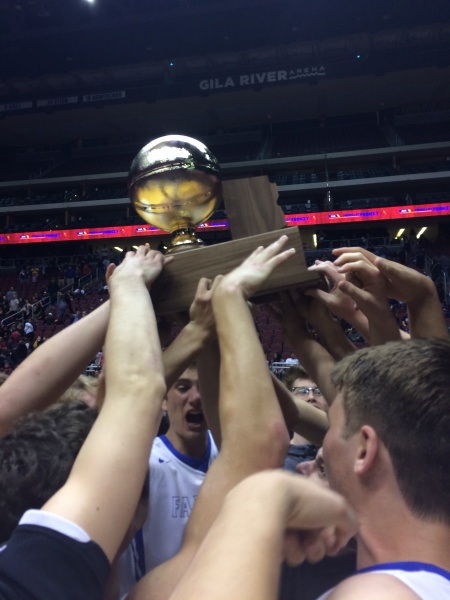 ---