5A girls hoops: Mesquite puts bow on near-perfect season
February 27, 2017 by Les Willsey, AZPreps365
---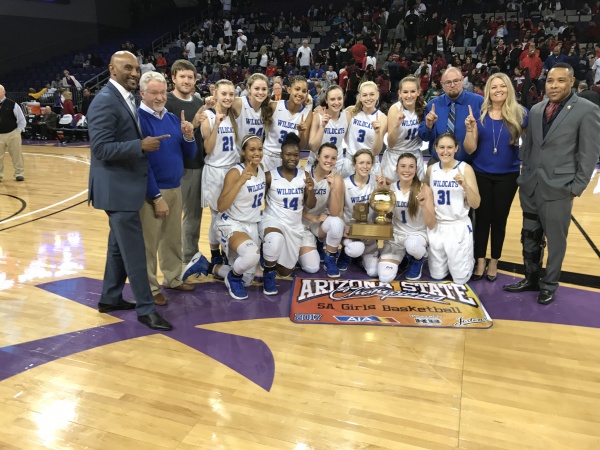 Mesquite players and coaches flash the No. 1 sign as they celebrate winning the school's first ever girls team title with a 59-38 win over Sierra Linda in the 5A hoops title game. (Photo by AZPreps365.com)
Mesquite's girls basketball team was knighted on paper in preseason to become state champs in 5A. On the floor the Wildcats followed through nearly to perfection.
A lineup that features no senior starters yet plenty of experience showed its might one more time Monday night in defeating Sierra Linda, 59-38, to win the 5A state title at Grand Canyon University.
The title was the first girls team crown in Mesquite's two-decade history and capped a 31-1 season for Candice Gonzales and her high-energy squad. It was the second time this season Mesquite handled Sierra Linda (70-41 the first time), which finished 27-3 in its first championship game appearance in the school's brief history. Sierra Linda opened in 2008.
"We enter each game ready to work hard, go out and make it happen," Candice Gonzales said. "We got good challenges these last two games. It's just hard work and dedication that drives them."
Per usual the junior triumvirate of Shaylee Gonzales, Lindsey VanAllen and Lauren Gustin led the way. They've averaged 53 points a game among them with Gonzales and VanAllen spearheading the offense and defense combining for 10 assists and nine steal per game. Gustin, a transfer from Utah last summer, has policed the boards like no other averaging 14 per game. The trio scored 53 together in the Monday's title game -- Gonzales 21 points, 7 assists, VanAllen 20 points, three steals and Gustin 12 points to go with 21 rebounds.
Sierra Linda was hoping a good start might alter the course of the rematch and the Bulldogs got that in the opening half. Sierra Linda was tied 15-15 after one quarter and down just 28-25 at intermission getting a lot of high-percentage shots.
Mesquite, noticing that Sierra Linda was scoring at will inside the paint in the first half, switched from man to a 2-3 zone in the second half.
Shaylee Gonzales thought that made a difference for Mesquite to make a getaway in the second half.
"I think it made them a little nervous," Shaylee Gonzales said. "They didn't seem as confident."
Sierra Linda shot 42 percent from the floor in the first half, but the zone limited the Bulldgos to 4 of 24 shooting (16 percent) and only 13 points in the second half. Jenae Gonzales and Jenay Bojorquez, Sierra Linda's tops scorers, finished with 12 and 11 points, respectively.
Despite committing six more turnovers in the third period to up that total to 19 for the game, Mesquite gradually opened up its lead in the third period to 39-28. Gonzales, VanAllen and Gustin combined for all 11 points in the third period. That domination continued to the finish as the they tallied 18 of 20 fourth-quarter points.
"It comes down to loving each other and supporting each other." VanAllen said. "We had work to do in the second half. We came together to make it happen."
---