Valley Vista overcomes a ton to win 1st title
March 1, 2017 by Jose Garcia, AZPreps365
---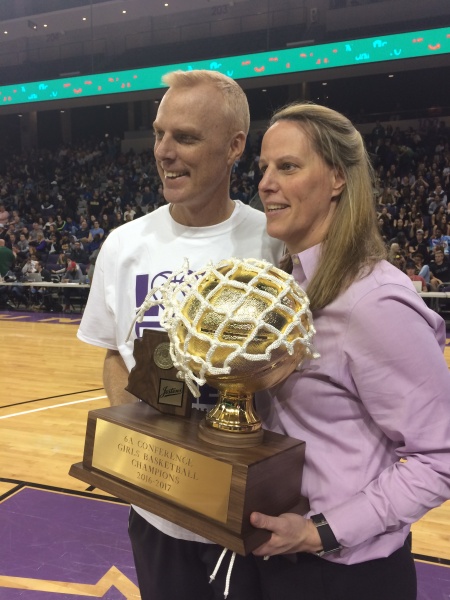 Valley Vista's girls basketball team was intact for the first time this season.
Also present was one of head coach Rachel Matakas' three brothers, Madison, who is courageously battling terminal cancer. Valley Vista's injured players and Madison picked the right game, the 6A Conference championship, to be cleared to play and attend.
By beating Millennium 44-36 at Grand Canyon University Arena, Valley Vista made some history Tuesday.
The Surprise program claimed the first girls hoops title for its school and became just the second West Valley program to win a girls title in Arizona's biggest conference since 1977. Millennium also deserves a lot of kudos for participating in the first all-West Valley 6A Conference girls state championship game.
Madison came down to the floor to celebrate with his sister after the game.
"I'm dedicating this win to my brother," Matakas said.
When told of what his sister said, Madison's response was, "Other than the birth of my child and getting married, this is as good as it gets. I am humbled and grateful that she dedicated the game to me."
Injuries. Illnesses. Family strife. Leukemia. Terminal cancer.
Valley Vista dealt with a slew of personal pain this season and will continue to do so. The tough times didn't break the team, though.
"We where there for each other," Valley Vista point guard Rysha Banner said.
Banner helped put the game away down the stretch with her drives to the glass for buckets and passing. Valley Vista held Millennium to only four points during the final six minutes.
The game was knotted at 32 when Valley Vista and Banner seized control in the final minutes.
Millennium struggled with Valley Vista's ball pressure, what the Surprise program is known for under Matakas. Millennium took its only lead in the game, 25-24, after Alaina Diggs' (12 rebounds) put back with 1:06 left in the third quarter.
Millennium had good looks but their shots just weren't falling Tuesday.
"I'm proud of my girls," Millennium coach Courtland Rojek said. "It just didn't go our way."
Millennium (24-8) will return 11 players, including four starters, next season.
Valley Vista (25-6) was aggressive on the offense end as well. It started with shooting guard Taylor Chavez (17 points) and continued with Banner (16 points).
Freshman Ali Zelaya totaled 14 rebounds and 11 points for Millennium. Division I commit Lauren Satterwhite of Valley Vista didn't score a point but played 22 minutes in her first minutes of action in two months.
A knee injury has hampered Satterwhite throughout the season.
"We've faced a lot of adversity this season, but God is great," Matakas said.
Winning a championship trophy was a 20-year journey for Matakas. But after Tuesday's game, the coach, known for her tough love approach, didn't really want to talk about herself. She was more interested in praising her brother, Madison, and her community.
"I'm glad my brother could witness this," she said. "I'm glad for Valley Vista and the community of Surprise."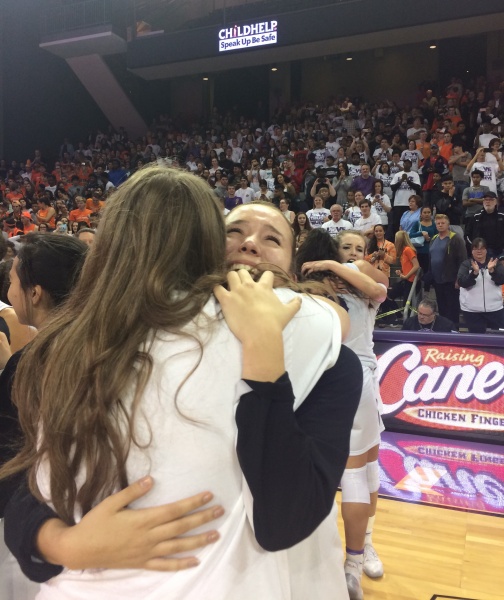 ---