BASEBALL: Ironwood Ridge plates two unearned runs to beat Flowing Wells 2-1 in the 7th
March 3, 2017 by Andy Morales, AZPreps365
---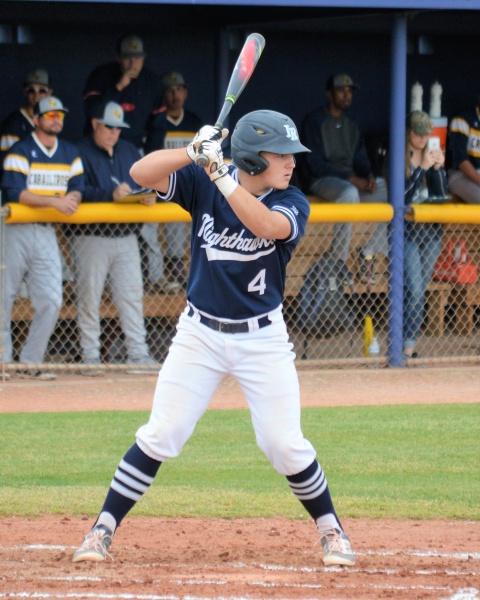 Down 1-0 with one out and no runners on in the bottom of the seventh to Flowing Wells, Ironwood Ridge plated two unearned runs to come away with a 2-1 win on Friday evening. The victory pushed the Nighthawk record to 5-2 on the year and 2-1 in power-ranking games.
The Caballeros fell to 0-2 but the record could just as easily be 2-0 had a few breaks gone their way. The Caballeros took Sunnyside to extra innings on Tuesday, Feb. 28 only to drop the game 3-2, with two unearned runs crossing the plate on three errors given up in the top of the 10th.
History repeated itself for Flowing Wells on Friday night.
Junior pitcher Juan Pablo Ruedaflores threw 6 1/3 innings against Ironwood Ridge, giving up five hits, but he also collected nine strikeouts to keep the Nighthawks scoreless. He started out the game with a jam in the bottom of the first with bases loaded but he picked up one of his strikeouts to end that threat. He also gave up a one-out single and walk in the third but he picked up back-to-back strikeouts to escape once again.
"I felt I had complete control of all my pitches and everything felt good," Ruedaflores said. "I was comfortable out there and my teammates were backing me up. It felt good."
Ruedaflores was lifted after picking up his ninth strikeout to start off the bottom of the seventh due to pitch-count restrictions. Ajay Ram came up to bat after the pitching change and he drew a walk to give the Nighthawks some hope. Ram advanced to second base on a wild pitch and then took third on a passed ball.
Jacob Allen followed with another walk and he moved to second on a stolen base. Nathan Baez was intentionally walked to load the bases after another pitching change. The walk put the possibility of a double-play on the board and Abraham Stewart induced a ground ball as was needed but it was misplayed, allowing Ram and Allen to score for the 2-1 win.
Junior John Dormanen got the start for Ironwood Ridge and he held the Caballeros scoreless until back-back hits from Ruedaflores and Andres Holguin resulted in the lone run for Flowing Wells. Dormanen gave way to Josh Steinman in the fifth and Steinman finished the game.
Dormanen gave up five hits and one earned run and he also collected three strikeouts while Steinman gave up one hit and a hit-batter. Steinman also gave up two walks but he picked off both of those runners.
Abraham Stewart went 2-for-3 with a double to lead Flowing Wells and Baez went 2-2 for Ironwood Ridge. Jackson Wilcox had a double for the Nighthawks.
First-year coach Kevin Baker guided the Nighthawks to a 3-1 record at Cowboy Up preseason tournament and the team is also scheduled to compete in the Boras Classic later this month.
"I have a good group of kids and they work well together and they like each other, Baker explained. "It's always good to get a win and I have 19 guys going for playing time and they are a great group to coach."
Flowing Wells will be competing in the Empire Raven Invitational and the Tucson High Chris Moon Invitational this month under fifth-year coach Erick Estrella.
---