Boys VB: Chandler has something to Howl about
March 4, 2017 by Les Willsey, AZPreps365
---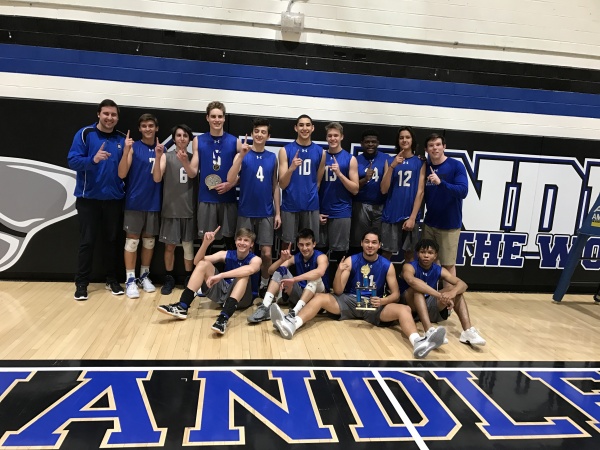 Chandler's boys volleyball team won eight of nine matches Friday and Saturday to win the 15th annual Wolf Howl Invitational on their home floor. (Photo by AzPreps365)
Bobby Robson has seen a lot as he begins his third year coaching Chandler High's boys volleyball team.
HIs first year wins were sparse (5-26 season). In that year's Wolf Howl, Chandler did not win a match (0-8). Last year the number improved to double digits (18-17) and a playoff berth, albeit a first-round exit.) The start the Wolves are off to in 2017 hints there may be more to come.
Chandler won the 15th annual Wolf Howl Invitational Gold Bracket on Saturday, outlasting Highland in three sets in the title match, 25-15, 21-25 and 16-14 at Coy C. Payne Gymnasium.
Chandler's triumph, may have been the first time the school has ever won its invitational. Robson said if they won it prior it would have to have been in the earliest days of the tournament out of his memory. Chandler's two-day take in the tournament was an 8-1 record. It's lone loss to Cienega in its final pool-play contest nearly cost it a spot in the Gold Bracket (top eight teams). The Wolves finished a fraction of a point ahead of Desert Vista to qualify
Chandler's triumph, which included bracket play wins over Higley and Brophy, was led by opposite and tournament most valuable player Jonny Bowles. Bowles a 6-foot-7 junior, wasn't super spectacular in the final match, but he made plays when they meant the most. That would be the final points of the third set of the final.
Chandler called time out with Highland at match point and holding a 14-13 lead.
"I told them don't be the first team to blink," Robson said of the set which neither team led by two until Chandler closed it out. "If we get this point we'll have (Bowles) in the front row. It will be ours to win."
Bowles, who committed to UC Irvine last year, responded with a kill for the tie. Chandler's Braxton Bradbeer was next to serve and Bowles and senior Elijah Swinton teamed up for a block giving Chandler a shot at match point. There was no surprise as Bradbeer served again and Bowles slammed home the tournament clincher.
Bowles finished with nine kills and a couple of blocks. His only two kills of the third set were part of the final three points. Swinton added six kills and two blocks and Mason Mullins five kills and four blocks. Mullins' blocks all came in the first set when Chandler rallied from an early 8-3 deficit. Jalen Gibson-Starks and and Bradbeer chipped in four kills apiece.
Highland, which advanced to the final with wins over Mesa Mountain View and Perry, finished the tournament with a 7-2 record. Both losses were in three sets to Chandler. Leading the Hawks' attack in the title match were Dean Millett and Colby Quackenbush with seven kills each. Declan Carr added four and Spencer Gurr and Bryce Fraughton had three apiece.

Highland coach Jeff Grover, in his second year piloting the Hawks after a long stay at Gilbert High, praised Chandler's play.
"They played well," Grover said. "Jonny stepped up at the end, but he had some help. A lot of guys contributing. I think your going to see that five, six seven teams are going to be in the thick of it this year."
Joining Bowles on the all-tournament team were HIghland's Fraughton, Perry's Blake Fillmore, Brophy Prep's Matt Werner, Horizon Honors Trevor Weary, Cienega's McLain Mott and Higley's Zach Fowkes.
---