BOYS VOLLEYBALL: Rincon went undefeated to win TUSD Invite
March 5, 2017 by Andy Morales, AZPreps365
---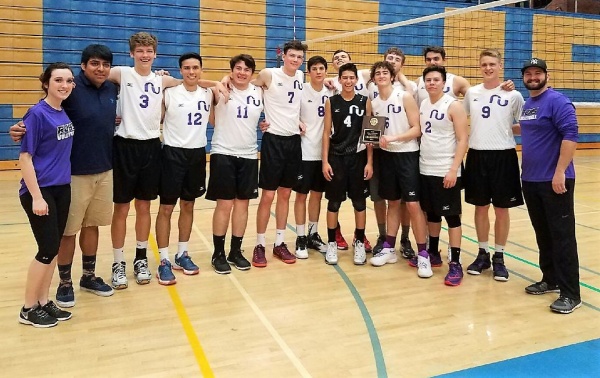 TUSD BOYS VOLLEYBALL INVITATIONAL
Mar. 3-4 at Palo Verde High School
Rincon/University went 6-0 to capture the Tucson Unified School District (TUSD) Boys' Volleyball Invitational held at Palo Verde High School on Friday and Saturday.
The championship moved the Ranger record to 7-0 on the year. Leading the Rangers this year are senior outside hitters Ben Anhoury and Diego Silva along with senior setter Joey Cable. Junior middle Jordan Ahlers and senior middle Zach MacAllister are controlling the net while sophomore libero Luis Rocha is coming up big in the back row.
Rincon/UHS beat Buena 25-21, 25-21 in the championship match held Saturday afternoon.
Mountain View Marana will host the next invitational scheduled for the Tucson area. "The VIEW Invitational" is scheduled for Mar. 31 to Apr. 1 and Salpointe will host the "Lancer Invitational from Apr. 7-8.
Friday, March 3
Sabino over Catalina, 2-0
Buena over Palo Verde, 2-0
Rincon/UHS over Pueblo, 2-1.
Sahuaro over Tucson, 2-0
Flowing Wells over American Leadership, 2 -1
Buena over Sabino, 2-0
Pueblo over Palo Verde, 2-0
Rincon/UHS over Sahuaro, 2-0.
Flowing Wells over Catalina, 2-0
Sahuaro over Pueblo, 2-0
Sabino over Palo Verde, 2-1
Tucson over American Leadership, 2-0
Buena over Flowing Wells, 2-1
Tucson over Catalina, 2-0
Rincon/UHS over American Leadership, 2-0
Saturday, March 4
BRACKET PLAY
Palo Verde over Catalina, 2-0
Pueblo over American Leadership, 2-1
Tucson over Flowing Wells, 2-1
Rincon/UHS over Palo Verde, 2-0
Buena over Pueblo, 2-0
Sahuaro over Sabino, 2-0
SEMIFINALS
Rincon/UHS over Tucson, 2-0
Buena over Sahuaro, 2-0
THIRD PACE
Tucson over Sahuaro, 26-24, 25-21
CHAMPIONSHIP
Rincon/UHS over Buena, 25-21, 25-21
---