VOLLEYBALL: Sahuaro's Sandy Novak set to retire
March 31, 2017 by Andy Morales, AZPreps365
---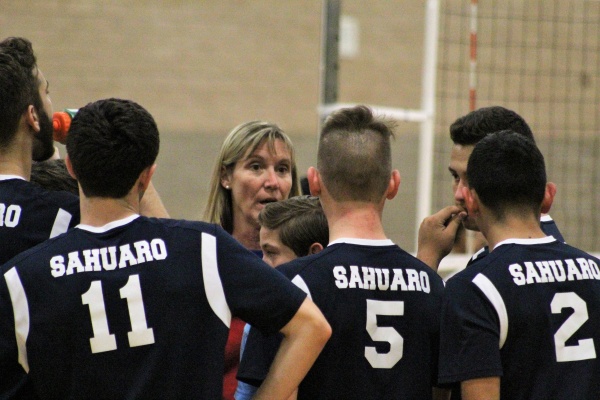 Sandy Novak will be exploring Europe in a few months. It's a place she has never been. One of her former players has a temporary home in Germany and she offered her former coach a place to stay, a car and freedom to explore. Who could say no to freedom?
Money and the will to travel was never the issue. It was time.
Time seems to be never on our side, especially if you've been coaching and teaching for over 30 years as Novak has. Coaches always seem to find time for players, for parents and for the daily grind but time for your own is limited. Very limited.
"I have hundreds of children," Novak explained when asked if she has a family of her own. "When you coach, and teach as long as I have, then they are all your children."
Novak has probably coached well over 2,000 track and field and volleyball athletes in her 30 years at Sahuaro. Throw in almost three decades of teaching, and the number of kids she has the right to call her own is almost unimaginable, but, the 10 boys she has on her volleyball team this spring will be her last.
A basketball standout and an All-Conference volleyball player in college, Novak arrived in Tucson from Chicago in 1987. She coached track and field for 10 years, girls' volleyball from 1988 to 2006 and the boys' volleyball team from 1997 until… well, until her 10 boys leave the court this spring.
She has been the only boys' volleyball coach the school has ever had. Novak coached the boys to a state championship in 2009 and is only nine wins away from passing former Rincon/University coach Juanita Kingston on the all-time win list from Southern Arizona.
Only three coaches have passed 600 career wins when the girls and boys records are combined and Kingston retired in 2008 with 671 wins and Novak is sitting at 662. Her Cougars won three matches on Friday at the Marana Mountain View Invitational and could win three more on Saturday. She should earn win number 672 in a couple of weeks.
But, Novak chooses not to mention wins or specific teams when asked to look back on what she will always remember.
"So many of my former players come back and take part in our annual alumni volleyball game and I get to see their children. I also have former players coaching which means they loved the game," Novak added.
"That is what I will miss, although I will continue to attend the alumni game to see them all."
Rachel Balsiger played for Novak at Sahuaro and she is the current coach of the girl's team. Casey Shingler was named assistant coach at West Texas A&M in February and Jose Lugo is an assistant coach at Fresno State. In addition, former University of Arizona standout sisters Michelle Malis and Laura Bartsch both played at Sahuaro. Malis is the current coach at Tanque Verde.
Novak says she will make a clean break this summer. No more coaching and she will not consider being an official. She says she will enjoy being a "snowbird" like so many others with a summer home in the Chicago area and a winter home in Tucson.
Her mother still lives in the Chicago area and that is where her home is but, with so many kids of her own, "home" could be a café on a street in Europe somewhere one summer or a trip to a wedding the next.
"I'm excited and scared at the same time," Novak added. "I've been doing this for so long."
SOUTHERN ARIZONA COACHING LEADERS
Juanita Kingston, Rincon/UHS
671-301 (972)
455: Girls (1 championship & 1 runner-up)
216: Boys (1 runner-up)
Sandy Novak, Sahuaro
662-195 (857)
402: Girls (2 runner-up)
260: Boys (1 championship & 1 runner-up)
Bill Lang, Ironwood Ridge
635-334 (969)
417: Girls (2 runner-up)
218: Boys
---