BASEBALL: Ian Mejia hits grand slam to lead Sahuarita to victory
April 3, 2017 by Andy Morales, AZPreps365
---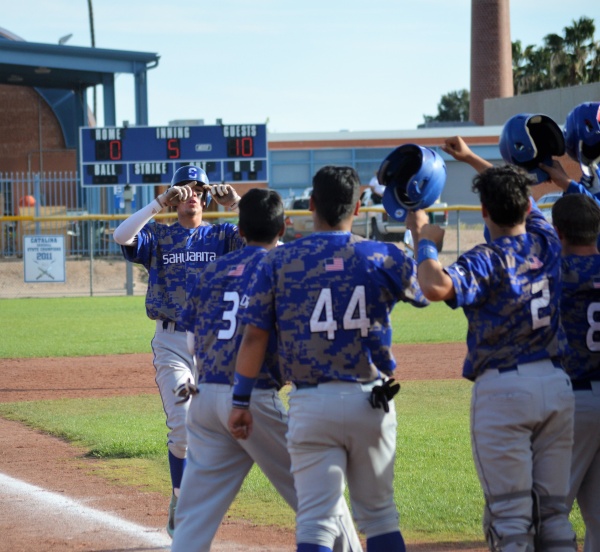 Ian Mejia had been through 87 at bats in his high school career without a home run. Only a junior, the University of Arizona commit finally put one over the fence to help Sahuarita defeat Catalina 15-1 on Monday. Even better, it was a grand slam.
"It felt so good I knew it had a chance," Mejia said. "It just felt good off the bat."
Mejia's grand slam isn't the only thing "feeling good" for the Mustangs right now, Sahuarita is 13-5-1 overall and 6-0 in the 3A South Region. The Mustangs have taken care of all six of their region opponents by an average score of 9-2 but the second half of the schedule is still ahead.
"It's leadership," Mejia explained on how his team has succeeded so far. "It starts with the coaches and then the captains feed off of it then we take it to the players and hype them up."
Catalina (9-8, 3-2) has also shown spurts of success this year with wins over upper-division teams such as Rincon/University, and even in a 4-3 loss to Sabino, but the Trojans fell apart after playing four tough innings against Sahuarita.
"We are inconsistent and are having an up and down year," head coach Shane Folsom said. "We have to get that fire in our belly and compete. Today, things just snowballed after the fourth inning."
Alex Phillips took the mound for the Trojans and he gave up two runs in the top of the first on a home run by Jose Dicochea but he settled down and stopped the next 10 Mustang batters in a row while collecting seven strikeouts in the process.
On the other side, Jerry Lerma (6-0) completely shut down the Trojans, scattering four hits, collecting nine strikeouts and giving up one unearned run. All he needed for the win were the two runs he got in the first inning but Sahuarita came alive in the fifth with eight more.
Mejia's grand slam was part of that outburst and it all started on an error and a walk, illustrating the frustration the Trojans have had this year. The Mustangs erased four difficult innings by sending 13 batters to the plate in the fifth and then 10 more in the sixth for the 15-1 victory.
Rigo Leon had two doubles for Sahuarita, Treyjen Meza went 2-for-3, Dicochea went 2-3 with his home run and three RBI, Mejia went 2-4 with a grand slam and five RBI and Angel Ortiz had a 2-RBI double.
Jonah Lauten had a double for Catalina, Andres Hernandez, Jack MacDonald and Vincent Rifici had the other hits. Erik Valdez, Josue Gonzalez and Hernandez also saw pitching action for the Trojans.
Catalina will travel to Empire on Tuesday and Sahuarita will host Tanque Verde on Wednesday.
---