TENNIS: Semifinal roundup for Southern Arizona
May 3, 2017 by Andy Morales, AZPreps365
---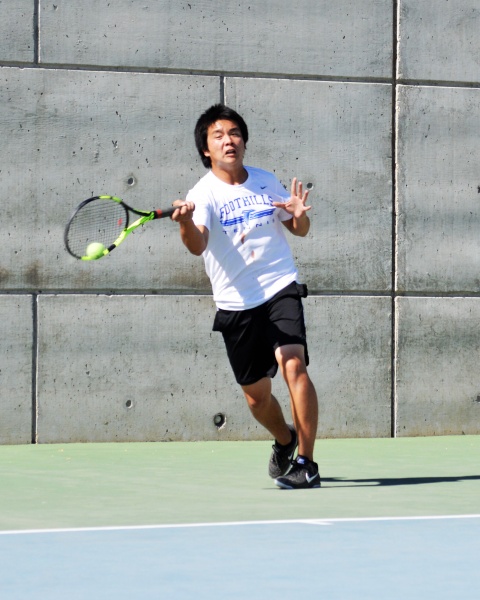 D-II singles champion George Jiang (Andy Morales/AZPreps365.com)
Fresh off of a Division II singles championship, Catalina Foothills standout junior Georgie Jiang is hoping to carry over some of his personal success to the seminal and final rounds of the team playoffs taking place Friday and Saturday at the Paseo Racquet Center.
"It still hasn't sunk in yet," Jiang said. "I never really thought it would happen. I know a lot of the great players are in Division I but it was still a real fun experience for me."
Jiang likes the chemistry of his team this year and the top-seeded Falcons will face No. 4 Salpointe Friday at 9 a.m. for a shot at the state final on Saturday. Catalina Foothills is 15-0 this year and that includes an 8-1 win over the Lancers three weeks ago.
No. 11 Nogales is going up against No. 2 Cactus Shadows in the other D-II semifinal match. The Falcons of Cactus Shadows are 16-0 on the year.
In D-III boy's action, No. 2 Tanque Verde and No. 4 Pusch Ridge are also slated to play on Friday in the semifinal round. Pusch Ridge is taking on No. 8 AZ College Prep and Tanque Verde will be playing No. 6 Miami.
Pusch Ridge sophomore Preston Grammond won the D-III singles title.
On the girl's side, No. 1 Catalina Foothills is playing No. 4 Arcadia in the D-II semifinal round. The Falcons are 15-0 and have yet to be scored on while the Titans are 16-0 on the year.
No. 2 Pusch Ridge will be playing No. 3 Page in the D-III semifinals The Lions are 15-1 with their only loss coming to Catalina Foothills. The Sand Devils are 13-0.
---