4A SOFTBALL: CDO beat Salpointe 7-0 to advance to state championship game
May 5, 2017 by Andy Morales, AZPreps365
---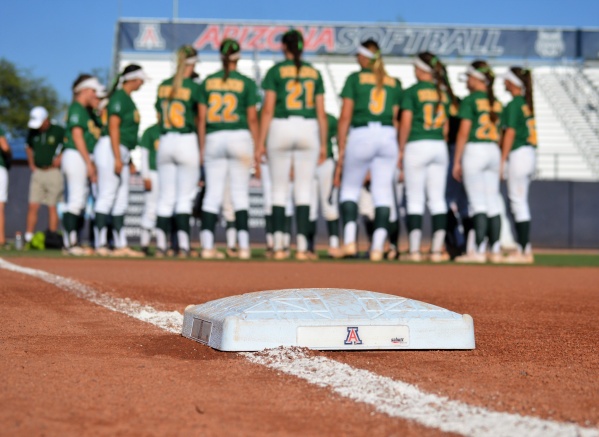 The University fo Arizona hosted Canyon del Oro & Salpointe. (Andy Morales/AZPreps365.com)
The third-ranked University of Arizona softball team is in Los Angeles this week, wrapping up the Pac-12 season at No. 12 UCLA. That would usually mean the lights at Hillenbrand Stadium would be dark for a few nights but not this week, not with high school playoffs nearing a climax.
The Wildcats flipped on the lights Thursday night and welcomed No. 1 Canyon del Oro and No. 5 Salpointe in an important semifinal game where the Dorados beat the Lancers 7-0 to advance to the 4A state championship game to be played Tuesday, May 9 at ASU. Arizona will also host a 3A quarterfinal game Friday night between No. 11 Sabino and No. 14 Sahuarita.
Salpointe (21-9) is a young team with only one senior on the roster which means the Lancers are early favorites to be right back in the mix come next May, especially with standout Yannira Acuna patrolling centerfield.
The Sun Devil commit finished the season batting an incredible .637 with 31 RBI on 12 doubles, three triples and seven home runs. Acuna also went 5-1 from the circle to compliment fellow junior Aleena Alexander (14-7). Sophomore Diana Montano finished with 33 RBI and six home runs, junior catcher Erika Marquez had five home runs and sophomore Malaea Baray-Rocha had 28 RBI and three home runs. The nucleus is there.
"It was a good year overall," Acuna said. "We fell a little short but we weren't a very experienced team. Our chemistry is good and now we have a goal. Next year is going to be exciting."
But with all that power, there were no home runs Thursday night. From either team.
Dana Alcocer, Kenzie Fowler and Kayla Bonstrom. Canyon del Oro (29-4) is known for dominating from the circle but students of the game know the Dorados can also hit. Fowler was one of the most feared hitters in the country when she won back-to-back National Gatorade Player of the Year awards in her prime.
Fowler and her then teammate Katie Asher combined for over 30 home runs at a time when Fowler was also striking out 17 batters a game. Bonstrom and Mattie Fowler did the same to power the Dorados to two more titles. As a senior in 2012, Bonstrom hit 17 home runs with nine of those coming in the postseason, including a game-winning, two-run blast in the championship game against Sunrise Mountain.
This year? The Dorados have belted 50 home runs, good enough for fifth in the nation. The next "big school" from the Tucson area is Tucson High with 44. The next 4A opponent would be Rio Rico with 26 and then Salpointe with 25.
The closest the Dorados came to touching all the bases Thursday night was a shot to the fence by Arianna Felix in the fourth inning but Baray-Rocha was able to track it down to keep the Lancers in the game.
The Dorados were unable to beat the Lancers via the long-ball Thursday but the team pulled off the win thanks to the arm of freshman pitcher Amya Legarra (14-3) and the ability to string a few timely hits together.
Legarra is the Southern Arizona Freshman Pitcher of the Year with good reason. Besides 14 wins, Legarra limited the Lancers to five hits on the night while picking up seven strikeouts to give her 110 on the year.
Hope Banales started the Dorados off in the bottom of the first with a triple and then Ellessa Bonstrom and Arianna Acedo followed with back-to-back walks to load the bases. Bailey Thompson reached on a fielder's choice stemming from a runner's interference call so the bases remained full with one out.
Alexis Kaiser singled up the middle to score one run and the Anya Gonzalez scored another on a fielder's choice to give the Dorados a 2-0 lead.
Alexander settled in and held the Dorados to one hit over the next three innings but Wendy Castro put the Dorados back in business with a leadoff single in the bottom of the fifth. Banales followed with an infield hit and Bonstrom walked to load the bases. Acedo reached on an error but she brought in a run on the play to make it 3-0.
Alexander picked up another out but Kaiser reached on another fielder's choice and Gonzalez hit a double to make it 5-0. Arylene Campos followed that up with a double of her own to make it 7-0.
Legarra stopped being a freshman a few games into the preseason Dorado Classic but she still had a few jitters out there Thursday night.
"I was a little anxious to start off but I knew I had a great defense behind me," Legarra explained. "I play club ball with Ari Felix and Ari Acedo so they told me what to expect and they showed me what it means to be here."
The Dorados have eight state championships in 11 tries but the last final appearance was in 2014. That year resulted in a 2-1 loss to rival Ironwood Ridge. Only four of the current seniors know what it's like to play in a state final.
Head coach Kelly Fowler has a lot of experience, with two state championships as a coach and three more as a parent, but her advice to her team is simple:
"We aren't going to change anything," Fowler said. "Sunrise Mountain is well coached and we are ready."
No. 3 Sunrise Mountain (20-4) beat No. 2 Cactus 5-4 in 10 innings in the other 4A semifinal game Thursday night. Cactus beat Sunrise Mountain twice to win the West Valley Region but the Mustangs won when it mattered the most. Coached by former Arizona standout Jody Pruitt, the championship game Tuesday night will be a rematch of the 2012 game where Kayla Bonstrom won it with her arm and bat.
Salpointe head coach Amy Rocha led the Lancers to the Division II 2015 championship game but came up short to Cienega. It was the first final appearance for the Lancers in 16 years. Rocha, like Fowler, has championship experience, winning two state championships as a player for the Lancers before moving on to win a National Championship at Central Arizona and then finishing her playing career off at Arizona.
"I told them to not let this game be a reflection of our season," Rocha said on her advice to her team. "I'm proud of them because they played for their school. They played for each other. It was an amazing year."
---