Salpointe's Rivera, Rodriguez deliver in semis
May 10, 2017 by Jose Garcia, AZPreps365
---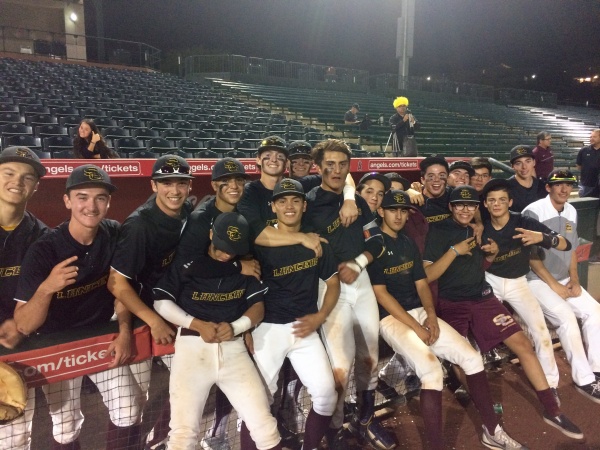 (Salpointe is one victory away from winning the program's first ever baseball title. Photo by Jose Garcia/azpreps365.com)
Before Salpointe's J. Bill Rivera's last at bat, the junior essentially predicted that he'd be the hero of Wednesday's 4A state semifinal game at Tempe Diablo Stadium.
"We were all nervous," said Rivera about the tension in his dugout with the game tied 3-3 in the bottom of the seventh. "But I told them this was not going to be their last game. I looked them dead in the eyes and told them, 'This isn't going to be the last game. I'm going to do something about.' And luckily it happened."
'It' was a walk off hit he blasted to the left-center gap on the first pitch — an an inside fastball — he saw.
The hit brought home Salpointe's other hero, starting pitcher Paulo Rodriguez, who led off the bottom of the seventh with a single, all the way from first, clinching a 4-3 victory against a determined Marcos de Niza team.
(Story continues below videos.)
Rivera wasn't playing like a hero in the making, though. The left fielder struggled at the plate during his team's most recent games, and other than getting hit by a pitch Wednesday, Rivera didn't get on base until his game-winning hit.
But he knew when to step up in a season that's seen many players contribute for Salpointe this season. This isn't the best baseball team Salpointe has rolled out, but it might be the toughest.
"It's not talented, but 1 through 20 they push each other every day," Salpointe coach Danny Preble said. "They show up and compete. That's the word of the year for us."
That's what it might take to finally help Salpointe, which opened in 1950, win its first baseball championship trophy.
Salpointe showed off its resiliency this season during a memorable comeback against its Saturday championship opponent, Nogales, which split its two games against Salpointe this season. Trailing 10-2, Salpointe scored two runs in the sixth and nine in the seventh inning on April 11 to stun Nogales, 13-10.
On Wednesday, it was Marcos de Niza's turn to see what Salpointe was all about.
Marcos de Niza grabbed an early 1-0 lead in the first inning after an RBI double by Marcos de Niza's starting pitcher, Connor Woods. But Salpointe answered with two runs in the first inning and another run in the third.
But there's some fight in Marcos de Niza (21-9) as well. The Tempe program clawed back to tie the game at 3-3 after scoring a run in the fourth and fifth, setting up Rivera's seventh inning heroics.
"I knew I was struggling, but I knew in baseball it only takes one hit and everything else meant nothing," Rivera said. "The only thing that mattered was the last at bat."
As for Rodriguez, he pitched a complete game, struck out eight, including five of the final seven Marcos de Niza batters, had two hits and scored two runs.
"(Rodriguez) was amazing today," Rivera said. "He's an all around player. He hits. He's been our ace. We came into this season with zero pitching. We said 'Wow. What are we going to do?' But (Rodriguez) was the one who stepped up on the mound, and it was real special to see. Today he was just lights out, and that's all you could ask for."
No. 2 seed Salpointe (25-7) and No. 1 Nogales (27-4) are led by veteran coaches Preble and O.J. Favela, respectively.
Another Preble, Steve, Danny's dad, is very aware that Salpointe hasn't won a title. Since 1977, Steve has been coaching off and on at Salpointe, the alma mater of Danny (Class of 1995) and Steve (Class of 1973).
The Prebles celebrated Wednesday's win with Jackie, Steve's mom, after the game. They wouldn't mind doing it again on Saturday.
"It's time to put that dog to rest," said Steve about his program not having won a title.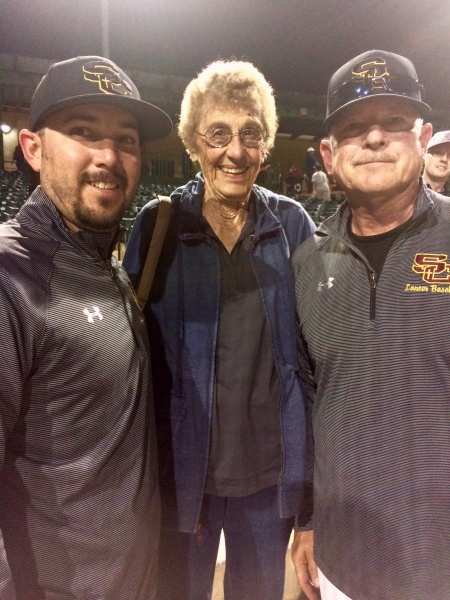 (Salpointe coach Danny Preble (left), his dad Steve and grandmother Jackie were all smiles after Wednesday's state semifinal win. Photo by Jose Garcia/azpreps365.com)
---