D-III GOLF: Frankie Capan leads Northwest Christian to victory
May 12, 2017 by Andy Morales, AZPreps365
---
Frankie Capan (Andy Morales/AZPreps365.com)
Division III State Championship
May 11-12: Randolph Golf Complex
The sun was beginning to fade, the awards table was ready, trophies were polished and individual medals were spread out. Just then, a very tired golfer with his bag slung over his shoulder walked by and asked a group of us who won.
When you host a high school golf tournament at a public or private golf course, almost anyone not affiliated with the championship can (and will) come close to the action and investigate. But, as far as anwers go, this one was actually a new one.
The answer to that question over the last four years was "Valley Christian" but not this year, not with Northwest Christian junior standout Frankie Capan shooting a 10-under 134 at the Randolph Golf Complex. He shot a 62 on Dell Urich on Thursday and a 72 on Randolph North on Friday.
"I came in knowing this course was very scoreable," the Alabama commit explained. "It was exciting to be out here and I just wanted to give my teammates the best opportunity to win."
Capan drew interest from Oregon, Baylor, Texas, Texas A&M and SMU but he fell in love with Alabama, feeling the program gave him the best opportunity to succeed.
Capan had a two-stroke lead (62 to 64) on Blue Ridge standout Cody Goza after day one but Randolph North played more difficult for the field with only two of the 90 golfers breaking 70 on Friday.
Goza took 5th (141).
Phoenix Country Day standout Supravee "Ice" Sakulbunpanich was five strokes back on Thursday but the freshman shot a 71 on Friday to claim second place, four shots back.
As a team, Northwest Christian shot 599 to beat Valley Christian by five strokes. Sedona Red Rock took third at 616. Valley Christian standout James Mackie won it all in 2016 as a freshman but he finished 11 shots back at 145 to take 12th.
Desert Christian junior Johnny Gleason was the top finisher from Southern Arizona. He took 9th with a 144.
"It was a good experience," Gleason said. "I had a rough day today because my ball-striking wasn't there and my putting let me down a bit but the tournament was fun."
Desert Christian took 6th (630) and Bisbee took 10th (650).
250 free photos from Friday can be found HERE.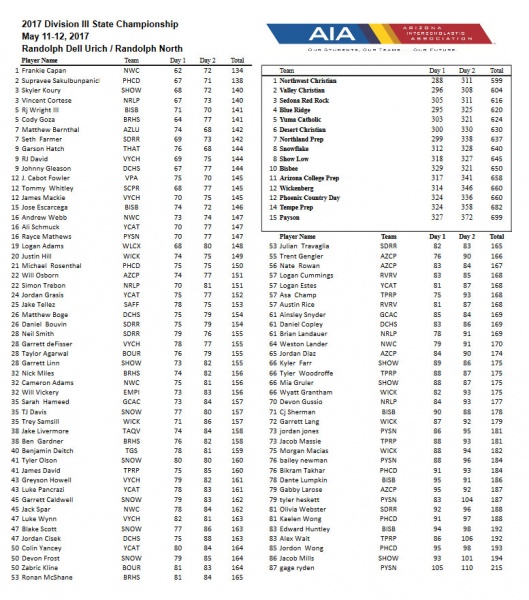 ---