Class 1-3A: NW Christian, Superior crowned baseball champs
May 14, 2017 by Jose Garcia, AZPreps365
---
(Superior won its first title since 2007. Photo by Jose Garcia/azpreps365.com)
Superior baseball coach Manuel Ortega didn't wait for the questions to be asked about the 18 combined errors.
"Ugly, but hey," said Ortega as reporters approached him near the Surprise Stadium's home dugout.
Superior's Steven Denogean's stellar performance in relief didn't cover the blemishes, but there's no denying he was a much-needed bright spot during Saturday's 1A Conference title tilt at Surprise Stadium.
The senior came in in the fourth inning and shutout Valley Union the rest of the way, allowing Superior's seniors to finally win a championship they've been chasing in different sports throughout their careers. Valley Union loaded the bases in the top of the seventh, but Denogean struck out the last batter to clinch a 12-8 victory.
Superior rallied from an 8-3 hole with the help of six Valley Union errors in the fourth inning, when Superior scored six unearned runs.
After the fourth inning was over, the teams had tallied more errors (14) than hits (12). But Denogean didn't allow a run, struck out four and allowed four hits in his four innings of work.
"We had to come together as a team," Denogean said. "We were down but wanted to end up on top."
Sean Hahn, who reached base fives times and was walked intentionally twice, helped No. 3 seed Valley Union (17-7) get off to a great start when he hit a 2-run inside the park home run in the first inning.
Valley Union kept the early pressure on by scoring a run in the second and added four more in the third before Denogean stepped in and Superior's 6-run fourth inning. Superior's Marcos Bueno and senior Austin Navarrette had two hits apiece.
The last time No. 1 seed Superior (25-3) won a baseball title was in 2007, when Ortega was a freshman on that state championship team.
"It's ten times better," said Ortega when he compared both championship seasons. "I wasn't on the field as a freshman. I was hurt. These guys have worked so hard and put everything into it, and to see them happy is what matters to me. That's what I like."
(Story continue below video.)
Big 6th inning propels NW Christian to title
Northwest Christian was 1-7 when this season started, an unsurprising start since the program lost nine seniors from last year's team and played some tough teams in the early going.
But it didn't take long after the early poor stretch for the team to form an identity and go on a 16-2 run during the season.
"Relentlessness," said second-year coach J.C. McKee when asked what defines this year's year. "They never give up."
The same can be said about Northwest Christian's Saturday opponent, Safford, in the Class 3A Conference state baseball championship game at Surprise Stadium.
McKee said he had a feeling it would turn into a pitching duel between Maverick Veres and Safford's Gabe Ornelas, who was 9-1, and the outcome wouldn't be determined until the final innings. He was right.
A seventh inning five-run outburst, aided by a dropped ball after two outfielders collided, put the game out of reach for Northwest Christian, which won 6-2. Veres and Ornales battled valiantly while their defenses also took center stage.
Right fielder Walker Lewis gunned down a runner at home in the second inning, and Safford picked off two runners. For Northwest Christian, centerfielder Alec Ponce made a running catch in shallow center with two men on base and two outs in the fourth inning.
With their pitchers on top of their game and being backed by their defenses, two two teams only scored one run each through six innings. Northwest Christian scored its first run when Tyler Worrell (2 for 4) hit an RBI single in the first inning.
A dropped fly ball led to Safford's first run in the third inning.
But a dropped fly ball by No. 6 seed Safford (22-8) in the top of the seventh is what turned this game around. Safford's right and center fielders collided as they attempted to catch a fly ball, allowing courtesy runner Caleb Machiche to score from first.
Three batters later, Logan Ripple, facing reliever Curtis Bevens, ripped a fastball down the left field line to bring home three more runs for his first hit of the game. Zac Driscoll also got his first hit in the seventh inning, an RBI single to give 22-9 Northwest, the No. 8 seed, a 6-1 advantage.
The hard-throwing Worrell stepped in to get the save in the seventh inning. Veres scattered six hits and picked up his seventh victory of the year.
It was a very emotional night for the junior pitcher. He lost his father, Randy, in November.
"Tonight it was about him (Randy)," Veres said. "I definitely played for him.
"Baseball is a gateway for me. All the hard work I put in this year was for him."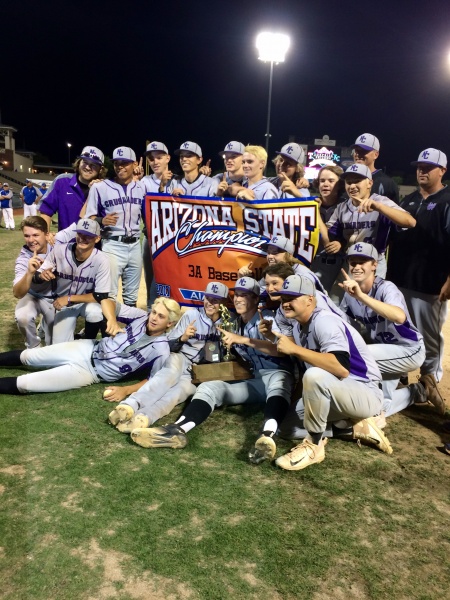 (Northwest Chrisitan capped its 22-8 season with a 3A Conference title. Photo by Jose Garcia)
---